The arts are also big business
Federal Minister of Industry James Moore believes supporting arts and culture results in financial gains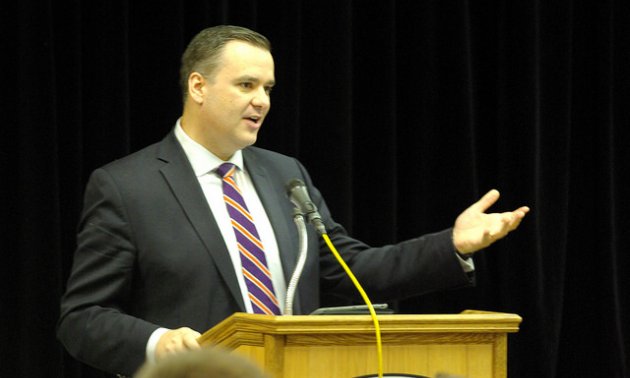 At a recent Cranbrook Chamber of Commerce lunch, federal Minister of Industry James Moore touched on the importance of supporting arts and cultural programs in Canadian communities.
He said the importance of the arts starts when kids are six or seven years old, "getting those synapses fired at a young age."
He said all levels of government—federal, provincial and municipal—should support the arts.
During the Q&A session following Moore's speech, Cranbrook Councillor Danielle Cardozo asked the minister to comment on the financial benefits of the arts.
Moore responded by noting that the arts and culture industry in Canada is three times the size of the insurance industry and two times the size of the forest industry. He cited the Toronto International Film Festival, Montreal's Just for Laughs comedy festival and the Royal Winnipeg Ballet as examples of thriving arts organizations that are known world-wide. All told, the arts and culture sector represents 640,000 jobs nationally, Moore said.
He also said it is important for Canadians to learn their history. Moore was instrumental in starting a national data bank of museum artifacts than can be loaned out to smaller museums across Canada.
Moore said his two personal heroes are Sir John A. Macdonald, the first prime minister of Canada, and Terry Fox, the young B.C. man who lost a leg to cancer, then attempted a cross-Canada marathon to raise money for cancer research.
He was pleased to report that the Canadian Museum of History in Ottawa has an exhibit devoted to Terry Fox (it runs through January 24, 2016). Moore was also thrilled that the old, rusted-out support van that followed Terry Fox was rescued as an important artifact of the run.