Chris Brien picks Castlegar
Chris Brien is helping people lead the good life in Castlegar, B.C.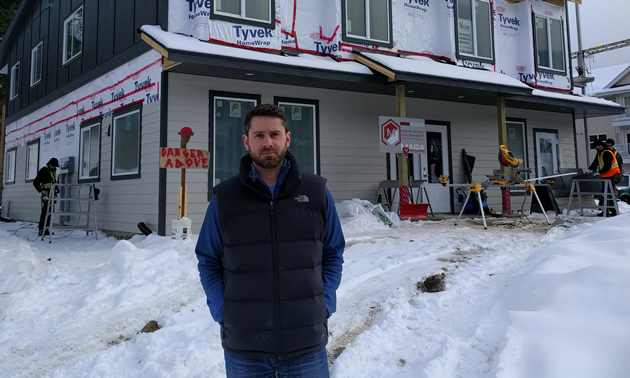 Chris Brien returned to the Kootenays from Vancouver in February 2013 to pursue business ownership, to be close to family and friends and for the lifestyle available in the region. He enjoyed outdoor activities like biking and skiing in Vancouver, but he didn't enjoy the effort of accessing those activities.
"It felt like just getting to the North Shore could take hours," Brien said, "and the traffic gridlock was frustrating. I knew that the quality of these activities was just as good in the Kootenays."
Brien also moved back to the Kootenays to accept a business opportunity. In his search for a way to get out of the hustle of the city, Brien reconnected with old friends, Doug Johnstone and Willow Enewold, who owned Pinnacle Professional Accounting in Castlegar. Brien joined the Pinnacle team and a year later became a business partner.
Improved Internet service in Castlegar has opened new possibilities for the owners and staff at Pinnacle. Brien worked from Portugal for two weeks earlier this year, and his partners were working from Croatia at the time of our conversation.
"Computer technology is a big part of allowing us to work the way we want to work," said Brien. "We allow a wide degree of flexibility as to how and when the work gets done—people are accountable for their work results rather than the number of hours they spend at the office. We use state-of-the-art laptops and travel monitors, and we all work on virtual machines that allow us to do our work anywhere in the world. I work mostly out of the Castlegar office, as face-to-face client meetings are still very important."
The accepted practice in Canadian accounting offices is to bill by the hour, and Brien said that while he was working in Vancouver he became disenchanted with that model. He is proud of Pinnacle's progressive approach to customer billing. The company employs a fixed-fee structure rather than the widely used time-increments rate. That means that clients know up front what their costs will be for Pinnacle's services—they are wholly informed and engaged in their financial picture right from the beginning. That makes Brien happy.
"Our service pricing encourages clients to call or visit us to get the information they want," he said. "It makes them comfortable with the direction we're taking. I find that my clients like coming to see me."
Pinnacle's fee-for-service model is much more widely used in the U.S. than it is in Canada so far, and Brien believes that the whole industry will be moving to this model eventually. "We like to try to break the old moulds," he said.