Best of Business
2016 Best of Business Awards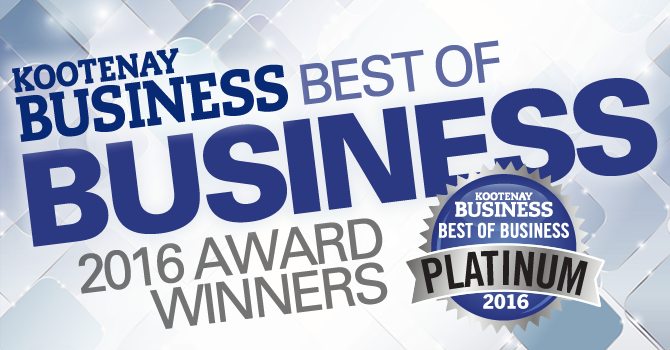 It's time to present the Kootenay Business awards for Best of Business in Platinum, Gold, Silver and Bronze designations.

And, just like at the Olympics, no matter the colour of your award, it's a distinct honour to be recognized by the Kootenay Business readership—the awards are the result of reader responses to the survey we published in the January/February issue of the magazine.

We've beefed up the awards list this year with eight new categories: Concrete Ready Mix, Crane Service, Doors - Overhead, Fast Food Restaurant, Heating & Air Conditioning (HVAC), Liquor Store, Organic Food Store and Rental Equipment Services. Moreover, the Fast Food Restaurant category recognizes that fast food is moving beyond burgers and fries and now includes ethnic choices as well. We realize also that organic products are important to many consumers. Chain stores and franchises appear on the list (we do like our double-doubles and Timbits), but so do many independent businesses in communities as small as Gray Creek and as large as Cranbrook.

We salute all these businesses in the East and West Kootenays and wish everyone a prosperous year to come.

Winners at a Glance
GW Floors owner Harvie Hurd is here to help

Wayne Postnikoff: home matchmaker.

Readers of Kootenay Business magazine have made Bridge Interiors in Cranbrook their top choice for furniture and appliances.

Terri Sharpe and Earl Hoath have made a success of their 12-year partnership as co-owners of Steeples Construction Ltd. in Cranbrook.

Graphic design holds endless fascination for Shawn Wernig, owner of Eggplant Studios in Invermere, B.C.

Seana Coolbaugh owns and operates Koko Beach Tanning & Hair Salon, and she isn't afraid to break a nail on the playground.

Paul Kramer likes to play outdoors all year round, and Ghostrider Motorsports provides him with the toys he loves.

Packrat Annie's in Nelson, B.C., gets a platinum ranking for its well-loved merchandise and long history in the community.

There's no time to be bored at Lectric Avenue Electronics

Animal Instinctz Grooming can make your pet look like a dinosaur.

Kevin Maffioli built a career out of love for his favourite game.

Sara Stuart's store is at your service.

Focusing on people yields results.

With over 40 years of experience in the hospitality industry, Collin Johnston knows how to get the most out of his staff and make guests feel welcome.

Jim Bradbury of Playmor Power Products turned his passion for snowmobiling into a business.

Apex Rafting boasts camaraderie and fun on the river.

Come sit down at Dawn's Early Rising Sunshine Cafe for a family meal

Taste the quality and freshness in a Big Bang Bagel.

What do you look for in a restaurant—trendy and fun atmosphere, or delicious homemade food? Finley's Bar and Grill has both.

Gwinner's Butcher Shop offers natural, authentic European-style meats for every meal