How sweet it is: Slocan City Suites opens for seniors
Slocan City Suites provides housing for valued, long-term residents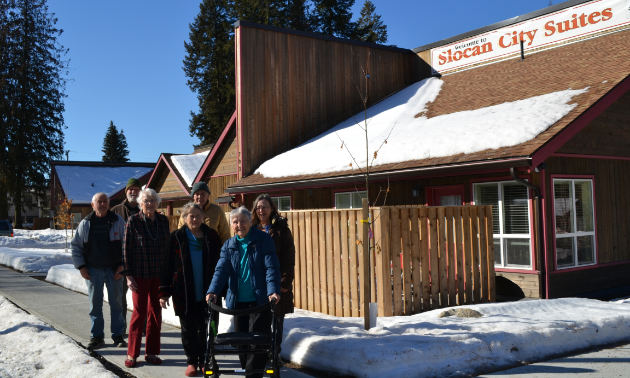 Finding affordable housing is becoming more and more difficult in the Kootenays and across B.C. For seniors, the market is even more sparse.
"Half our Slocan Valley population of about 5,000 is 50 years old or over, yet there were only 20 purposely built suites for seniors—10 in New Denver and the 10 we operate at Passmore Lodge in Passmore," said Rita Moir, president of the Slocan Valley Seniors Housing Society. "Most older people would like to stay close to family and friends and not have to leave the area to find suitable housing when their current housing becomes too much to handle or too isolating, especially if they have lost their driver's licences. And not all seniors have adequate housing to begin with. Income levels in the Slocan Valley are lower than in the rest of the province and rental housing is hard to find."
As a step to remedy the massive gap between seniors looking for a place to live and available units, Slocan City Suites was created. The new seniors housing complex has three quadruplexes—12 suites in all. The complex comprises two studios with lofts, eight one-bedroom suites with lofts, and two two-bedroom suites. All suites have bedrooms on the main floor and, because they are all corner units, have lots of light.
Location, location, location
The complex is adjacent to the Library and Wellness Centre in the heart of Slocan.
"Slocan City Suites is in the middle of a walkable village near the Legion, grocery store, community services, restaurants, rail trail and beach," Moir said. "The suites are beautiful and bright. People are happy."
Slocan City Suites had their grand opening last September and celebrated the occasion in style.
"It was a complete blast," said Moir. "About 150 of us paraded from the Slocan Legion in a three-block Hike to Housing—a nod to our three-day Hike or Bike for Housing. The parade was led by our special queen, a bagpiper and our own chief fundraiser and hiker, 93-year-old Lydia Kania. We walked to Slocan City Suites, had some short speeches and toured the suites before heading back to the Slocan Legion to celebrate."
Who lives here
Because Slocan City Suites is affordable housing built by a non-profit society, tenants must complete an income test. Residents occupying the complex include seniors who have aged out of their current housing, those who didn't have adequate rental housing and others with varied backgrounds and lifestyles.
"It was horrid seeing seniors, who gave this community so much, having to leave when they couldn't maintain their homes anymore," said Moir. "We are volunteers and this is our way of being part of our community in an exciting and gratifying way. I love helping to bring a large and diverse community together to take care of each other."
Completing a project like Slocan City Suites takes contributions from all over the community.
"It takes support from government and organizations like the Columbia Basin Trust to make
affordable housing happen," said Moir. "Housing is very expensive to build and maintain. Were it not for housing societies working in co-operation with government and other funders, we would not be celebrating the grand opening of Slocan City Suites and the 20th anniversary of Passmore Lodge."
As much as the housing situation has improved, Moir insists that there is still room to expand.
"We still need more affordable, safe rental housing—for all ages," she said.