Brian Taylor is back at Grand Forks city hall
Brian Taylor and his council are leading post-flood recovery efforts in Grand Forks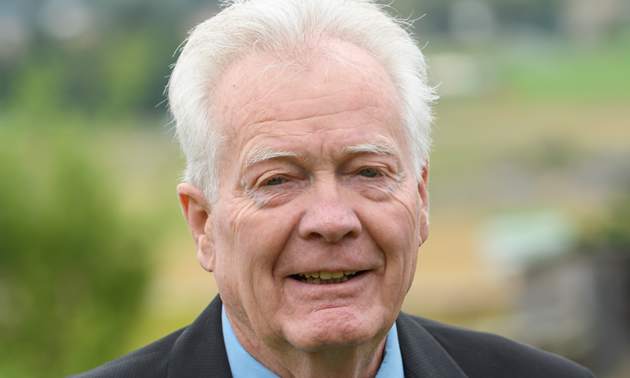 As of October 2018, Brian Taylor has begun his (non-consecutive) fourth term as mayor of Grand Forks, B.C. At a time when the small Kootenay-Boundary city is mired in a slow and painful recovery from the massive flooding of 2018, he's taken on a daunting job.
"Grand Forks has post-traumatic stress," Taylor said. "This community needs a dream to hold on to that says life is going to be better."
Taylor is no stranger to following a dream and working hard to achieve it. He is a long-time advocate and activist for the legalization of cannabis, though that stance cost him his successful career as an administrator in childcare and mental health facilities. However, his community has chosen him repeatedly as their mayor—and perhaps it's not surprising.
Much of the population of Grand Forks descends from pacifist Doukhobors who left Russia to avoid government-imposed conscription, and more recent additions to the population arrived from south of the border to avoid the American draft during the Vietnam War era. It may be in the genes of this population to empathize with a nonconformist.
We asked Taylor to tell us about the situation that's facing Grand Forks today. Here is a pared-down version of our conversation:
Can you please describe what your community is facing, and what the priorities are for you and your council?
We're still working on flood recovery and protecting the community from the spring freshet coming up. We're trying to pull things together, and we're waiting for grant money to help us.
Sometimes it's hard to show the community that anything's happening when it's all happening in meetings and behind the scenes, so that's a big challenge. We need to look at our asset management plan and our capital projects, and bring the city's energy and resources into focus so we can use them to participate in economic recovery. It's a complex situation.
Breaking down the components of flood recovery, we first have to look at housing. Our ongoing problem with a transient homeless population is now complicated by the homelessness of some of our permanent residents, caused by the flood. We have 100 or so homes in trouble in the North and South Ruckle areas.
With our weather so unpredictable, how can you really protect this community?
We're looking for a permanent fix for this extraordinary problem, so that if flooding threatens to happen again, we won't have the same results. Our engineers are drafting reports, and we hope that those will assure the potential funders that these measures will prevent this from happening again.
The proposed solutions are dramatic. There's the possibility of closing down the whole of North Ruckle and turning it into an overflow area for floodwater, rather than repopulating it. We have a grant application in to the federal and provincial governments—our biggest grant request—for $48 million to do the "buy out, sell out, bulldoze" approach to the North Ruckle subdivision, and to address problems in South Ruckle, which was also badly hit by the flood.
We're being offered a large grant by BC Housing for three developments, which is great and very much needed.
Why, at this difficult point, did you run for mayor?
I like the job, and I'm good at it. All of my working life, I've been in management, working with people around tables. I think my skill is to get people working together and accomplishing things. I'm able to put my emotions and my agendas aside and accomplish things within a group.
And sure, we have challenges ahead, getting ready for the next five to 10 years. We're looking at attracting new industry and business as well as the economic recovery for our existing businesses. I hope that soon we can develop the dream that Grand Forks needs, showing that our community is going to grow and change.
For an in-depth exploration of the early phase of Taylor's involvement in the push for cannabis legalization, and a fascinating history of the Doukhobor community, go to this site.