Kenny White is your guy for new builds and renos
For Kenny White, carpentry was meant to be a short-term means to an end, but he chose it as his full-time career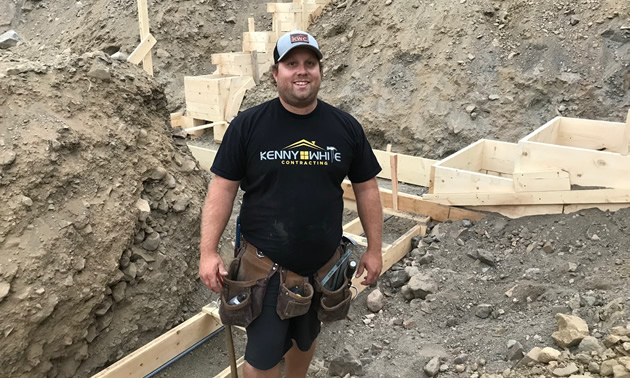 Kenny White is a second-generation carpenter who, in and around his home community of Montrose, B.C., is recognized as being very good at his trade. As a youngster, though, he wanted to be a fireman; he spent nine years volunteering with the Montrose Fire Department. He became a journeyman carpenter during that time simply to have an advantage in the application process to become a firefighter.
"Being a tradesman gives you an edge in the interview process," White said. "But as I got into carpentry, I ended up really liking it and I changed my career direction."
White became a full-time contractor, founding Kenny White Contracting in 2016. He has quickly gained recognition for reliability and quality work.
Among other businesses like yours, what makes Kenny White Contracting special?
I try to provide good customer service. I answer my phone and I put in my best effort every single day.
What's a recent trend in your business that you've noticed or are excited about?
We're just really, really busy. The economy is in a good spot in Trail right now, and there are a ton of projects going on, including some big ones.
What product or service that you offer is your favourite, and why?
The renovation game is what I like, transforming something from old to new. In 2006 I bought my first house in Beaver Falls—it was a dump, and my dad and I fixed it up. A kitchen reno is probably what I love the most, for the "wow" factor. It's the heart of the home, and at the end of the day it will up the value of the home for the customer as well.
What would call your business superpower?
I make good connections with people, I have good networking skills and I have good, reliable employees.
Readers of Kootenay Business gave Kenny White Contracting high ranking in the magazine's 2018 Best of Business survey. You may contact White at [email protected]