Junior Dragons Den Championship results
Here are the results for the fifth annual Junior Dragons Den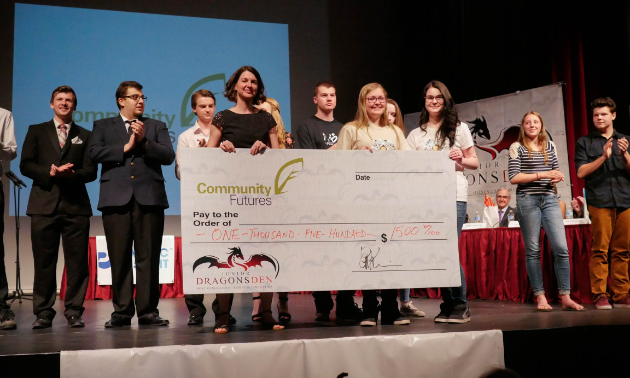 The fifth annual Junior Dragons Den Championship took place at the Charles Bailey Theatre in Trail on Saturday, May 8.
Here are the results for the Junior category (Grade 7-10):
1st Selkirk Seaglass, Katherine Wall, St. Josephs School, Nelson
2nd Peterson Cryogenics, Myles Peterson, Stanley Humphries Secondary, Castlegar
3rd Welcome Home Décor, Rebekah Syme, Salmo Secondary
Here are the results for the Senior category:
1st Taking Back Neverland – Katelin Blunden, Keona Osbourne, Tumbler Ridge Secondary
2nd Peer Music – Seth Merry, Lily Knowles, Tumbler Ridge Secondary
Here are the results for the College/University category:
1st Wild Kootenay Honey, Cameron Olsen, Okanagan University College (former winner in the senior category, with a team from Nakusp Secondary)
2nd Academy Care Box- Vanessa Ford, Josh Skinner, Selkirk College
3rd Virtual Reality of the Kootenays, Nick Bonacci, Austin Forry, Sheldon Farenholtz, Selkirk College
Junior Dragons' Den is a led by Community Futures of Greater Trail, in partnership with the following Community Futures offices: Central Kootenay, Boundary, Revelstoke, East Kootenay, Peace Liard and Community Futures British Columbia.
Community Futures fosters local entrepreneurs through all phases of business development and with 34 offices within British Columbia and more than 300 across Canada, excels in providing entrepreneurial programs and training.
The organization offers a robust loan portfolio and can be seen supporting, co-ordinating and leading a wide range of economic development initiatives.
Congratulations to all the finalists and winners.