Evolving with the industry at Crockett Book Company
For Brad Crockett, owner of Crockett Book Company, running a successful business is an ongoing process of learning what works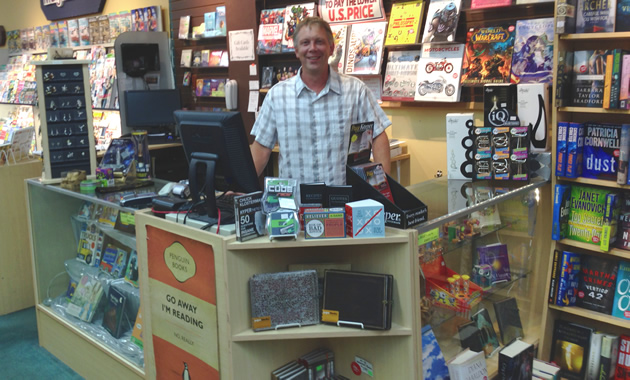 In the 1400s, printing presses began to take off, making literature commercially available to a growing number of people. The process of printing and selling books, though much more efficient, hadn't changed that much by the 1980s, when teenager Brad Crockett began working at a Coles Books in his hometown of Trail, B.C. He stayed in the book business, managing stores in bigger cities until 1993 when he returned to Trail and opened an independent bookstore, which he named Crockett Book Company.
A year after Crockett Book Company opened its doors, Amazon was founded, and then in 1998, the first eBook readers began to hit the shelves. Over his years in business, Crockett has learned to adapt to a changing industry and learned how to best serve his clientele. Today, Crockett Book Company is a very price-conscious company with a web presence of its own. The store carries local authors and discount books in addition to an expanded product line that includes games, cards and calendars.
Relevant in a small town
"I think we've seen a bit of a plateau with the online sales and the e-readers," said Crockett. "There's still something about holding a book for a lot of people. . . . That's one of the things that I like to point out—it would be terrible to lose that ability to walk around and browse, especially with independent booksellers that are trying to pick the books that people in your area want, as opposed to a computer telling you what you should be reading based on what other people are buying."
A trend towards supporting local businesses also has benefitted the Trail store. Crockett believes that customers have an improved awareness of the advantages of shopping locally. Nonetheless, Crockett wants to provide his customers with a shopping experience that brings them back, not just out of a sense of support. It's a goal that Crockett Book Company has accomplished with its sales initiatives. At the moment, product is sold at the lower U.S. price on the cover. Local books and author signings have also been a key part of the business.
With more products and bargain books in stock, Crockett is planning to expand his current building. The store is currently 1,500 square feet but by the end of 2014 is expected to have grown to 2,100 square feet. All this is on top of simply running the long-standing bookstore and acquiring a new business. Since opening his bookstore at age 25, he's discovered a lot about running a successful store, but it runs in the family. Crockett is the third generation in his family to be a business owner in Trail.
Lessons learned
"I've learned it takes a lot of hours," said Crockett. "I really learned that you think you're working for yourself and then you're never just working for yourself because it's always that customer that you're working for."
Perseverance is key, said Crockett, along with having the resources to continue to move forward during slow times. Other than that, it's a matter of trying different things, finding out what works for the area and continuing to give customers service that will bring them back. For Crockett, it's the challenges themselves that make owning a business a worthwhile endeavour.
"I think people who are in business for themselves just love the independence and the chance to be entrepreneurial," he said. "They don't mind the working hard if it pays off—putting in the extra time—as long as they know that it's an investment into their future."