Combat COVID with BINGO
The Trail Chamber has created a fun promotion for residents to shop local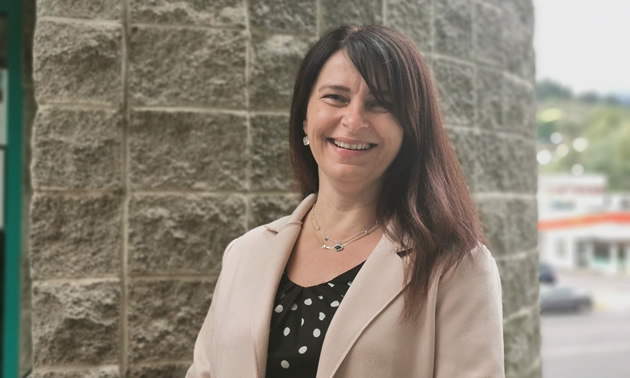 COVID-19 has thrust Kootenay communities into unfamiliar territory. Shutting businesses down and starting them back up again isn't something we're accustomed to. Each city is doing its best to adhere to guidelines and maintain service to its citizens. One city, Trail, has managed to follow all the rules and create a fun way to encourage residents to shop locally—by playing bingo!
Here's what Erika Krest, executive director for the Trail and District Chamber of Commerce (TDCOC), had to say about her approach to COVID-19, bingo and everything in between.
How has the COVID-19 pandemic impacted the Trail and District Chamber of Commerce?
The TDCOC—just like any other business, non-for-profit or private person—is greatly affected by COVID-19. Our main goal was to ensure that we are available to our members during these trying times. We were able to achieve this goal by rerouting our landline and by setting up the Chamber's email to my assistant's, Freda Scott, home office. Freda came on board at the very beginning of the pandemic and is providing an excellent customer service to our membership.
How is the Trail and District Chamber of Commerce adjusting to COVID-19?
Here at the TDCOC, we are very active on social media, thanks to our experts at Business Reach Marketing. In the last couple of months, we have gained a significant number of new followers. We believe that this trend is due to our vigilant effort to connect our community with our membership. We are the voice of our business community locally and provincially. This role is challenging but also rewarding.
As our businesses follow B.C.'s plan for careful reopening, the Chamber is throwing its support behind each one. Businesses of any size, even micro businesses, are welcome to reach out for PPE (Personal Protective Equipment). The Chamber is now a distribution hub for face shields and face masks. This is a new role for us, but we are here to serve our members and to fill the gaps as needed.
How has COVID-19 impacted your interaction with other local businesses that you work closely with?
Community Futures Greater Trail, Lower Columbia Initiatives Corporation, and the TDCOC are regularly conducting the South Kootenay Virtual Business Roundtable where local businesses and stakeholders come together to discuss hot topics that keep them up at night. Experts are invited to answer questions, and concerns are brought further to the provincial level to be considered by the government. Although our interaction has moved to the virtual level, our community is very much connected and aware of the various challenges that each sector is facing these days.
How did you come up with bingo as a way to promote business in Trail?
Several other ways were considered to promote local businesses before the launch of the bingo game (See examples here). As a grassroot organization, one of our mandates is to listen to our members. This is how we heard about the idea of a bingo game. From then on, our job was to set a framework and bring this idea to reality. We are marketing it as #thinklocalfirst Bingo to bring awareness to the importance of shopping locally for goods and services. This is a fun and valuable way for cross-promotion and this game can be repeated annually.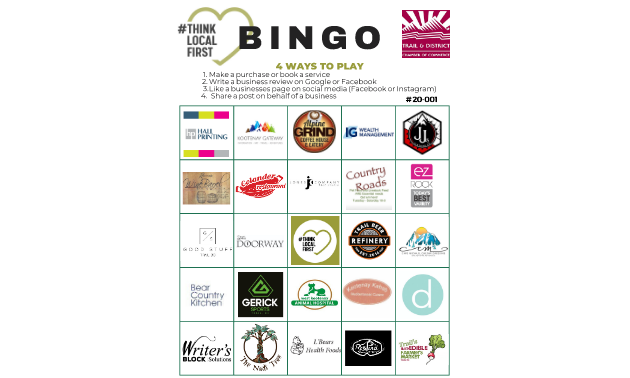 How does the game work?
Two #thinklocalfirst Bingo cards were released each week in the month of May. Participants are welcome to play until the middle of June. That's when they submit all #thinklocalfirst Bingo cards. All submitted cards enter a draw and valuable prizes will be won.
How do residents participate in Trail's bingo game?
To play: Support each business you can in one of the four ways listed on the card. Each business will post the bingo card to their page and tell you how you can best support them right now. Take pics of the items/food you buy or reviews you give and post to your social media or comment on the businesses page and tag @trailchamber on Facebook or Instagram (@trail.chamber). You can also post to your Story and tag the Chamber.
Have fun! Support local. We are all in this together.
What has the response been to bingo in Trail?
Our business community has welcomed the #thinklocalfirst Bingo and, without asking, has donated some very valuable prizes to the winners. Based on our social media activity, we are planning on a high volume of submitted bingo cards.
For anyone who wants to start up an initiative like Trail's #thinklocalfirst Bingo, how should they go about implementing a plan?
It was important for us to create an initiative that has a lasting effect and can be repeated as needed. Some form of "shop local" campaign has been on the Chamber's mind for some time now. #thinklocalfirst has been used in the past and the logo was already created. This time seemed like a perfect opportunity to bring all these pieces together to create an initiative that has a lasting effect and provides community awareness.
Is there anything else you'd like to mention?
On December 11, 2020 the Trail and District Chamber of Commerce is celebrating its 120th birthday. We are a proud member of the BCChamber of Commerce, and are AAA+ rated by the Better Business Bureau.