Banking with a personal touch
The Kootenay Savings Member Service Centre is a call-in centre that makes it possible to do all banking over the phone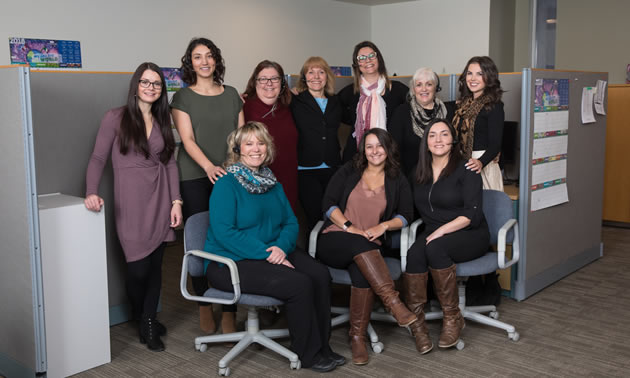 Kootenay Savings Credit Union has established itself as a member-centric oriented bank. Now, thanks to the user-friendly Kootenay Savings Member Service Centre, the company has further entrenched its footing as the ultimate customer-service experience.
The Kootenay Savings Member Service Centre, located in Trail, B.C., is a call-in centre that makes it possible to do all banking over the phone. Members can take care of basic transactions, bills, loans, document signatures, RRSPs and an array of other bank-related tasks with the assistance of a local agent on the other end of the line to guide them through the process.
"We're really proud and excited about being able to offer this service in our region," said Nancy Crockett, vice-president of sales and member experience at Kootenay Savings Credit Union. "When our members were indicating that they have higher expectations from their financial institution and want anytime, anywhere access, we felt it was necessary to adapt to the changing consumer behaviour and member needs. It's important to listen to what our members are looking for."
Kootenay Savings has a distributed work model, meaning local agents are available to assist you even if you don't live near the company's hub in Trail. Additional member service advisors are situated in Kimberley and Radium.
"Many of our members will call in and recognize people on the phone from when they worked in the branch," said Crockett. "The employees that are helping them are trusted advisors. They're able to make clients feel comfortable. If clients are nervous about something or haven't done something yet, advisors can walk them through exactly how to do it."
For those that prefer to do their banking on their own, there are alternatives. "We have a high penetration of members who use our Kootenay Savings mobile app or go to our website for online banking," Crockett said. "76 per cent of our basic transactions are now done via self-serve option."
There are a number of ways that the Kootenay Savings Member Service Centre is dialing up the convenience of banking over the phone. "You could be at home and give us a call if you don't want to go into the branch that day," Crockett said. "You can give us a call while travelling, which has been very popular. We've also found that a lot of our youth who leave the service area to go to university don't need to close their account anymore because they can do everything via our app or call into the member service centre. With our paperless e-signature electronic document, we can be sending documents for signing remotely without people needing to mail them in or come in."
Members have been taking advantage of the service centre in droves. About 5,000 calls are made to the service centre every month.
To utilize the Member Service Centre, call 1-800-665-5728 during their expanded hours: 8 a.m. to 5 p.m. Monday to Friday and 8 a.m. to 3 p.m. on Saturday.