Austin Innovation expands face shield production efforts to fit other first responders
Austin Innovation in Trail, B.C., is manufacturing PPE for medics and other essential service providers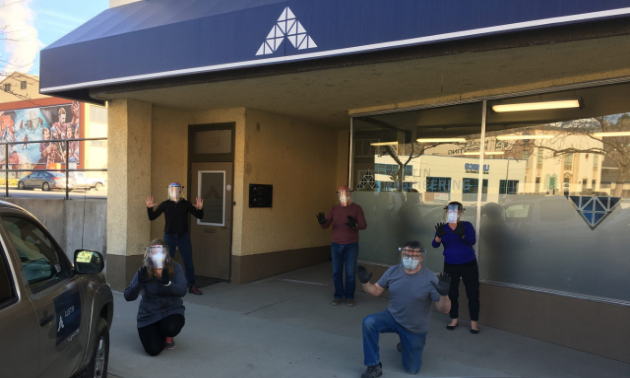 Austin Innovation is scaling the production of medical face shields from their lab in Trail as a stopgap measure to meet the demand for COVID-19-specific personal protective equipment (PPE).
The new entity, located in the lower level of Austin Engineering, is part of the collaborative team manufacturing PPE for the medical community and other essential service providers responding to COVID-19. Their efforts to equip doctors and nurses with face shields have now expanded to fit other first responders and critical essential service workers in the Kootenay Boundary region.
"We were brought onto an existing team, led by Dr. Michael Vance, who was tasked with sourcing PPE for his teams at Kootenay Boundary Regional Hospital and Kootenay Lake Hospital," said Mary Austin, CEO of Austin Innovation. "We're working as an integrated Trail team with adaptive design techniques based on feedback from the medical community. We've been able to scale production to several hundred shields a day. Our small assembly team safely manufactures the PPE under social distancing protocols at the Austin Innovation lab and a Selkirk College affiliated lab. The response from the community so far has been tremendous."
Dr. Vance established the initial design team and began 3D printing shields under the name: Kootenay Makers for COVID-19 PPE Production, a regional initiative funded by the community.
"These face shields are an important aspect of the recommended PPE list for those caring for COVID-19 patients," said Dr. Vance. "Some clinics and staff had zero shields, so producing these has definitely helped alleviate some healthcare staff anxiety."
Austin Innovation, local businesses, and individuals have all donated supplies. The immediate response to the project was crucial in ensuring the masks could be produced and delivered in a timely manner.
"I was blown away by the response from the area's innovators," said Vance. "They took the reins on this project and surpassed any expectations I had for timeline and production numbers. They were also vital in refining the product to make the shields as useful as possible."
After hearing from medical professionals, Austin Innovation adapted the shield design and began rapid production. New iterations of the design were made based on fit, functionality, and comfort tailored to the end user. Austin Innovation's efforts have seen approximately 1,300 shields manufactured and delivered to Kootenay Boundary doctors, nurses and other supporting health care workers, RCMP officers, firefighters, search and rescue, postal workers and food bank employees.