Dogsledding: a winter getaway
Musher Eric Marsden of Revelstoke Dogsled Adventures is passionate about his sport, his animals and his guests' experiences
Every Canadian's bucket list should include dog sledding, said Eric Marsden. He's the owner/operator of Revelstoke Dogsled Adventures, a business that has been introducing visitors to his love of his dogs and his hobby-turned-career for the past six years. The activity is a part of our heritage, he pointed out, in addition to being a lot of fun.
Eric originally came to Revelstoke with his snowboard, a modest team of nine dogs and prior dog-sled guiding experience. He and his wife, Connie Marsden, both enjoy working with
people, so running their own guiding outfit was a natural fit. Although their business has grown with every season, Revelstoke Dogsled Adventures is still a small operation—it sends out a maximum of two sleds with four guests on each tour. Eric enjoys running a more hands-on operation along with the infectious energy that guests bring to the sledding experience.
"Guests can expect an interactive, fun, safe experience," he said of Revelstoke Dogsled Adventures. "I'm not just treating people as cargo; they're there working with me every step of the way in helping feed, harness, hook up the dogs and run 'em. Typically by the end of my tours, I'm just sitting in the sled and I'm being the tourist. With competent guests, they're generally finishing the ride home for me. . . . It's not so much a guided tour as it is mushing 101. Everyone gets to learn a lot more."
Just keep sledding
Clients of Revelstoke Dogsled Adventures are often pleasantly surprised by the amount of interaction they have with the dogs, said Eric. He refers to his sled teams as elite canine athletes, fur babies and the best employees a guy could ask for. Keeping a smaller kennel of 27 dogs (larger operations have hundreds of dogs) also allows the Marsdens to extend plenty of affection to the animals and to get them out running frequently. Sled dogs have a drive and eagerness to run the trails, a job they're made for.
There are only a few dogsled businesses in the Kootenays. It's not surprising, given the cost and time commitment of owning a dog team in the first place and a lack of interest from the younger generation. Eric believes he is a curator as well as a guide, helping to preserve a dying art in the region.
In addition to its standard tours, Revelstoke Dogsled Adventures will book custom tours. Shortened tours can serve all ages, and Eric and his dogs enjoy leading longer adventure trips, too.
"We've had people book custom tours to, say, propose to their wife or we've done tours out to the hotsprings or whatnot," said Eric. "Recently, we're getting interested in leading clients to heli-ski lodges—we're looking to work with some heli-ski companies to actually bring some people to the lodges by dogsled. We've also got a bit of a zany idea going. We've fashioned ourselves as the world's first dog ski operation. So as opposed to cat skiing or heli skiing, we've dabbled with bringing people up via dogsled to get their elevation gain. It started out as a training exercise because I was hill running my dogs but, hey, we've got room for one more person, might as well go down the mountain that way. It turned out to be super fun for us."
Choosing a dog-sledding experience
The vast majority of dog sled operators are passionate mushers and care for their animals, said Eric. When looking into a dog sled tour, he recommends guests think about their expectations.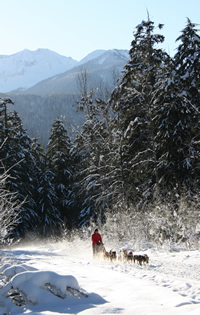 Smaller operations generally offer a more intimate and involved experience—Eric varies his dog team, sled speed and route based on snow conditions as well as the fitness levels and needs of his clients. Large or corporate groups or those who want a more generalized experience will want to consider booking with a more major tour business.
With a growing business that aligns with their hobby and their passion for their animals, the Marsdens look forward to introducing more visitors to dog sledding in the winters to come.
"I love my job," said Eric. "I love Revelstoke. The Kootenays are a great place to do business. I've had lots of support from the Revelstoke community and am super stoked for another season here."