2020
Top Kootenay Employers
KootenayBiz presents its annual list of Top Kootenay employers, based on employment numbers in 2020.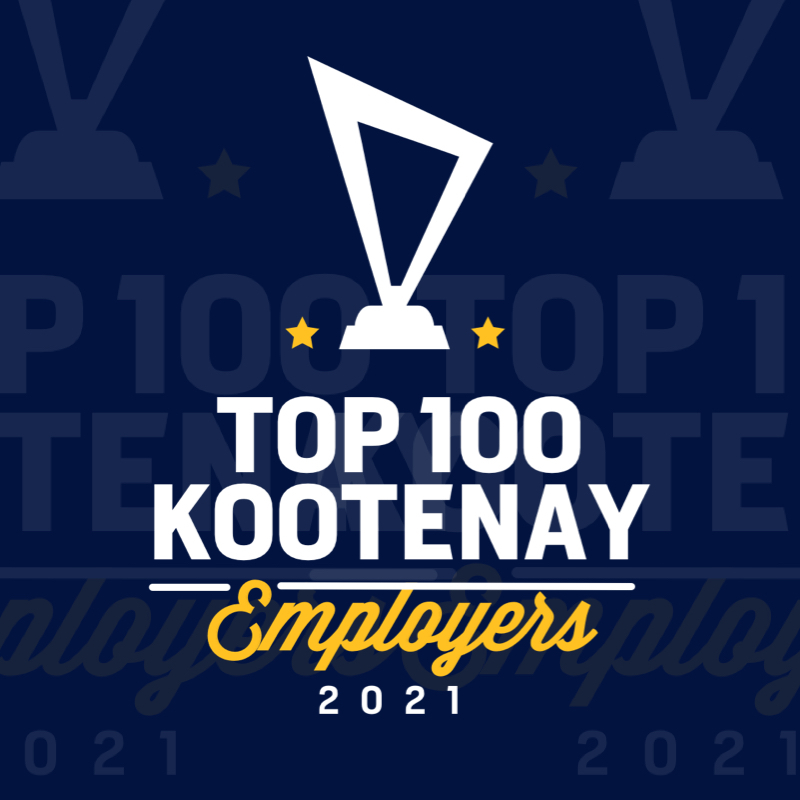 2020. It's been a year like no other. The economic fallout from the COVID-19 global pandemic will likely be around for several years to come. Some business sectors sadly may not recover, while others have found new opportunities in the midst of challenging circumstances.
As we do every year, the team at KootenayBiz has put together a list of the Top 100 Kootenay Employers, based on the number of staff employed at the business. Surprisingly, the total number of employees increased in 2020 by over 1,100. Out of 100 Kootenay-based companies, 17 saw increased employee numbers, while the majority maintained their employee base over the previous year. Many of those increases were in the education, service and manufacturing sectors—perhaps a reflection on the need for additional custodial staff, soaring demand for home improvement products and the necessary motivation to embrace technology and e-commerce. Only five companies saw a decline in the number of employees in 2020, a trend that we find encouraging. Overall, the total number of employees for the top 100 Kootenay companies in 2020 is 35,796.
Leading into 2021, Kootenay regional businesses and industrial sectors will need to continue to adapt and evolve to changing circumstances. But by working together and supporting our valued consumer and industrial base, we can weather the storm and come out stronger for our communities.
Take a look at some of these leading employers from the East and West Kootenay regions, and visit their career information pages if you're curious about job opportunities with these reputable employers.
1. Interior Health Authority
2. Teck Coal Ltd.
3. BC Government & Service Employees Union (Members)
4. FortisBC
5. Teck - Trail
6. School District No. 5 (Southeast Kootenay)
7. Golden Life
8. Canfor
9. School District No. 8 (Kootenay Lake)
10. School District No. 20 (Kootenay-Columbia)
11. Selkirk College
12. Fernie Alpine Resort/Resorts of the Canadian Rockies
13. School District No. 6 (Rocky Mountain)
14. Canadian Mountain Holidays LP
15. Panorama Mountain Village
16. Revelstoke Mountain Resort
17. Mercer Celgar
18. Kimberley Alpine Resort/Resorts of the Canadian Rockies
19. Louisiana-Pacific Canada Ltd.
20. Regional District of Central Kootenay
21. Interfor Corporation
22. Tamarack Centre
23. CanWel Building Materials Group Ltd. (Formerly Jemi-Fibre)
24. Downie Timber Ltd.
25. Real Canadian Superstore
26. Skookumchuck Pulp Inc., A Paper Excellence Company
27. Whitewater Ski Resort
28. College of the Rockies
29. BC Hydro
30. School District No. 51 (Boundary)
31. St. Eugene Golf Resort & Casino
32. Kicking Horse Mountain Resort/Resorts of the Canadian Rockies
33. Red Mountain Resort
34. True Key Hotels & Resorts Ltd.
35. Marbor Holdings (Hume Hotel & Spa and Best Western Plus Baker Street Inn)
36. Roxul Inc.
37. Kootenay Savings Credit Union
38. City of Cranbrook
39. Fairmont Hot Springs
40. City of Nelson
41. Vic Van Isle Group
42. Ferraro Foods
43. Kalesnikoff Lumber Co. Ltd./Kootenay Innovative Wood Ltd.
44. Regional District of Kootenay Boundary
45. Kootenay Country Store Co-op
46. Sutco Contracting Ltd.
47. Ministry of Forests, Lands & Natural Resource Operations
48. Prestige Hotels & Resorts
49. Save-On-Foods
50. Columbia Brewery (Labatt)
51. Porcupine Wood Products Ltd.
52. Walmart
53. City of Trail
54. Kicking Horse Coffee
55. Canada Safeway
56. Canada Safeway
57. Canada Safeway
58. Mount Revelstoke & Glacier National Parks
59. City of Revelstoke
60. Mainroad East Kootenay Contracting
61. Western Financial Group
62. Selkirk Paving
63. Island Lake Lodge
64. Glen Transport (A Division of DCT Chambers Trucking Ltd.)
65. J.H. Huscroft Ltd.
66. RHC Insurance Brokers Ltd.
67. Galena Contractors
68. Northstar GM
69. Fab-Rite Services Ltd.
70. Yellowhead Road & Bridge (Kootenay) Ltd.
71. Royal LePage East Kootenay Realty
72. Maglio Building Centre/Maglio Building Centre (Trail) Ltd.
73. Transcendent Mining and Mobilization Inc.
74. School District No. 10 (Arrow Lakes)
75. Save-On-Foods
76. Regional District of East Kootenay
77. Save-On-Foods
78. Atco Wood Products Ltd.
79. Save-On-Foods
80. New Dawn Group
81. La Baguette Catering
82. East Kootenay Community Credit Union
83. Columbia Basin Trust
84. Boundary Electric (1985) Ltd.
85. Selkirk Signs
86. Canada Safeway
87. Heritage Inn Hotel and Convention Centre
88. The Heid Out & Fisher Peak Brewing Company
89. City of Castlegar
90. Selkirk Security Services Ltd.
91. Unifab Industries Ltd.
92. Golden IGA
93. Wood Canada Limited
94. Canadian Tire
95. Grand Forks Credit Union
96. Overwaitea Foods
97. Revelstoke Credit Union
98. Trainor Mechanical Contractors Ltd.
99. Fernie Lodging Co.
100. Finning Canada
Think your business should be on our list? Email Kootenaybiz and let us know how many employees your business has.