Replacing petro-plastic
Advanced BioCarbon 3D of Rossland is within a year of bringing engineering grade, plant-derived plastics to the marketplace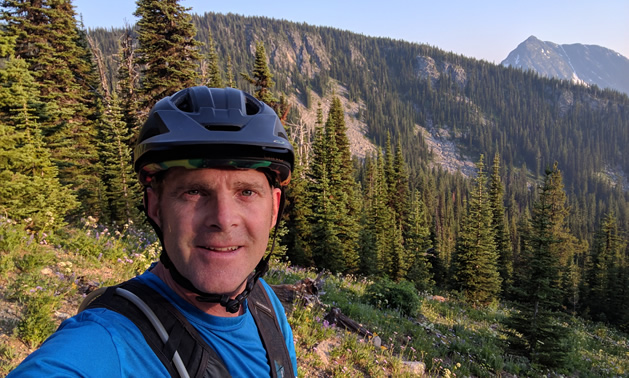 There's a lot to love about plastic. Synthetic plastic was invented in 1907, and its versatility has made it indispensable in our society. However, all of the petrochemical-based plastic ever made still exists—broken down, perhaps, but impossible to biodegrade—and it's causing all sorts of problems for our Earth.
Darrel Fry of Rossland, B.C., is an entrepreneur with a mission: to disrupt climate change. First on his agenda is the creation of a sustainable, Earth-friendly, more extensively usable plastic. He and his team are studying nature's example and discovering ways to extract and repurpose the natural plastic found in plant resins. Wood—including the residues from logging—is an ideal source of these resins, and other potential sources are hemp, coconut shells and walnut shells.
"I don't see how we can continue down the path of conventional plastics," said Fry. "The planet can no longer sustain the amount of plastic being put into the oceans and across our landscape, nor can it sustain the carbon emissions from petroleum products. Everyone knows we need to take action.
"Nature has been making (natural plastic) for three billion years, and disposing of it for three billion years. Nature already has in place the bacteria and decomposition team it needs to break down plastic that is made from wood."
The switch to making plastic from the materials and system that nature has already created and perfected will halt any increase in the issues that petro-plastics are creating. Fry's company, Advanced BioCarbon 3D (ABC3D), is within a year of having a biodegradable plastic available in the marketplace, in the form of filament for 3-D printers.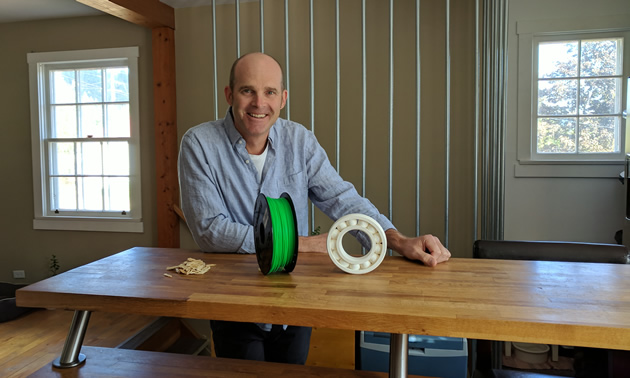 ABC3D's biodegradable plastic will be lightweight, waterproof, extremely strong and extremely heat resistant. It's the perfect medium for manufacture of a wide range of sophisticated products, including automotive parts and parts for heavy industry.
"Our process is carbon negative," said Fry. "There's no hiding, no deception, no green-washing when we describe our methods. We use the resin, which is the natural plastic in wood. We don't modify it, we don't recreate it."
Plant plastic for localized manufacture
Fry envisions a day soon when, to obtain, say, a new muffler for your vehicle, you will download the design and take it to your local 3-D print shop or the muffler shop itself. There, the part will be manufactured from biodegradable plastic sourced from local trees, at the speed of current technology. The process will be quick and convenient and have the environmental benefit of eliminating the container and truck transport that is necessary today to bring metal components to market.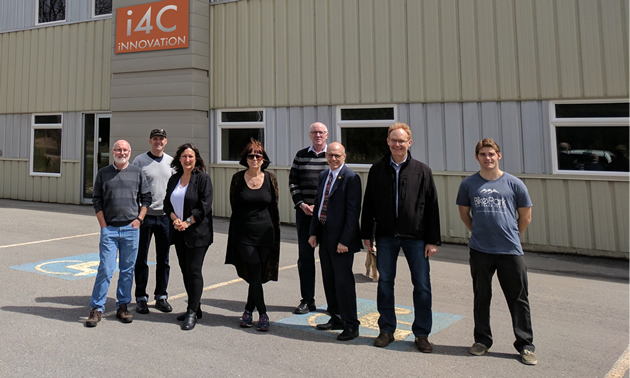 The financial ramifications of converting to local manufacture will be significant. Faster turnarounds for replacement and repairs will cut costs for industry, and local manufacturers will have greater scope and lower costs for production. Business collaborations will thrive.
And for the environment
This technology will also benefit our environment:
ABC3D's method of extracting raw materials for sustainable plastic is a carbon negative process that will minimize or eliminate many emissions—including CO2—created in traditional manufacturing.
Localized manufacturing will reduce the need to ship products, and any necessary shipping will cost much less, as the new plastic is so lightweight compared to metal.
Other products made from this process are graphenes and carbon fibre—but that's a big subject that needs its own story.
"We need to create plastics that come from a renewable resource, are non-toxic, and biodegrade in case they miss the recycling process," Fry said. "ABC3D is making plastic that meets all these criteria. This technology truly will disrupt climate change. We're bringing positive change to the planet, and everyone can be part of it."