Kootenay Business celebrates three decades of publishing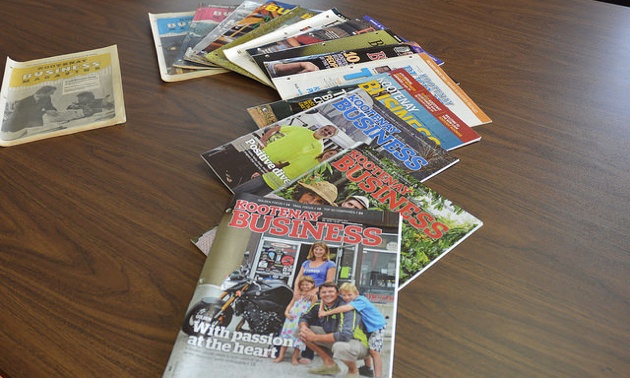 As Kootenay Business magazine celebrates 30 years of publishing, we take a look back at some noteworthy business highlights we have reported on over the last three decades, including a few milestones of our own. Now in our 30th volume of publishing, 2015 will be the magazine's official 30th anniversary year.
Issue No. 1, October 1985
Kootenay Business launches its initial edition along with the Federal Development Bank's Small Business Week celebration. Shell Oil spends over $20 million in the Flathead Valley drilling for oil. Mountain Ridge Office Supplies of Kimberley runs two ads touting the 3M copier products.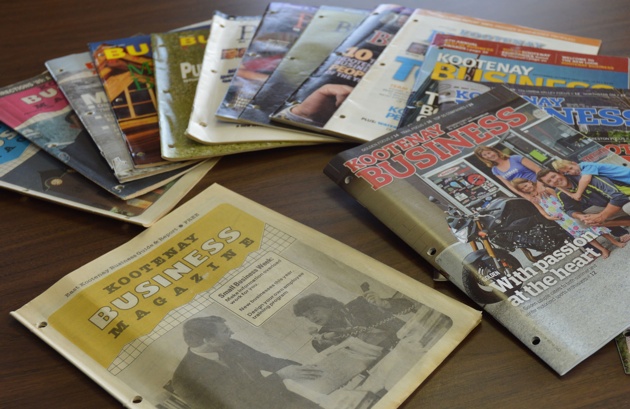 August 1987
Kootenay Business adds full-colour process to its front cover; it reports on Koocanusa Lake's first commercial development of a campsite and marina. The City of Cranbrook hires Harry Kembell, a Vancouver filmmaker raised in Cranbrook, to produce a video to promote tourism.
January 1989
Kootenay Business reports on implementation of the new Canada-USA Free Trade agreement. The Rocky Mountain Visitors Association targets attracting tour buses to the region. Waytech Manufacturing looks to recycle tire into rubber mats. U.S. Government upgrades Kingsgate border crossing.
March 1990
Kootenay Business unveils its second glossy front cover though the interior of the magazine remains newsprint. Elkford's mayor Jack White touts his pet project—the development of Highway 43 from Elkford to Alberta—in a story written by Catherine Galliford.
December 1991
Kootenay Business introduces a new feature called the Fax Poll, the question of the month: "How is the GST affecting your business?" The cover story talks of a new guest ranch retreat set to open in the Wycliffe area called Three Bars Ranch. Golden's mayor Fred Demmon speaks of tourism as a growth industry with the formation of 30 adventure operators into the Golden Mountain Adventures consortium.
May 1992
What's driving the golf boom in the Kootenays? Kootenay Business reports on the fact that there are 15 new applications to build new courses before the Regional District of East Kootenay. Corrine Friesen is named B.C.'s Restaurateur of the Year and Carol Hughes of the Village of Kaslo is named Secretary of the Year.
January 1998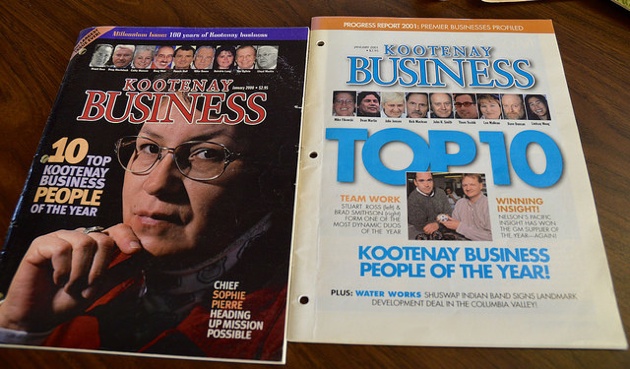 Kootenay Business introduces its first-ever Top 10 Kootenay Business People of the Year. Among those selected: Bill Bennett, Cranbrook chamber president; Nancy Moore, manager of Columbia Brewery in Creston; and Carol Seable, CEO of Fairmont Hot Springs. Also published was a list of Top 50 employers in the Kootenays. The top five on the list were Cominco Trail (2,000 employees); Fording Coal (1,467); Crestbrook Forest Industries (1,150); School District No. 3, Cranbrook (760); and Pope & Talbot (730).
June 1998
Kootenay Business runs a cover story on an Invermere start-up business, Kicking Horse Coffee. Husband-and-wife team Elana Johnson and Leo Johnson are brewing up success with their backyard coffee roaster. Johnson summed up their philosophy by saying, "Life is too short to be drinking the wrong cup of coffee."
September 1999
Kootenay Business runs its 2nd Annual Best of Business awards. Over 220 readership surveys were returned and over 9,000 individual nominations were marked off. Wally Penner of the Columbia Power Corporation tells the story of the $210-million Keenlyside Dam Project in the West Kootenay.
January 2000
Welcome to a new millennium. This issue of Kootenay Business is permeated by fears of Y2K and what the impact will be on Kootenay enterprises. Ktunaxa Chief Sophie Pierre appears on the front cover and speaks of the $34-million investment to bring St. Eugene Mission to fruition.
January 2001
Kootenay Business reports on the grand opening of the $200-million Kicking Horse Mountain Resort in Golden. The Eagle's Eye Restaurant perched at 7,777 feet is Canada's highest. A special multi-page feature showcases developments by the Shuswap Indian Band at Invermere including the Eagle Ranch Golf Course.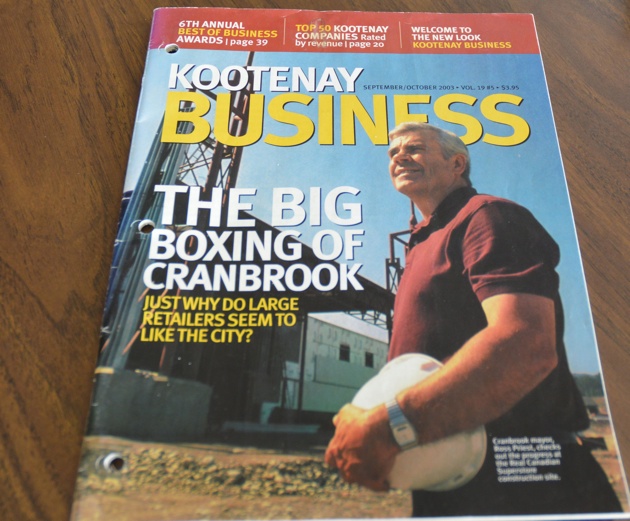 September 2003
Kootenay Business reports on the opening of the Real Canadian Superstore, the first big box store in Cranbrook. The store is projected to employ 300 people. Kootenay Business also readies the launch of the website www.kootenaybiz.com and its accompanying e-newsletter. Kootenay Business debuts a new design as well.
May/June 2010
Kootenay Business refreshes its design for its 25th Anniversary and launches a full slate of social media sites with the likes of Facebook, Twitter and Linkedin. The new magazine design is tweaked with sharper focus on shorter and snappier articles. Kootenay Business e-newsletter is now published monthly and reaches over 3,000 email readers an issue.
November/December 2014
Kootenay Business celebrates Volume No. 30 of publishing and looks forward to a year-long celebration of 30th anniversary events in 2015. Magazine readership is at an all-time high with almost 10,000 copies per issue, social media sites are buzzing with Facebook likes (193), Twitter followers (1,608) and Linkedin's Kootenay Business Network (959 members). Kootenay Business digital edition reaches close to 4,000 email subscribers as well.
It's hard to believe that Kootenay Business is entering its 30th year of publication; it has been a privilege to be involved from day one in this dynamic publication. We have endeavored to track trends, report on the up and downs of business, predict the business climate, heighten the profile of businesses throughout the Kootenays and celebrate the success of business in the region. Thank you to our many supporting advertisers whom we depend on 100 per cent to fund our ability to publish the longest-published magazine in the Kootenays. Happy 30th to all the staff and readers of Kootenay Business.