Working towards a better Sparwood
Mayor Lois Halko discusses her goals for Sparwood for the upcoming term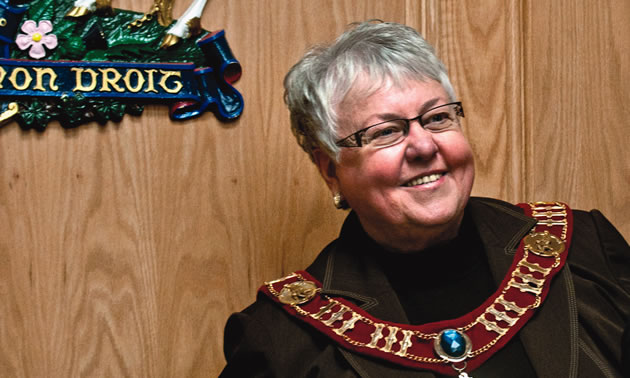 Lois Halko made history when she was elected as the District of Sparwood's first female mayor. We asked the longtime resident to pinpoint her top five goals to accomplish over this three-year term.
Having previously served one term as a councillor and with nearly 30 years as the community health nurse, Halko has set priorities for economic and land development, housing strategies and the transportation plan, and said she would like to see continued efforts toward water conservation.
Economic development
Privileged to be located in the heart of Teck's coal mining operations, Sparwood supports the growth of business, said Halko.
"We would like to encourage new, diverse and entrepreneurial business partners looking to locate here," she said.
Such incentives have been implemented within the five-year financial plan, including building permit and plumbing fees, which had been reduced by 50 per cent on construction that is greater than $5 million. As well, council recently endorsed a tax-exemption plan on the building portion of hotels costing $5 million or more.
"The revitalization of our downtown core is a priority," said Halko. "To retain and expand investment, the District of Sparwood should continue to participate with Invest Kootenay and to pursue marketing options with our Elk Valley community partners."
Developing land for industry
Halko said that although residential and commercial land is available within the District of Sparwood, land for industrial development is needed. Currently underway is a study of the planning, civil engineering, transportation engineering, geotechnical and surveying of a site recently released from the Agricultural Land Reserve south of Sparwood. To coincide with the project are plans for a second expansion of Sparwood Drive as well as road connections to the intersections created with the Highway 3 climbing lane project.
"In the coming years, it will be important to follow up on marketing suggestions and be well positioned to respond to requests for light and heavy industrial land development," said Halko.
Looking at housing needs
The District of Sparwood and the District of Elkford have recognized the need for a diversity of affordable and attainable housing options and have jointly commissioned Housing Strategies Inc., a consultant firm, to conduct a housing need and demand assessment of the communities.
"The findings of the study will broadly help to identify current and emerging affordable housing needs including the needs of contract industrial workers," said the mayor. "It will generate a greater understanding of local housing and associated issues such as housing prices and it will provide direction to the municipalities, the mining industry and interested stakeholders for resolving housing-related issues."
The 2012 final report analysis will include statistical data and results of key person interviews, focus group meetings, an online survey and a discussion forum.
"Council is looking forward to receiving the report and following up on the identified strategies," Halko said of the analysis, which will be considered during the revision of official community plan (OCP).
Sparwood's transportation plan
One main goal within Sparwood's Transportation Plan is to build on the principles of active transportation; this includes walking and cycling.
The Iron Rails Overpass, the recently completed link to the Elk River Crossing Bridge, is a benchmark project that will be officially opened in spring 2012. Funded in part by Infrastructure Stimulus grants, this project will have substantial impact on the District of Sparwood's Transportation Plan, serving a major purpose of connecting Sparwood Heights with the downtown core.
"A 10-kilometre ride by a vehicle can be substituted with a short and scenic 20-minute walk," said Halko. "With the first safe access to the Elk River now available from Sparwood proper, the development of a trail system in the Jewel Park area in the future would provide an opportunity to establish an interpretive nature walk featuring the wetlands, foliage, flora and fauna."
The expansion and upgrading of trails throughout the district will provide both residents and visitors to Sparwood with health benefits and enjoyment.
"Further development of additional walking trails along the river, within the community and up Matevic draw, would enhance our beautiful community," said Halko.
Water-smart initiatives
Although surrounded by numerous rivers and streams, Sparwood obtains its drinking water from three underground wells, each of which is greater than 15 metres in depth. According to Halko, the average per capita daily water demand in Sparwood of 1,100 litres is significantly higher than the national and provincial averages of 329 and 426 liters per capita per day, respectively.
"Previous councils have recognized the importance of our water as being a precious resource," said the mayor.
Sparwood was a signatory to the Columbia Basin Water Smart Charter and in 2009 agreed to reduce gross community water demands by up to 50 per cent by 2015. Data provided from recently installed water meters will position the District to supply a mock billing of water consumptions to all residents by next summer.
"We must continue water conservation efforts into the future," said Halko.