Sparwood invites you
Ski, hike or take in a game—it's all here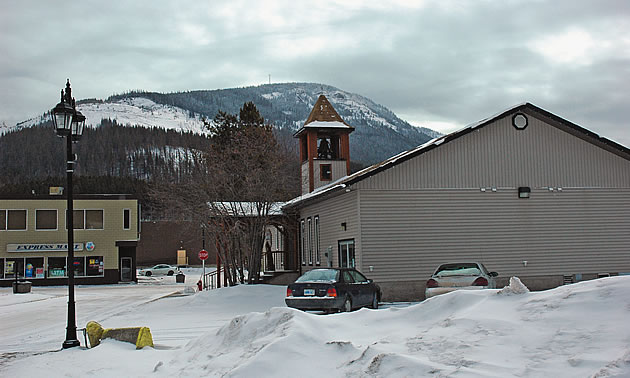 A visit to Sparwood in winter is a peaceful experience—with a healthy dose of adventure thrown in. With enticing outdoor recreation and relaxing indoor leisure activities, you are sure to enjoy your stay in this pleasant town.
The majestic wilderness
Snowmobiling in Sparwood is a natural choice, given the extensive backcountry wilderness trails near town. Popular places to go are the Corbin and Grave Prairie areas.
For a trail map, stop by the chamber of commerce or one of the local gas stations.
Hikers will be astounded when they discover Sparwood's backcountry. From a trailhead off Sycamore Road you can access the Matevic Draw, a well-marked forest route that takes you on a two-hour alpine climb and rewards you with a view of Sparwood from above.
There are plenty of places to ski as well. For both cross-country skiing and hiking, you can choose a trail based on difficulty. Experts might want to take on the rigorous Mountain Shadows Trail, Ponderosa or the eight-kilometre Sparwood Ridge Trail, while those with intermediate or beginner skill levels might prefer the more leisurely Cypress Park Loop, Pine Forest or Michael Trail.
At the Sunset Ridge Ski Hill & Nordic Trails there are approximately 10 kilometres of groomed routes through Sparwood's mountain landscape. These trails are ideal for Nordic skiing and snowshoeing.
A 20-minute drive away in Elkford, you can go downhill skiing at Wapiti Ski Hill and try out one or all of their seven ski runs. They are situated over a 1,000-foot vertical drop. It doesn't matter what your experience level—there are runs for both beginners and experts—and some of them have lighting that makes them accessible for night skiers.
Wapiti Ski Hill is perfect for families, as the rates are affordable and people under six or over 60 years of age can go skiing for free. There is a day lodge, equipment rental facility and concession on site, and the Wapiti Ski Club offers a fully trained volunteer ski patrol service.
Get inside where it's warm
If the weather outside is a little too chilly, fun-loving families can have a great time at the Elk Valley Family Leisure Centre. You can take a little break from winter and lounge at the year-round aquatic centre. It has a hot tub, sauna and tropical indoor pool to keep you warm—and you can get a delicious bite to eat afterward at the on-site restaurant. Also at the centre, you can test your strength on a climbing wall or head down to the curling rink.
In addition to all this, the leisure centre has an ice rink that is open regularly for public skating. You might even be able to see the Sparwood Figure Skating Club members honing their skills on this rink, or watch the local Sparwood Minor Hockey team play.