Sparwood chamber review 2015
The Sparwood Chamber of Commerce has a successful, boots-on-the-ground approach to business support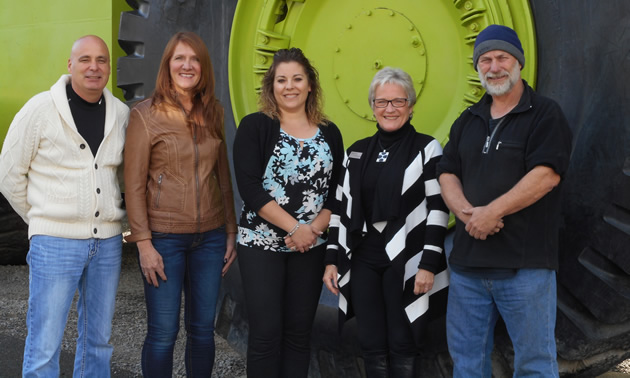 The number of members in the Sparwood Chamber of Commerce has increased by more than 30 per cent in 2015. The total is now at 135 members, a number that's especially notable in light of the fact that of the 357 business licences issued in Sparwood this year, just 105 of them have storefronts.
"I think that people are starting to see that becoming a chamber member means you're part of a team," said Norma McDougall, manager of the Sparwood chamber.
McDougall added that the Sparwood Chamber of Commerce is not typical, in that Sparwood's business sector is not the usual goods-and-services mix. "We're not a retail chamber," she said. "Our business community is about mining support, and we're all pretty much on the same page."
Sparwood's chamber supports the local business community, runs the visitor information centre and acts as the community's tourism agency. A big, green Terex Titan, billed along the highway as the World's Biggest Truck, is a very visible attraction that brings passers-by into Titan Park and thus to the visitor centre.
"We see more than 55,000 people come through here each year," McDougall said, "and we sell lots of promotional items out of the visitor centre. We've had a very good year of retail."
Taking the pulse
McDougall attended a Chamber Managers' Conference in September, and one of the ideas she brought back has to do with advocacy. It involves getting business owners face to face with the chamber and City government for a quick and direct interchange.
During the morning of October 15, half-a-dozen two-person teams—one chamber board member and one city councillor—set out to drop in on every storefront business in Sparwood with a short list of questions. Out of those triage-style visits, followups will be made where necessary, and the combination will give the City and the chamber a fingers-on-the-pulse indication of the current vitality and concerns of the business community.
McDougall said the chamber has a very good relationship with Sparwood's mayor and council, the district staff and the business community, and she hopes that the face-to-face survey will be repeated each year, like an annual checkup.
Instant regional information
During the 2015 summer, the Sparwood chamber installed two tourist information billboards in Titan Park, one showcasing Sparwood and the other showcasing the whole Elk Valley. McDougall believes that the three Elk Valley chambers will be increasingly effective as they increase their regional focus.
Thanks to a grant from Kootenay Rockies Tourism, McDougall has just placed an order with EPort Interactive Media for some new technology: a touch media platform for the visitor centre. McDougall described the platform as an electronic information kiosk that will enable visitors to learn up-to-the-minute information about events, amenities and services available in the vicinity, and take that information with them on their mobile devices.
"I'd love to see the whole Elk Valley get these kiosks," she said. "We could have them integrated so that all the communities would benefit and support each other."