Sparwood Chamber of Commerce reaches new heights and sets new goals
Looking to the future, the Sparwood Chamber of Commerce has a number of projects to pursue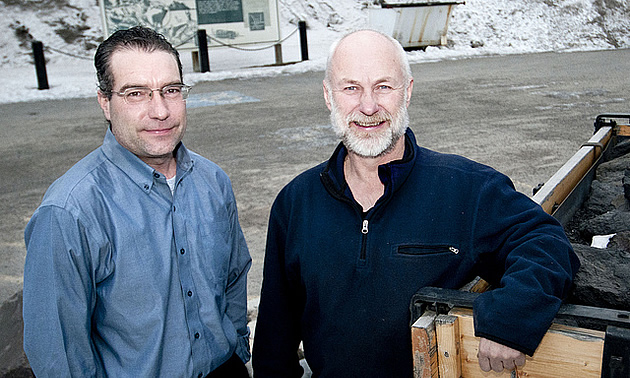 The Sparwood Chamber of Commerce recently elected several new members to its board of directors, including a new president, Alex Miller, during the AGM on February 1st.
As well, chamber manager John Himel has had many positive experiences since he began his position six months ago after working in radio for over 20 years.
Kootenay Business asked both chamber members to fill us in on the year ahead and this is what they had to say:
Top goals and a learning curve
With a current membership of 109, the hope is to increase communication with business owners in the region, both internally and externally. The main goal is increasing membership by 20 per cent, according to Miller.
"We know industry has increased in the region," he added. "We are seeing more interest and inquiries at the chamber office from existing and new support industries and contractors. Long-term development is starting to come off the blueprints and into reality in the industrial and residential sectors."
The manager made mention of six informative membership meetings in the coming year to be hosted by the chamber, and a challenge was recently thrown on the table to all current members.
"We have an open bounty—anyone who brings five new members will only pay half of their membership for the next year," said Himel. "It is important we build our membership and make it a strong viable association. Chambers are only as strong as their membership and membership involvement."
Also welcomed to the board were vice-president Marj Templin, treasurer Karen Sheets and three new directors, Melanie Paquette, Tammy Ogden and Chris Ekland. They will be joining directors Tammy Davy, Ryan Doehle and Rosa Gilmar, each of whom have one year left on their term.
Projects to look forward to
Along with the revamping of the chamber website and a well-received newsletter titled Flash Titan, the group also has plans to take part in several exciting events in the community in the coming year.
"[We] will be heavily involved with Coal Miner Days as well as our annual golf tournament and Christmas party," said Himel. "The chamber is also looking for more opportunities to become involved in local business development and promotion of local business issues."
Initiatives with the District of Sparwood
With many district projects on the go and some huge growth spurts in the economy, Sparwood's chamber will be playing a key role in the new Elk Valley Regional Economic Task Force, along with chamber members from sister communities, Elkford and Fernie.
"The chamber also hopes to start a dialogue with the district, looking at streamlining building and development permit process approvals," said Himel. "The chamber's role is to act as a voice for the local business community."