Sparwood builds a better crossing
It's been in the works for quite some time, and Sparwood's Middletown Crossing is now open and functioning well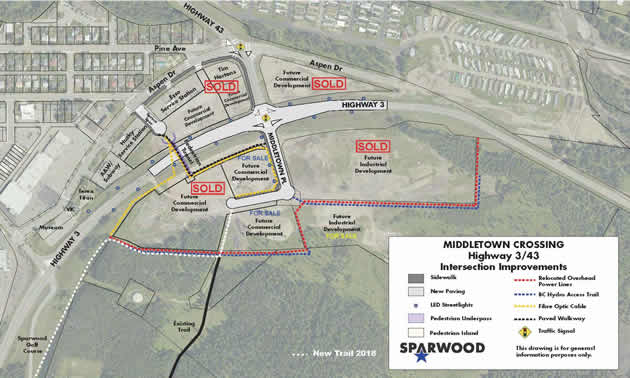 "Until now, Sparwood never had a full set of traffic controls," said Danny Dwyer, director of engineering for the District of Sparwood. "The intersection at Highway 3 and Highway 43 is such a busy one, the addition of those controls is giving people far easier, safer access to the highways."
The two highways are important to the economies of British Columbia and Alberta. Highway 3—known as the Crowsnest Highway—is the southern route that carries traffic from Hope, B.C., to Medicine Hat, Alberta; it is heavily used by transport trucks as well as private vehicles. Highway 43 is used daily by a significant number of people who work at southeastern B.C.'s mines, producing coal used in steelmaking.
The safety and functionality of the intersection of the two highways has been an issue for a good number of years, and improvements to the intersection have been on the agenda for the District of Sparwood for some time.
The first phase of construction of Middletown Crossing began in June 2014, but an economic downturn and cost overruns caused significant delays. The District of Sparwood sought further grants and tightened its own belt to trim costs, and was successful in raising the funds needed to complete the project. Federal and provincial funding in the amount of $5,118,466 was granted in March 2017.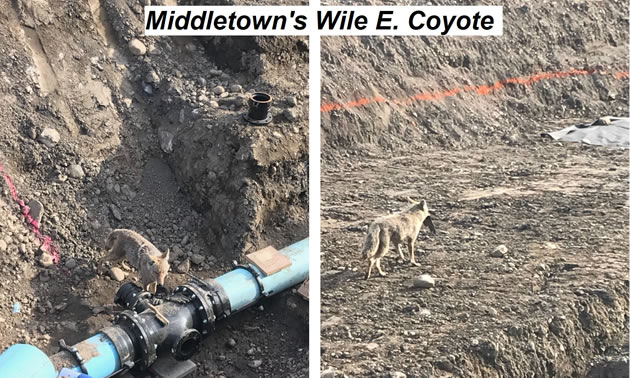 "We were in a bit of a predicament until we got more funding," Dwyer said. "We were looking at ways to trim costs, as we were unsuccessful with the first round of grant applications. As a result of being financially challenged, we used funds from other departments in order to fulfill our legal commitments on the project. The grant gave us what we needed to go ahead with the project, and we were able to refund what we'd borrowed from the other departments."
Consultants for the project were McElhanney Consulting Services Ltd. of Cranbrook, and the prime contractor was Projex Infrastructure Ltd., a Langley, B.C.-based company. The multi-million-dollar project is now complete, and a grand opening of the crossing was held on October 18, 2018.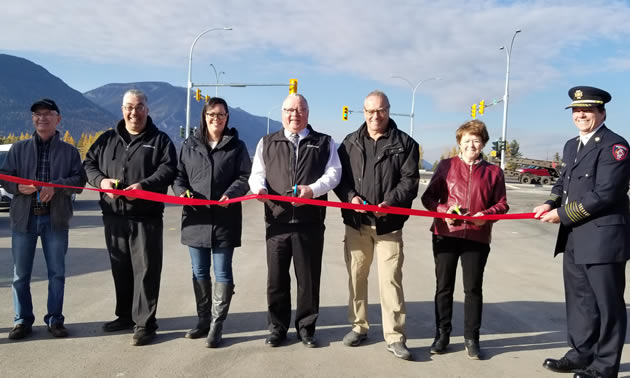 Sensor-controlled traffic lights installed at the crossing respond to approaching traffic, providing safe, convenient access and egress for vehicles on both highways. As well, a new, $1-million pedestrian tunnel now runs beneath Highway 3, allowing walkers and cyclists to cross under the highway at their convenience, with no effect on highway traffic and no danger.
The crossing project included the construction of new sidewalks along Aspen Drive, from Spruce Spur to the Tim Horton's, which is adjacent to the new crossing. Sidewalks continue along the perimeter of the crossing between the two highways. Special features are included to accommodate people with mobility issues.
"We had sold the land south of the highway, and part of the purchase agreement included construction of those intersections," Dwyer said. "The tunnel was also part of the deal. The difference it will make to our residents and visitors will be significant because the access to the south side of the highway will be so much easier and safer.
"We pay attention to social media, and we're seeing all kinds of positive comments about the crossing from the residents of Sparwood."