Safety success
Focusing on safety has earned Teck's Coal Mountain Mine a national award—and staff are becoming leaders in keeping that focus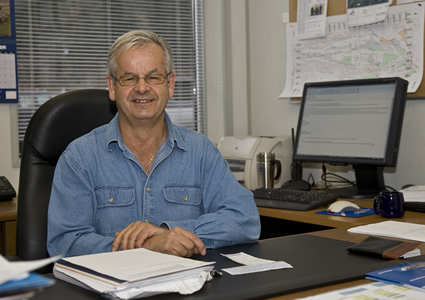 Teck's Coal Mountain Operations in Sparwood, British Columbia, was recently awarded an esteemed John T. Ryan National Safety Trophy by the Canadian Institute of Mining, Metallurgy and Petroleum (CIM).
Nick Burt, the general manager of the Coal Mountain Operations, said the Coal Mountain Mine won the trophy in the Coal Mine category because it achieved a zero accident frequency in 2010 for its employees and 0.38 frequency for 2010 for employees and contractors.
"Safety is becoming a personal initiative at work as well as in the home life, in addition to being a corporate objective," said Burt. "We are developing champions within every department who are helping us lead the team in ensuring that everyone goes home safe and healthy every day."
Committing to making positive changes
Burt attributes the mine's safety success to a safe work culture evolving at Coal Mountain; he said it has been a challenging four-year journey with high points and low points.
"We have seen a decreasing trend in our accident frequency over the last four years," said Burt. "We have had to and still are making sure that we do not become complacent, that we keep our edge, that we remain focused."
He said the Courageous Safety Leadership philosophy that has been adopted at the company empowers the team and has been a cornerstone of their safety efforts. The philosophy outlines the changes required to attain a genuine safety culture in the workplace.
Burt said that Courageous Safety Leadership sessions have been a powerful tool.
"We asked everyone to make a commitment to change one thing that they did today that would make them safer tomorrow," said Burt. "Another powerful tool is to understand why you come to work in the first place. Your family or your hobbies are important to you and they should be the reasons why you choose to work safely."
Burt added that those who have owned their mistakes and had the courage to share with their peers have helped the learning process.
It's everyone's award
"Earning this prestigious award has been a team effort from the start and all departments have risen to the challenge," said Burt. "There are key individuals who have, with their passion and commitment, made our success possible."
Burt said this safety success has stemmed from individual employees choosing to be responsible for safety.
"Our people understand the concept of an individual being responsible for their own safety and the safety of the team," said Burt. "We will not compromise safety for any reason."
National recognition
The Canadian Institute of Mining, Metallurgy and Petroleum (CIM) awards three John T. Ryan National Safety Trophies each year in three categories to mines that experience the lowest accident frequency during the previous year in all of Canada. The categories are Coal Mines, Metal Mines and Select Mines.