Holy smokes Batman! Sparwood's superhero swoops in for the win at Chamber Business Excellence Awards
A cycling business, a superhero and a steel fabrication shop were among the 9 winners at Sparwood's Business Excellence awards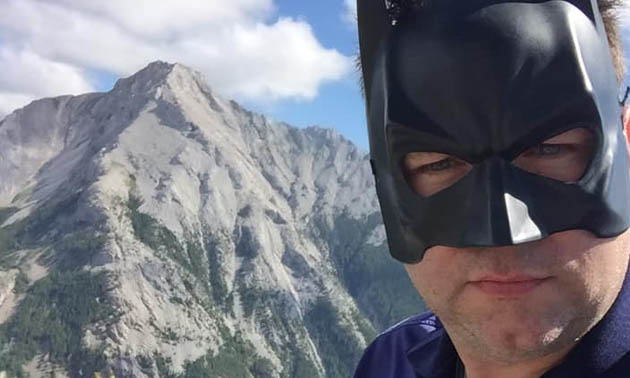 Sparwood has its very own superhero—for real. Duane Nelson—aka Batman—swooped in and flew away with this year's Community Spirit Award at the annual Sparwood Chamber of Commerce Business Excellence Awards.
Of course, every community has its share of superheroes, even if they don't wander around wearing a full-on superhero outfit like Nelson does. This year, there were nine awards handed out to well-deserving recipients, with winners announced through social media on October 22, 2020.
These individuals and organizations share many of the same qualities that all heroes have: perseverance, discipline, kindness and a sense of humour. They all make Sparwood proud.
Congratulations to the following winners:
Community Spirit Award: Duane Nelson
By day, Duane Nelson is a trainer employed by Teck Coal. But Nelson has an alter-ego. Known as Sparwood's very own Batman (with his own professional Batman suit to boot!), Nelson is a well-known face around the area. His mission? Spreading smiles.
Whether Nelson is out bringing flowers to local care homes, stopping in at the grocery store for supplies (yes, even Batman needs TP) or helping to host the community's annual Halloween Spookwood event, Sparwood residents can count on their very own superhero to spread some fun and cheer.
Citizen of the Year: Dr. Derek Higgins
A much-loved family physician in the community, Dr. Derek Higgins is the well-deserved recipient of this year's Citizen of the Year award. The residents of Sparwood made it clear that they are thankful for having this outstanding citizen as a part of their community.
The owners of Sasquatch Cyclery didn't spin their wheels when it came to opening their business, even in the midst of a global pandemic. In operation since May, Sasquatch Cyclery is Sparwood's first bike repair shop and specializes in overnight service of bikes. The Elk Valley area has seen an explosion of interest in mountain biking since the beginning of the pandemic, and the business has been kept busy with customers.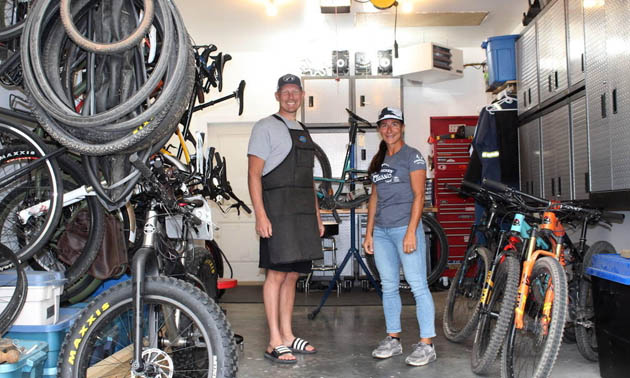 Owners Rob and Jennifer King are heavily involved in the local cycling community. Jennifer manages the popular cycling-oriented Facebook group Sparwood Mountain Bike, and Mike sits on the board of the Sparwood Trails Alliance. Speaking of the Sparwood Trails Alliance, the organization snagged this year's Not For Profit award.
For a mountain town full of avid outdoor enthusiasts, the Sparwood Trails Alliance is a big asset. Winners of the Not For Profit award, the Trails Alliance is dedicated to developing and maintaining a first-class, sustainable trail system in and around the District of Sparwood.
An upcoming event is the First Official Elk Valley FatAss on May 29, 2021, a timed race at the Sparwood Golf Club.
Winners of the Industrial Business award, the team at Elk Valley Precision & Cab are Sparwood's source for custom machining, fabrication and welding.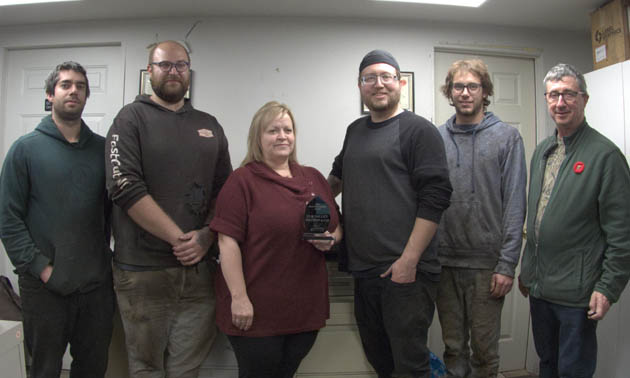 Masters of fire and steel, they also specialize in decorative metalwork and art including signs, gates and firepits.
Outstanding Customer Service: Cami Reghenas of FR Rentals
A member of the team at Sparwood's equipment rental agency FR Rentals Ltd., Cami Reghenas has been a crucial part of the success of the business. She is well-deserving of the Outstanding Customer Service Award.
Reghenas also serves as President of the Sparwood Chamber of Commerce.
Retail Business: Save-On-Foods - Sparwood
The local Save-On Foods in Sparwood won the Retail Business award. The province-wide grocery store chain goes the extra mile every day for their customers and is well-known for supporting local causes and organizations.
In 2019, local stores across the East Kootenay area banded together to raise almost $20,000 for Angel Flight, an organization that provides free air transportation for medical needs.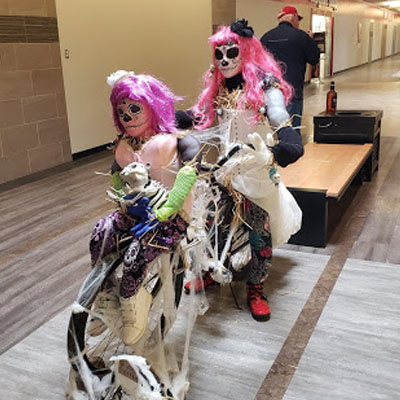 Community Youth Award: Lane Ogden
The Community Youth Award goes to Lane Ogden, Sparwood's star athlete who brought home a silver medal in archery from the 2020 BC Winter Games.
Ogden is an outdoor enthusiast and is also involved in minor hockey and other sports.
Best Business Scarecrow: Sweetlegs Sparwood with Patricia
Nothing like stylishly-dressed scarecrows to swoop in and snag the Best Business Scarecrow award for this year! Attired in Sweetlegs leggings, colourful wigs and skillfully painted Day-of-the-Dead faces, these two scarecrows created by Patricia of Sweetlegs Sparwood definitely scared away the rest of the competition.