Bobby Hutchinson, romance writer
Romance writer Bobby Hutchinson is a star in Sparwood's crown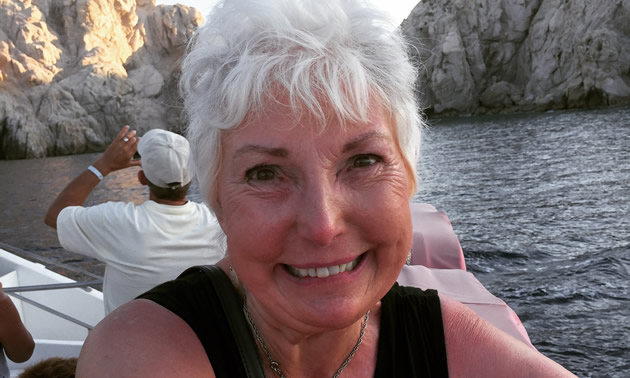 When she was in her early 40s, Sparwood-born Bobby Hutchinson was living in Vancouver and found herself in need of an income. She had never read a Harlequin Romance—her mother told her they were trash—but she knew that at the time they were hot sellers, so she did some research.
"I bought 100 of them and I read them," Hutchinson told me in a phone conversation. "I figured out which books were making the most money, and which kind fewest people were attempting. That was a line called Super Romance, and they were very long. So I sat down and wrote one—I set it here in the Elk Valley, actually—and sold it first time out. I was very, very lucky."
After that, Hutchinson sold pretty much everything she wrote—about 55 print books during that phase of her career—to major publishers, including Avon and Dorchester as well as Harlequin.
Needs must
When she was 61, financial necessity again inspired her. This time she converted her Vancouver house to an income property, and Blue Collar B&B came into existence. Her experiences in that endeavour provided material for How Not To Run a B&B—one of her two non-fiction books—which is still one of her bestsellers.
After running Blue Collar for five years, Hutchinson decided that she wanted to return to her hometown. Fortunately, Vancouver real estate had appreciated significantly and she was able to sell her house there and buy a property in Sparwood, mortgage free. There, she reincarnated Blue Collar B&B.
Hutchinson operated her B&B in Sparwood for about seven years, catering mainly to hunting parties. Through an alliance with Anna Fontana of Elk Valley Bighorn Outfitters Ltd., Hutchinson provided a home base for many well-heeled corporate types—and, interestingly, doctors—who turned to hunting in the wilds of B.C. as a way to recuperate from their battles in the concrete jungle.
A dogleg in the road
In 2012, the market for print romance novels nosedived because of the rising demand for e-books, and at the age of 70-plus, Hutchinson forced herself to learn the intricacies of self-publishing online, through Amazon.
"I'm hopeless at techie stuff, and I've had to learn it anyway," she said. "I believe it's excellent for keeping me reasonably bright. Amazon has an excellent publishing platform. I have a wonderful guy in Sarajevo who does all my covers, a gal in California does work on my website, and there's another one in Michigan … it doesn't matter where they live. That's the beauty of this—as long as I have computer access, I could do this work anywhere in the world."
However, to actually sit down and write every day takes immense discipline. The lifestyle may look easy, but it's quite difficult to maintain.
"I often say that to settle down to writing I'm like a dog looking for a place to lie down," Hutchinson said, laughing. "I walk around the house. I take my computer into different rooms. It's a very hard discipline. It's difficult to make yourself do it all the time.
"I self-publish, so I have to do the promotion as well. There are so many e-books being published every single day, you really have to promote yourself, doing quite a lot of quite sophisticated promotion, and it's all online."
Well, if Hutchinson needs another testimonial to help with that promotion, I'm certainly game to write one for her. I was lucky enough to find a copy of the print version of "How Not To Run A B&B," titled "Blue Collar B&B," at the Cranbrook Public Library, and I loved it from start to finish. The quality of her writing, her frank and funny descriptions of her experiences with her Vancouver B&B guests, as well as her personal insights from those experiences, had me charmed from the first couple of pages.