Talk business with a tech expert on BC Virtual Connection Day
Business questions? Attend a one-on-one virtual meeting with a tech expert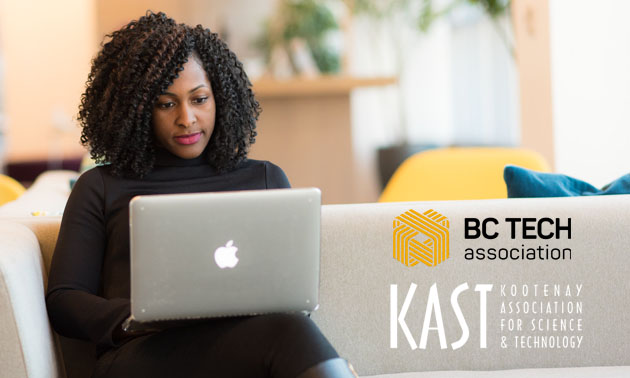 Innovation and adaptation seem to be the new keywords for businesses during this unprecedented time. Unheard of two months ago, terms like "social distancing" and "contactless payment and delivery" are now commonplace. Customers are buying goods and services in different ways, and if businesses want to retain those customers, they will need to adapt.
Thanks to a partnership between the BC Tech Association and KAST, companies across the Kootenay region are invited to attend a one-on-one virtual meeting with a technology expert. Learn new tools and tactics to help your company, discover new technologies to reach customers and generate sales or streamline the process of working remotely.
"We are relatively well positioned to adjust to the present circumstances as we are a technology-enabled association," said Cam Whitehead, executive director of the Kootenay Association for Science & Technology in Nelson, "We are looking now to share best practices with those who are rapidly adapting to this reality."
The BC Virtual Connection Day happens on May 7 and is free for participants. Small and medium-sized non-tech businesses are invited to apply by May 1 at noon. Companies who take part in the Virtual Connection Day will be connected with a technology expert through a one-hour virtual meeting. The expert will conduct a short review of your business and make suggestions on new technologies and processes to adopt. There are three areas of focus to choose from, depending on your personal business goals:
Digital Marketing: Ideal for a business that wants to ensure their sales remain steady as well as learn additional skills to attract new customers:
Optimize your website to focus on getting sales
Learn how to use social media to convert customers
Find out how paid advertising works
E-Commerce: Learn the skills to be able to sell your products online, both to new and existing customers:
Learn which e-commerce platforms are right for your business to generate revenue
Find out the long-term opportunities that e-commerce platforms can offer to your business
Working remotely: Ensure your business productivity remains high while your employees work from home:
Discover the best digital tools available to ensure a productive, streamlined working environment for your team
Optimize your digital system for strong sales
Apply for your free one-on-one session with a technology expert during BC Virtual Connection Day here. If you have any questions, please email [email protected].