Pandemic predicament: 5 Tips to help Kootenay business owners survive and recover
How to reopen your business with "social" social distancing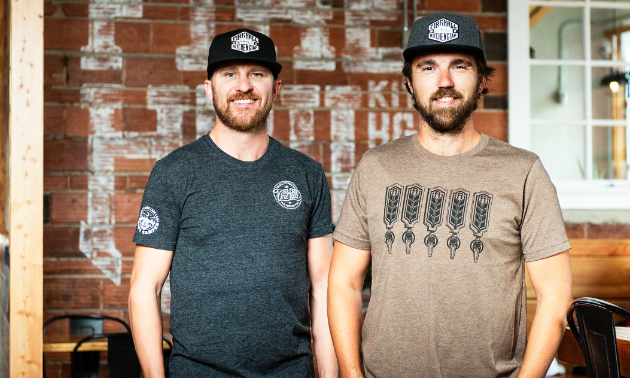 COVID-19 has produced plenty of problems for business owners throughout the Kootenays. After the initial shutdown, businesses are now opening back up and adjusting to new guidelines. This transition is tricky for any type of business, and restaurants in particular have a whole host of new regulations to adhere to.
KootenayBiz caught up with Jesse Roberts, co-owner of Fire Hall Kitchen & Tap in Cranbrook, to learn how to tackle these new challenges.
How has the COVID-19 pandemic impacted your business?
We are working harder for less sales. We're constantly updating practices and changing policies in this ever-changing climate. We were closed for one month, operated a take-out and delivery model for one month, and then opened as our current selves—a half-capacity, much-changed, but still the same, craft beer gastropub.
How are you and your business adjusting to COVID-19?
We recognized that a complete reset was required. Our old business plan, while awesome in its day, became outdated and irrelevant overnight. After feeling picked on for a time, we dug deep and, with excitement, built a new plan for this new world. We changed our floorplan and operations, created new positions, built walls, modified booth seating with plexiglass uppers, implemented a waitlist app, and cut our capacity by more than 50 per cent. COVID has forced us to change how we do everything, but it has reaffirmed why we do everything. After being open for one day, with people in seats, beer in glasses, and laughter bouncing off our walls, it was all worth it.
We treat staff like family and customers like old friends. In a COVID world, we have given East Kootenay residents a fun and safe place to relax. We practice "social" social distancing and offer people the experience they want with the peace of mind they need.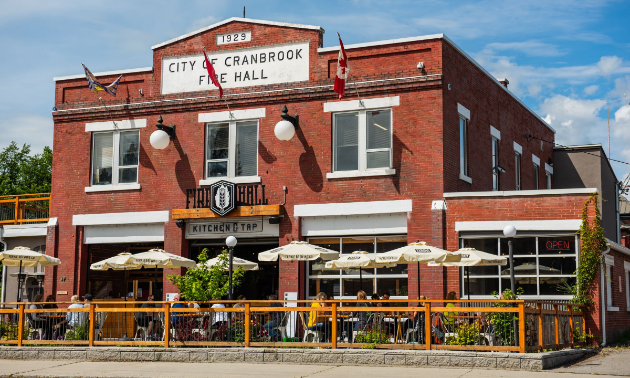 How did you go about setting up online ordering?
At the beginning of our takeout/delivery phase, TouchBistro, our POS carrier, introduced online ordering. Along with phone orders, this allowed us to tread water until we could open our doors. Our previous system was designed for our servers/bartenders to input orders and had to be revamped so it was easy for customers to enter their orders themselves online. Allergy notification and complete, specific item modification was required for each item. This was a lot of work, but once done, created a smooth customer interface. We also went to long-range debit/credit card terminals for taking payment at customers' doors for delivery orders or in our parking lot on curb-side pick-up.
What low-tech solutions have you implemented for the new social distancing required for indoor and patio dining?
1. We created food and drink stands at customer tables so servers and customers never need to pass items directly. The server delivers food and drinks on a tray that is put on the stand a safe distance from the guests. Customers remove the items from their tray and load up the tray with their used dishes.
2. We created and moved entrance and exit host and payment stands to better control the flow of traffic into and out of our restaurant.
3. We appointed different doors and locations as the entrance and exit, instead of people using the same location for ingress and egress; a circuit flow, not a linear one.
4. No one touches dirty dishes with their bare hands. All bussing and cleaning require PPE and a staff member trained in safe cleaning practices.
5. Instead of a jack-of-all-trades approach, we have "focused" positions where each staff member has fewer responsibilities that they do more of. If you're bussing, you're only bussing. This reduces transmission vectors.
What are the processes needed for contact tracing?
We ask our guests for the name and phone number for at least one of their party, and we take down the time of their visit. This all happens before they gain entry to the building.
How have you been able to compensate for lost revenue? Doing deliveries, for example?
No. We've not been able to compensate for the losses experienced while closed, or during takeout/delivery exclusively. But takeout has helped us bridge the gap between 2020's half capacity and 2019's full-scale seating. This allows for 70-80% sales, not 50%. We have also utilized government assistance in every way our business is eligible. From our small business perspective, the government has done a great job and had our back in this process.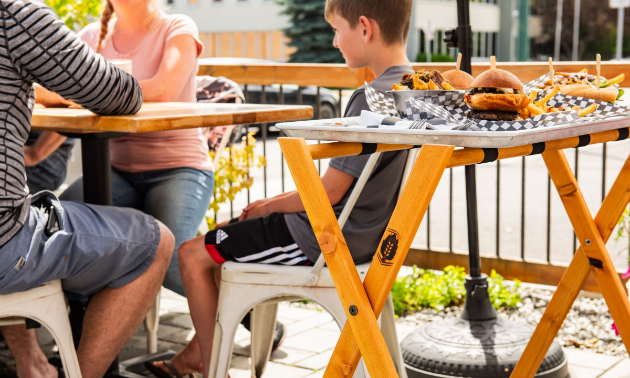 How has COVID-19 impacted your interaction with other local businesses that you work closely with?
Some of them are still closed, which has caused sadness and supply chain issues. What isn't closed is our community spirit. Owners of local businesses, even with closed stores and frozen revenue streams, have continued to come to our restaurant and support our business. Some of the business owners that have been sheltered through this experience have purchased gift cards for their staff to bolster our sales and thank their team for sticking with them. This support has put us in a position to pay it forward and help other businesses that aren't as lucky as us.
What reasons do you have for feeling hopeful or optimistic about the future?
1. We are entrepreneurs and we see fun/opportunity where others see risk. Optimism is part of the job.
2. We have been forced to hone our systems. This same model, scaled up, will be better than our previous model.
3. We have the right team. We will always do what is needed to meet the next challenge. We might not be out of the woods, but we all like camping.
Is there anything else you'd like to mention?
We are so happy to be open and see our friends, staff, and guests again. If COVID has taught us anything, it's that our lives aren't complete without them.