An East Kootenay property services company is experiencing growth
Owners Chris and Laurie Weitzel have doubled their business in the last year due to hard work and an amazing work culture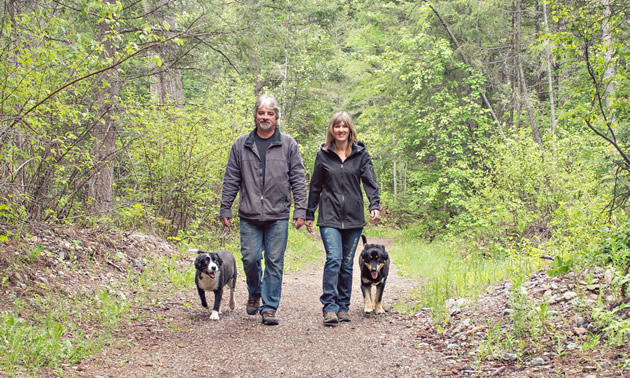 Cherry Creek Property Services in Kimberley, B.C., is a one-of-a-kind company that provides tailor-made services to the people it serves in the East Kootenay region.
Cherry Creek, an independent property and strata management company, specializes in the management of single-family dwellings, apartment complexes, duplexes and stratas, and also provides an array of maintenance services that can be customized for each client.
Chris and Laurie Weitzel are the owners of Cherry Creek Property Services, which started up just 2½ years ago. The company—which serves Kimberley and Cranbrook and the surrounding area—is thriving and growing. This year has been a big year for Chris, as he received his strata licence on March 12 from the University of British Columbia Sauder School of Business. This licence allows Cherry Creek to grow even further; in fact, Chris signed on the company's first strata soon after receiving his certification.
Passionate locals
Chris was born and raised in Kimberley and Cranbrook and is passionate about the Kootenays and the clients he serves here. He has managed properties in and around Kimberley for over 20 years. Laurie manages trust accounts and general operations of the company. She loves her job and the relationships she builds with tenants and owners.
This year Cherry Creek is expanding into Cranbrook—realizing a goal the couple had from the start. The company is growing, the list of clients is growing and the Weitzels couldn't be happier.
"It is so rewarding to see our growth," said Chris. "It has also been amazing to experience education and more learning at this stage of life. One of the most rewarding parts of the business, though, is when people come in and say they heard we did this for so and so and they want to come see what we could do for them as well."
Cherry Creek has grown in staff too. There are now seven people permanently on staff along with a full-service maintenance team. The Weitzels said their team is like a family and added that they live by the mantra "Never hire anyone you wouldn't have over for dinner."
"Our work environment is really amazing," said Laurie. "We have a lot of fun and the work can get stressful, but everyone works together as a team. It's a huge part of our success. Actually, it is what makes us successful."
What else is on the menu?
In addition to managing properties, Cherry Creek offers services including lawn care, snow removal, general repairs, general home maintenance and home checks for insurance purposes.
"We are not just a cookie-cutter property management company," said Chris. "We can tailor-make our services. We have taken the time to ensure we can provide people with as little or as much as they need."
The Weitzels understand the importance of building respectful business relationships, and they appreciate the communities in which they do business.
"Good owners attract good tenants," said Laurie. "We have been very fortunate to have such great owners and tenants in the East Kootenay. We try to share the same goals and outlook, and Chris is very straight up with his clients on what we can and can't do. We treat everyone with respect, as everyone needs to feel valued, whether it's an employee, tenant or owner."
Set to grow
Looking forward to the next year, the Weitzels are excited about growing the business.
"We are confident we will see continual growth," said Chris. "Laurie has automated almost everything on the financial side, with rents and strata fees being drawn automatically. All the infrastructure is in place as well to grow even further and allow property managers and strata managers to join our team. There is a lot of opportunity for even more, but we want to make sure we do it right. There are a lot of businesses in Kimberley that are very successful; it's a thriving little town where business is doing quite well. It's nice to be a part of a group and culture where this is happening. We need to contribute to the positive energy in Kimberley."
Because of the growth Cherry Creek Property Services is experiencing, the Weitzels are currently looking to hire more staff. For information, visit the company's website.