Aerial adventures in the Valley
Valley Zipline Adventures is now open for its second season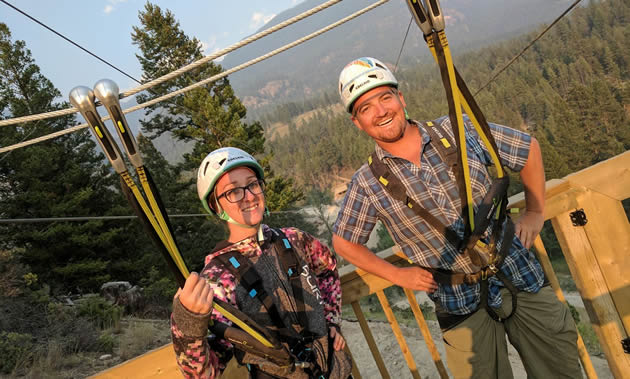 In 2013, armed with a bachelor of applied science degree in ecotourism and outdoor leadership earned at Medicine Hat College, Patrick Tolchard was open to possibilities. He moved to Radium Hot Springs after graduation, and worked for a time in sales, marketing and special events planning.
Then, in 2014, Tolchard and former Medicine Hat College course-mate, Krista Berg, put their heads and their passions together and decided to create a business combining outdoor adventure and education. Tolchard actually re-enrolled at Medicine Hat College to do an online course in entrepreneurship, and on earning that diploma he successfully competed for partial funding and other practical supports for the business.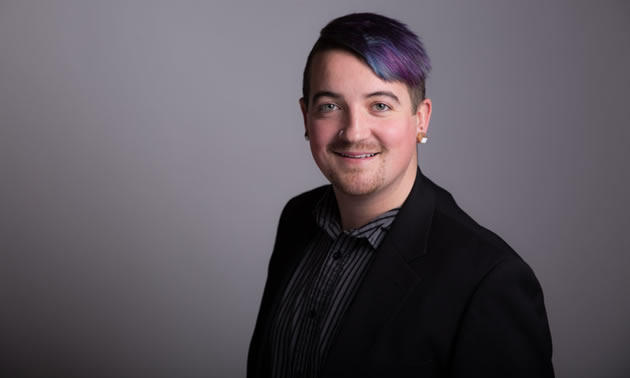 Tolchard and Berg leased a derelict family fun park at Dry Gulch, near Radium Hot Springs, and, working hands-on with Challenges Unlimited Inc., showed up to help build their zipline course. For 10 hours a day, they did demolition, cleanup and land reclamation to build the dream.
Finally, instant success
Valley Zipline Adventures opened on July 21, 2017, and faced such an enthusiastic demand that it was operating at near capacity almost every day.
"We were pretty much full-on, hitting our max capacity of 96 riders a day quite often," said Tolchard. "We did a lot better than we had thought we would do. We had some staffing issues because of our late start in the season, but it all worked out."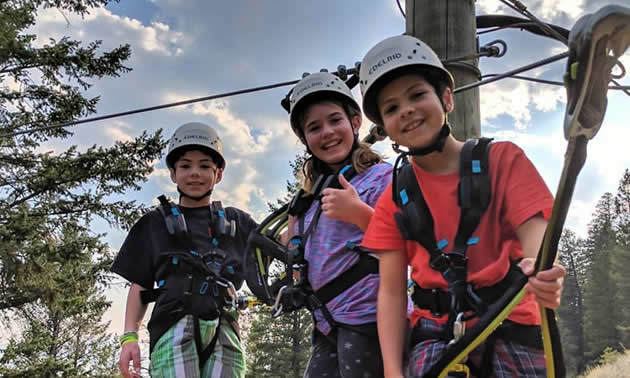 The zipline was so successful and so appreciated as a new amenity and tourist attraction, that—despite its short opening season—Valley Zipline Adventure was named the Rising Star Business of the Year by the Columbia Valley Chamber of Commerce at its Business Excellence Awards in October 2017.
Meeting the ecotourism criteria
Tolchard explained that ecotourism is about being sustainable in three arenas: the sociocultural, the economic and the environmental. That triple bottom line is the focus for Valley Zipline. That focus developed during Tolchard's intensive three years of school—he said the program moulded his mindset on these values, and this business fits the focus very well.
"We're a new attraction in Radium—something new for people to do in the Valley," said Tolchard. "And we're putting more heads in beds, which helps the region economically.
"We also help local fundraising efforts. We did a haunted zipline tour to raise money for GALS (Global Animal Lovers Society) and ICAN (Invermere Companion Animal Network.) We've collected food for the Food Bank, and we also support local community events and groups wherever we can."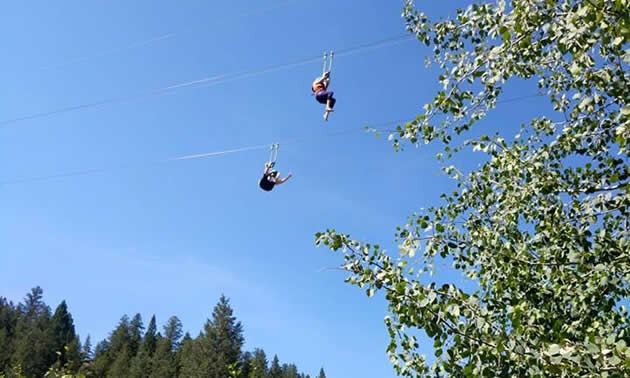 Environmentally, the course was designed to be as minimally invasive as possible. The builders kept tree removal to a minimum when they installed the lines. For every tree cut down, Valley Zipline plants five new ones.
"We couldn't do that last year because of the drought, but we're doing it this spring," said Tolchard. "We're also working with Tipi Mountain Eco-Cultural Services to reclaim the ground that was disturbed by the demolition, and planting local flora. The tours themselves are hands-on and interactive, offering a lot of interpretation."
Energy consumption for Valley Ziplines is minimal—they need just a computer and a telephone, and Tolchard and Berg plan to eventually run the operation on solar power.
Having fun, building futures
Staffing won't be an issue this year, as almost half of the Valley Zipline staff from last year are returning, and many, many applications have come in for the positions that are available. The company employs about 16 full-time staff and several part-timers. Tolchard said the number might go up a bit once the new climbing wall goes in at the beginning of July.
"The young, Grade 11 students turned out to be our best staff," Tolchard said. "They loved the job and they learned a lot, including leadership skills, teamwork skills, dealing with the public and more. Those skills will help them in their future careers and in life."
The second season for Valley Zipline Adventures extends from May 1 to October 31, weather permitting.