Talking timber with Jeff and Stephanie Bowes, owners of Canadian Timberframes Ltd.
As one of Golden's largest employers—with 39 employees—Canadian Timberframes Ltd., owned by Jeff and Stephanie Bowes, is on a roll these days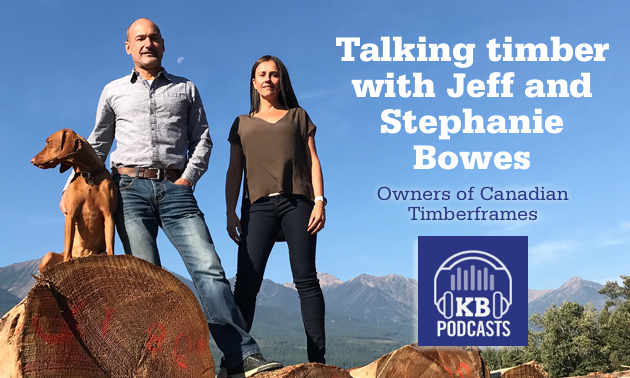 With 39 employees, Canadian Timberframes Ltd. (CTF) is one of Golden's larger employers. Owned by Jeff and Stephanie Bowes, CTF is on a roll these days with growth over 500 per cent in recent years.
Canadian Timberframes has become a leader in the North American timber frame industry, working with clients, builders and architects across Canada and the United States—even as far as Hawaii in recent months.
CTF was founded in 1999, and Jeff became a partner in 2011. Then he and Stephanie became sole owners on January 1, 2017. In 2019 CTF celebrates its 20th anniversary in the timber frame industry.
The benefits of a Golden location
"We are based in Golden, British Columbia, for good reason. We have access to the world's highest grade of Douglas fir nearby, which is the finest wood for timber frame construction and projects," said Jeff. "Often dimensional lumber mills can't handle the size of logs we require, so we can utilize timbers they can't efficiently use. With the best wood, our team can work with architects, designers and clients directly to craft a beautiful finished product."
Canadian Timberframes manufactures and supplies timber frame structures and components from its 10-hectare (24-acre) site in Golden with two on-site sawmills and more than a million board feet of log/timber inventory. CTF is a vertically integrated company that processes raw logs into value-added designs, which include boards, beams, structural components and, of course, complete timber frame structures.
The 39-person team at CFT includes in-house designers, specialized tradespeople and production staff, as well as sales, marketing and administrative personnel.
"Our company is growing rapidly and we are currently hiring," said Stephanie, who has a sales and marketing background. "We are very pleased to provide good-paying, solid career opportunities for people in Golden and the Columbia Valley. Job seekers are encouraged to visit our company's career page."
Canadian Timberframes has built many strong partnerships and alliances throughout the timber frame industry by regularly attending major U.S. and Canadian trade shows. Canadian timber has a great appeal with U.S. clients because of its strength, durability and beauty.
"We work as extended team partners with builders to provide seamless support to our clients," Stephanie said. "Our preference is to work with clients right from inception and provide value every aspect of a project, from start to finish. We love when our clients come out to visit us here in Golden just to see firsthand the quality of both the timber and our people."
Providing clients with complete packages
What are the trends in the timber frame industry? "Our clients increasingly want a one-stop experience and that is really what has driven our continued expansion. We can provide builders with a complete package that includes not only the logs and timbers but also the walls, roofs, trim, siding and even windows and doors," said the owners.
CTF works on projects throughout Canada and U.S., many of them in major resort areas like Colorado, Lake Tahoe, Texas, the Carolinas, New Hampshire, Vermont and New York.
"We are so pleased to be winning projects in the world's most prestigious areas throughout North America, and it reflects well on our team of deeply committed, highly skilled employees who are leading the way," Jeff said. "It is their pride and dedication throughout our company that is allowing us to grow and expand."
Not all projects are huge homes—many include smaller homes, cabins, outbuildings and even outdoor kitchens and gazebos.
Want to see some of the stunningly beautiful timber frame projects? Or custom plan a project for yourself? Visit CTF's virtual showcase of projects at www.canadiantimberframes.com.