Podcast: One-on-one with Terry Schneider, president of Prestige Hotels and Resorts
The president of Prestige Hotels and Resorts shares with Kootenay Business some of the company's significant milestones in its 25th year of business.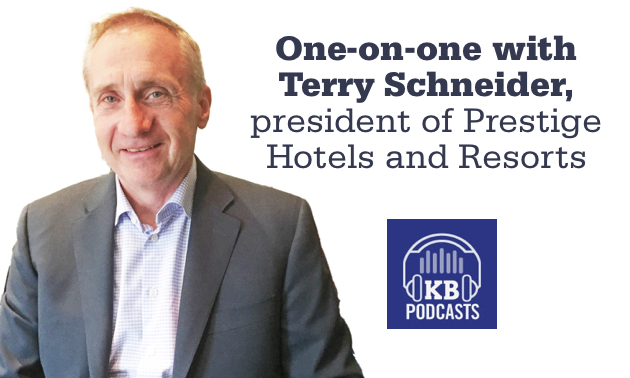 Our guest on this episode of the Kootenay Business Podcast is Terry Schneider, president of Prestige Hotels and Resorts.
Terry Schneider discusses the company's significant 25th Anniversary milestone.
The Kelowna-based hospitality executive outlines a number of the company's achievements over the last 25 years and how important its Kootenay locations are to the business. Having opened its first Prestige-branded hotel in Vernon in 1993, the company has since grown to a collection of 15 properties in 12 locations throughout the Okanagan, Kootenay Rockies, northern B.C. and Vancouver Island including: Kelowna, Vernon, Salmon Arm, Golden, Radium, Rossland, Nelson, Cranbrook, Smithers, Prince George, Prince Rupert and Sooke. The corporate office is based in Kelowna.
Joe Huber Jr., CEO of Prestige Hotels and Resorts, partnered with his father in 1986 when the late Joe Huber Sr. owned and operated a series of motor inns and hotels in the Okanagan. At the time, their first full-service property was called the Park-Lake Motor Inn and is now known as the Prestige Beach House Kelowna. The Junior Huber said the company has exceeded any dreams he and his father originally had and that their success can be attributed to two main themes: hard work and kindness.
Terry Schneider said one of the biggest challenges is hiring and training the right people to work at the company's hotels. He said with employment being tight it requires much time and effort to hire the very best people.
He also spoke about the company's charitable work, namely the JoeAnna's House project designed to house the families of patients travelling for medical care to Kelowna's General Hospital (KGH).
"The impact of having a sick child can be devastating in these small, close-knit communities. Everyone knows someone who's had to travel for medical care. In addition to the terribly difficult reality of having a sick child, the emotional and financial burden of travelling for care can be completely overwhelming," said Tanya Stroinig, executive vice-president of Prestige Hotels and Resorts, in an earlier statement.
Last year the KGH Foundation officially launched the Better Together campaign to raise $8 million to build JoeAnna's House, an urgently needed home-away-from-home to keep families together when they need it most.
Owned and operated by the Huber family, the B.C.-based hotel chain is credited for initiating the project with a gift of $1 million in honour of their late parents, Josef and Anna Huber.
While Prestige Hotels doesn't have any specific expansion plans on the drawing board in the immediate future, Schneider said family succession and strong leadership are important to the company. He sees their Kootenay properties being an integral part of the Prestige's continuing success.
"Every community in the Kootenays is unique and our properties connect well with each local community," he added.