Podcast (episode #6) —Cranbrook Real Estate Trends: Summer and Fall 2017
Jason Wheeldon, one of Cranbrook's leading realtors, provides insight into real estate trends in Cranbrook.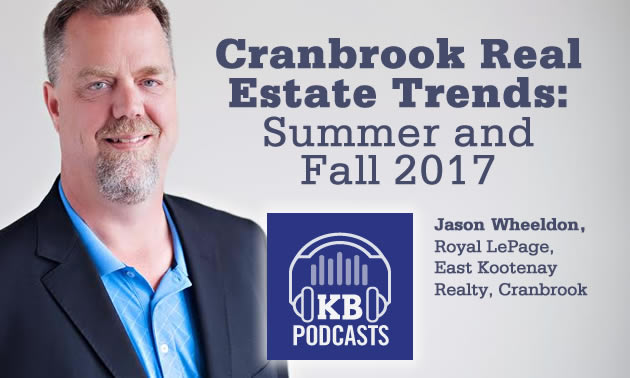 Jason Wheeldon, one of Cranbrook's leading realtors, provides insight into Cranbrook real estate trends. In this 6th episode of the real estate Podcast he discusses:
#1 - The Cranbrook real estate market is paralleling last year's market, and average prices in the market are up some 5% -- with some prices up a bit more in homes selling above $500,000.
#2 – There are currently around 100 listings on the market. Inventory is low, so it requires home buyers (especially first time home buyers) to be diligent in moving forward on their desire properties.
#3 - First time home buyer tip: Jason Wheeldon suggests:
Assembling a good team of professionals to help move your transaction forward. Includes working closely with your realtor to co-ordinate mortgage brokers, banks, legal conveyances and property inspections.
#4 – Showcases current listings
Jason highlights a couple of great listings including building lots just west of Cranbrook with fabulous views of the mountains, lots space, convenience and great access – all with fall pricing incentive. Plus a starter home with lots of potential right in Cranbrook in the $250,000 to $300,000 range.
#5 - Tips on getting your house or property ready for sale: (from previous podcast)
A fresh coat of paint will do wonders.
De-clutter the home
Enhance its street appeal
Give the home and property a thorough spring clean up
Thank you to Jason Wheeldon for sharing your insight—don't miss future episodes of the Cranbrook Real Estate Podcast. Jason Wheeldon is a realtor with Royal LePage East Kootenay Realty in Cranbrook with over 23 years of experience in the real estate market.