Wildelore is a game-changer for active Kootenay moms
This Nelson clothing brand is making waves among new moms who love to enjoy the outdoors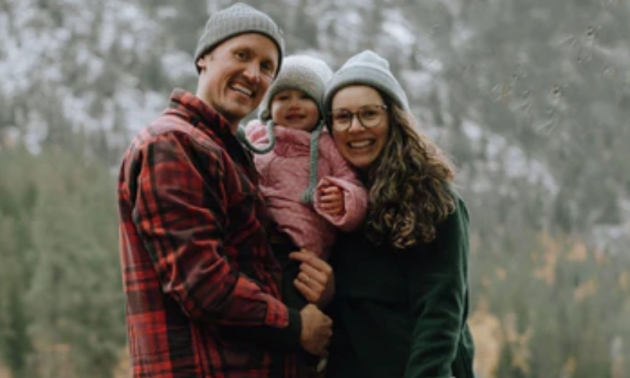 Carissa and Chas Misener have people talking in the Nelson community and beyond, after starting Wildelore—their emerging clothing brand catering to active new moms. They created a sweater that can accommodate women as their bodies change through maternity, nursing and postpartum. Not only is the garment designed to be stylish and comfortable, but it also allows the wearer to enjoy an active outdoor lifestyle without inconvenience.
The Miseners launched a Kickstarter campaign this year with tremendous success (significantly surpassing their goal of $10,000 with a whopping $124,000 worth of support and counting), so we decided to catch up with Carissa and find out more: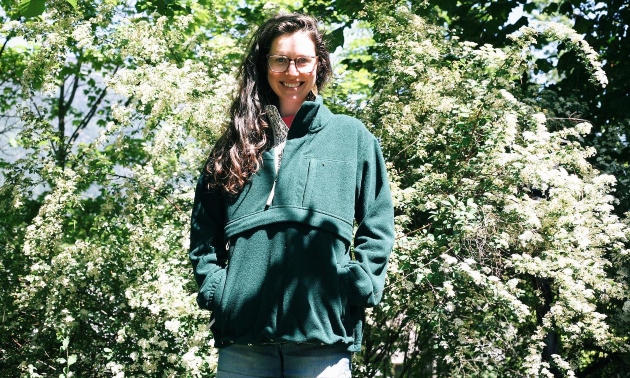 - Photo courtesy of Wildelore
Can you tell us a bit about Wildelore and the products you provide?
Wildelore is an outdoor clothing company for pregnancy, nursing and beyond, and our mission is to empower women in all phases to spend more time outdoors.
The first product that we are bringing into the world is called the All Phases Fleece and is a transformable sweater for before, during and after pregnancy, nursing and postpartum. It is designed to grow with a woman's changing body through the use of adjustable maternity side zippers, and allows for easy nursing in the outdoors while keeping both mama and baby warm. It is made using 100% recycled fleece, is manufactured ethically, and aims to slow down the fast fashion cycle by being functional, beautiful and long-lasting.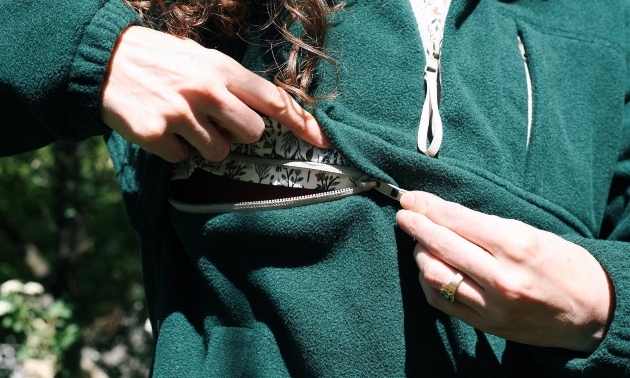 - Photo courtesy of Wildelore
What inspired you to start this business?
I was inspired to start this business because when I was pregnant and nursing, I had a hard time finding clothing that suited my outdoor lifestyle and personal style preferences. When I searched online and at outdoor stores, I was shocked to find that they carried nothing for women in their motherhood phases! I was also annoyed by feeling like I needed a different wardrobe for each phase—one for pregnancy, one for nursing, one for postpartum and one for my pre-pregnancy sizing.
This, combined with my experiences such as having to lift up my shirt, exposing myself to the cold while cross-country skiing with my little one, made me think that there should be a better solution. When I voiced this aloud to my husband, he was intrigued and encouraged me to do some initial research. After hearing from many other women sharing the same sentiment, we began to cut up thrift store sweaters and Frankenstein different functionalities together. Then, we decided to reach out to a professional designer to help us, and ended up connecting with an ex-Lululemon and Arc'teryx designer—a match made in heaven!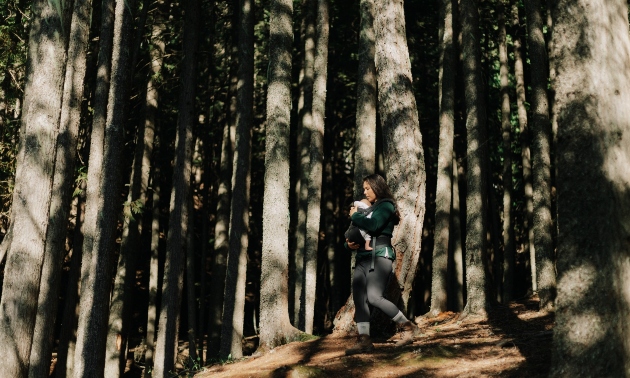 - Photo courtesy of Wildelore
What are some of the upcoming plans you are most excited about?
I have been working full-time in the business for well over a year now, so to see it all coming to fruition is incredibly exciting. As a husband and wife team, we have taken on quite a big financial risk to get to this point in the process, so to also have the opportunity to prove the concept as a business and to see a return on our investment is huge. We are also investing in the process of developing three new product offerings, so that is something we are both excited about as well!
What challenges have you dealt with in the process of starting this company?
It has truly been a process of putting one foot in front of the other. Neither Chas nor I had any prior experience in the fashion/apparel industry, so we have been learning and challenging ourselves every step of the way.
We knew from the beginning that we wanted to create a company where quality is one of our core values, and it has been challenging to uphold this in a world where speed is often synonymous with success. Staying true to our values has resulted in a slower pace in some ways. For example, we ran into a quality issue pretty far along in our process, when we should have been giving the final approval to move to bulk production, and we had a choice to make. Either go with the option that resulted in a faster delivery timeline but was lower quality than what we were happy with, or go with the option that resulted in a slower timeline, but was of superior quality and ultimately, a product we could feel good about selling. We went with the slower option as we really wanted to feel 100% confident in our offering, and authentic throughout the whole process of selling it. We both really dislike scarcity marketing tactics and really only want to bring something into the world that is truly going to benefit the people it is meant to serve, and the earth. It's our goal to see this sweater in thrift stores in 20 years still holding up!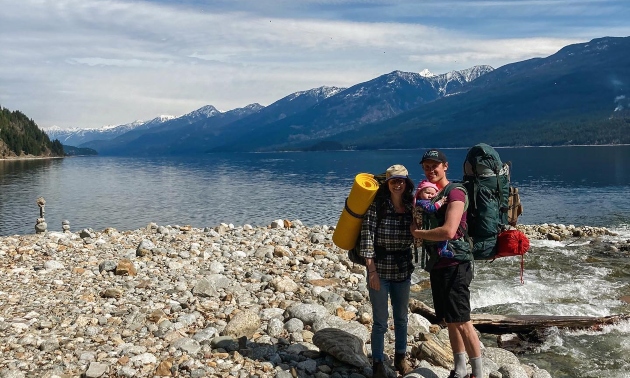 - Photo courtesy of Wildelore
Why is Nelson your chosen place to live and do business?
Chas and I are both originally from Southern Ontario, and I drove out in 2019 planning on visiting Chas for a few months, with both of us returning to Ontario. When I got out here I didn't feel any rush to leave, and as time wore on and we contemplated life back in Ontario, it just didn't jive with our values of being close to nature and living a slower life. So even though it is very hard to be away from family and friends, ultimately, we love the day-to-day life that Nelson and the surrounding area provides. Its proximity to nature allows us to expose ourselves and our daughter to stunning beauty and outdoor activities, and it's important to us that our daughter (and any future children) have this opportunity.
Our access to beautiful, locally grown food is exceptional, and things just seemed to align here for both me and my husband as in 2021 he was offered a full-time position as a firefighter here in town. This business couldn't be birthed in a more perfect place! It is only through being out here that my life began to reflect the heartbeat of the mountains, and the activities. The idea was born here and it is our hope that much like our family, it will continue to be nourished and grow here, too.
Is there anything else you would like our readers to know about Wildelore?
If anyone is looking for information about us, they can visit www.wildelore.com or find us on Instagram at @explorewildelore.