One-on-one with Tom Thompson, executive director of the Nelson Chamber of Commerce
"Nelson is unique for many rural communities. It has a true sense of community. It's diverse and eclectic." — Tom Thomson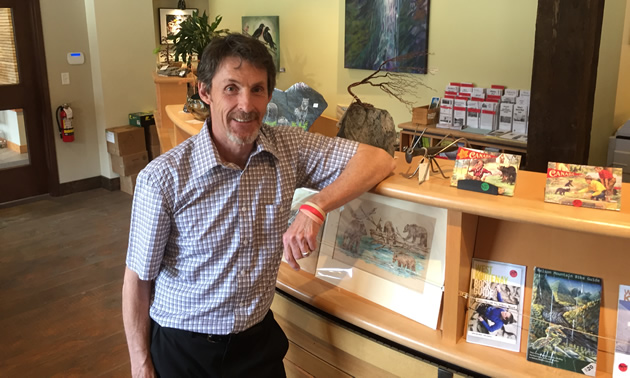 It's been over three years since we checked in with Tom Thomson, executive director of the Nelson & District Chamber of Commerce. Some of Nelson's challenges remain the same from that conversation, such as the housing shortage, but the pandemic threw a wrench into the city's gears, much like every other Kootenay community. Fortunately, the Nelson and Area Economic Development Partnership worked tirelessly through the pandemic, working collaboratively with the City of Nelson on business outreach, business economic pulse checks, hosting sector consultation roundtables, and engaging in effective advocacy to senior levels of government for programs to assist businesses through the pandemic. The Chamber of Commerce is also the first point of contact for the investment and attraction initiative Imagine Kootenay and the B.C. PNP Entrepreneur Immigration program for Nelson and area.
Thomson has been the Nelson Chamber's executive director since February of 2007, when he was initially hired for a six month contract. Fourteen years later, Thomson continues to advocate for the needs of Nelson. Even from the time of his previous career, Thomson had a good understanding of the local and regional business community as well as the workings of various levels of government. All that experience has helped Thomson navigate the Chamber through the uncertainty brought on by the pandemic and its repercussions. Despite the setbacks, Thomson is proud of Nelson's accomplishments throughout 2020 and 2021, and he remains optimistic about the future of The Queen City.
What accomplishments has Nelson seen in the past year?
Nelson has had several economic sectors do well in spite of the pandemic. Construction, building supply centres, outdoor garden centres, outdoor stores, bike shops and personal care type activities.
We have seen the completion of two of three housing projects, and many other single family or small multi-family projects.
The City has also kicked off a climate action plan called Nelson Next, which is expected to become an action document that will provide guidance on achieving climate change targets.
We have seen some manufacturing industries like Kalesnikoff Lumber's new mass timber project, Green Light Solutions Cannabis facility, and Valid Manufacturing all opened, nearing operations, or possibly expanding in the near future. These are larger scope business opportunities, and there are certainly several other smaller operations moving forward. It has been busy in spite of the pandemic in some sectors.
What challenges has Nelson had to overcome in the past year (such as the COVID-19 pandemic)? How did you adapt?
The COVID pandemic caused a great deal of anxiety for all businesses right from the get-go in March of 2020. Once we were able to get a handle on what business could and couldn't do, we worked hard with our economic development partners in assisting businesses with staying open. We were proactive with a Keep Us Open for Business campaign, advocating for business support with all levels of government. We were fortunate to have several victories that supported businesses financially from the federal and provincial levels. Local businesses benefited from an expanded outdoor patio program that the Chamber worked with the City of Nelson on.
The past 18 months has challenged us all to persevere, adapt, and work hard to advocate for the urgent needs of our Nelson and Area business community, and to keep our businesses open. We have been proud to support all business in Nelson and Area and throughout B.C. by powering decision making from government, influencing fiscal support programs, and recommending a way back on our road to economic recovery.
Food and beverage, tourism operators, artisans, theatres and performers were all adversely impacted, and are still slowly trying to get back on a path of profitability. Some, like bars and restaurants, have had to pivot multiple times in the past 18 months, and are still resilient.
What's on the horizon for Nelson in the coming year?
We are optimistic that Nelson and Area will continue to grow its population and continue to be resilient. We may see some changes in business ownership, but we believe that there will be very few businesses that close, and that Nelson will continue to be a community that attracts new entrepreneurs and residents. It is definitely a place where urban dwellers look to as an ideal place to relocate to with the lifestyle and entrepreneurial spirit we offer.
We also understand that with new Vaccine Card and mask protocols in effect until at least January 2022, full economic recovery is going to take some more work.
The Chamber, its board and our economic development partners commend the business community for its resilience through these challenging times.
Working hard for all businesses since the start of the pandemic, the Chamber's Business Recovery Advisor and Executive Director and staff will continue to offer help on issues including the vaccine card and mask protocol for all businesses, COVID trends, labour shortages, wage challenges, decreased profitability, debt load and rent/mortgage assistance.
Chamber of Commerce Business Recovery Advisor Darren Davidson has been on the street speaking to business for the past few months, gathering information, providing resources and assistance and this is something that will continue until at least May of 2022, and beyond if necessary.
The Chamber is committed to continue to advocate on behalf of businesses for continued wage and rent support, especially for struggling sectors and the lifting of some COVID business restrictions now that the province's vaccine verification program is in place.
The Chamber has been working communications with government officials stressing that current restrictions on businesses should be relaxed when the October 24th date arrives and all patrons have been double vaxxed to get in. Seating capacities should be increased in those venues complying with vaccine card requirements. Our message is that if business continues to follow all PHO, then the time should come to relax indoor restrictions to assist the business recovery.
Advocacy to all levels of government has always been one of the primary considerations of the Chamber, and that will not change.
What were the results of your most recent Business Excellence Awards?
We have deferred our Business Excellence Awards in 2021. We are considering doing something like "Business as Unusual" awards where we recognize all businesses, and relate the resiliency stories and the success stories of the past year.
What do you love most about living in Nelson?
We moved here in 2001 but always had a love of the West Kootenay region—Nelson specifically—even when I was living in the Okanagan for 20-plus years. Nelson is unique for many rural communities. It has a true sense of community. It's diverse and eclectic. It has a tremendous arts and performance arts community, and great live music venues when they are up and operating without COVID restrictions. We have a cosmopolitan feel for restaurants and food and beverage locations that you will never get bored of. We have diverse economic sectors, including a strong regional shopping and dining destination, and two great post-secondary Selkirk College campuses. Nelson and Area is a great place to visit, but an even better place to live, invest, own a business, or raise a family.
What are some challenges unique to Nelson?
Our challenges aren't really unique, as most of our Kootenay area communities have issues with workforce housing. Social or subsidized housing is also a pressing need, even with the recent projects that have been completed by Nelson Cares' share housing. There is always a demand to come here, and limited inventory due to having a mountain on one side and a river/lake on the other, but working regionally and through the out-of-town corridors, we can hopefully improve the housing stock. It seems like no matter how units are built, there will also be a similar demand.
The other challenge that has come about in the past 12-18 months is a lack of labour-workforce problem. It is not one thing driving that, but likely a combination of many factors, including an aging workforce, possibly lack of attainable housing, loss of immigration and fewer international students since the pandemic, and child care spaces are not always adequate. But really these problems are not unique to Nelson.
If you could do one thing to improve Nelson regardless of cost, what would you do?
Finding housing solutions.
What is your personal passion project, beyond work?
I enjoy music and sports with a great passion. I enjoy them almost as much as my wife and daughter and, depending on the outcome of the game or concert, maybe they even edge them out sometimes. But don't tell them that!