Helping business owners navigate a digital world
Spring Creative Inc. in Nelson brings entrepreneurs together to facilitate positive change, effective branding and collaboration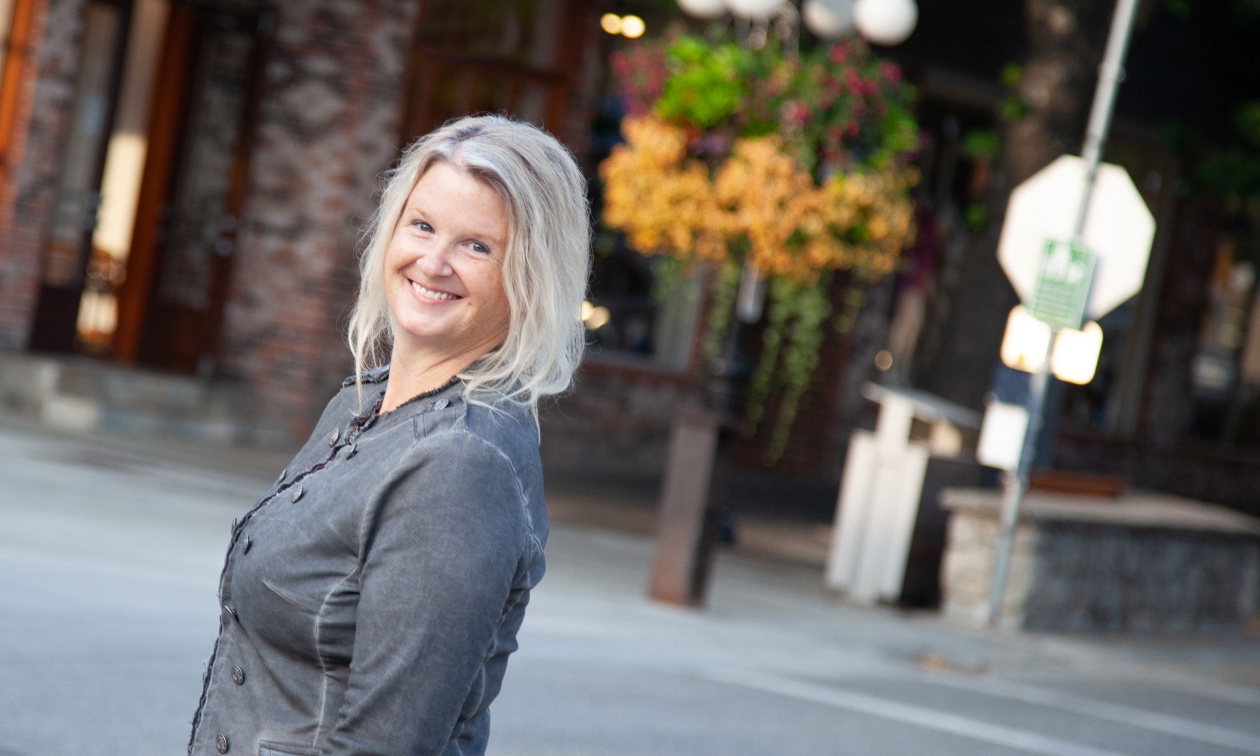 Marketing is a whole new world these days, and nobody understands that better than Fern Sabo, marketing director of Spring Creative Inc. in Nelson. Together with a team of other experts in the field, including a creative director, content co-ordinator and director of design, Sabo helps her fellow Kootenay entrepreneurs in a variety of ways.
Spring Creative Inc. takes a collaborative approach to promotion—understanding that today's digital environment favours a new way of doing business. We were pleased to sit down with Sabo to learn more: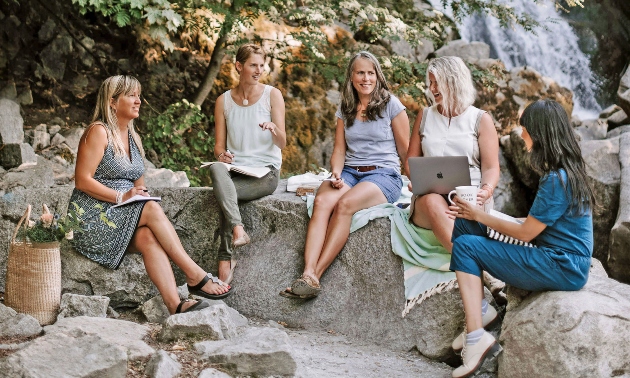 - Photo courtesy Spring Creative Inc.
Can you tell us a bit about what Spring Creative Inc. offers?
Spring Creative Inc. is a marketing strategy and promotional design agency specifically developed to guide clients through the complicated digital landscape that marketing today entails.
Specializing in a collaborative approach to digital marketing and design, we work with visionary companies, organizations, and entrepreneurs to help them reach their goals. Our team provides education and consulting services, develops and strengthens web presence, client communication and community connection, builds visual assets and content, creates marketing strategies and tracks progress.
By focusing on the triple bottom line framework (people, planet and profit), we fully embrace regenerative branding. Our vision is to use our knowledge, skills, and software to help design a future we can be proud of.
What has been your most exciting achievement in business so far?
Winning two Gold Awards and one Honorable Mention in two different global Association of Marketing and Communication Professionals (AMCP) competitions this year has been very exciting for us. These accolades placed our agency in notable companies, including other winners such as UBC Studios and Southern Alberta Institute of Technology.
These international competitions recognize outstanding work by creative professionals involved in the concept, direction, design, and production of media that is part of the evolution of digital communication. Judges are industry professionals who look for companies and individuals whose talent exceeds a high standard of excellence and whose work serves as a benchmark for the industry.
This recognition is a real honour for many reasons but especially because it really highlights the commitment we have to our work and the profession of marketing communications.
One of my fondest experiences prior to starting our agency, was my role as the Communications Strategist for Martial Arts for Justice (MAJ). What was only a budding idea, grown into a national campaign with a global presence.
I collaborated with MAJ's team and provided guidance, strategy, and systematic development to all activities. Through my professional leadership we raised over six figures for charitable projects, secured endorsements from high-profile celebrities, got media coverage all over Canada including Global TV and CBC and created a platform to deliver martial arts training to trauma survivors in countries such as Rwanda and Uganda.
This incredible initiative ultimately helped spearhead the formation of Spring Creative Inc.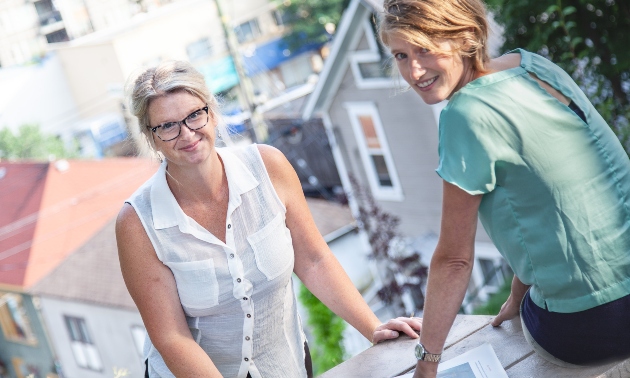 - Photo courtesy Spring Creative Inc.
What are some of the advantages of your company's collaborative approach?
We specialize in creating a truly unique and collaborative customer experience that starts through dialogue...we listen to our clients and learn about their goals and ideas. We know that no two projects are the same and having a thorough understanding of our client's vision for the future is a vital component in our ability to produce the outcomes that they desire. This means we develop and implement marketing and design strategies by thinking about our client's target audience and brand as a whole.
Having a robust brand means knowing who and what you stand for. It's so much more than just having a pretty website or brochure. Like a logo, these are vital components that contribute to business success. It's the concepts behind the promotional material that branding is all about.
Sometimes our clients come to us with a clear vision of what they would like, other times they only have an idea of what they intend to achieve. We help our clients understand that their business ethos is key to developing their brand effectively. Ethos is the sum of an organization's philosophy, character and values—it expresses the way a business wants to behave and becomes its personality.
Like ripples on a pond, we know our client's success must come from the inside out. Establishing a solid brand requires a lot of thought and consideration and at Spring Creative Inc we take pleasure in helping our clients define their ideas in uniquely profound ways. For us it's all about developing relationships, going deeper, and looking at what our clients are really trying to achieve.
How did you get into branding and marketing?
The year was 1997 and I was twenty years old. Microsoft had launched Windows 95 a few years before and Google was two years shy of its start-up. In a Kootenay business initiative between Selkirk College and Community Futures Development Corporation, I worked with a youth group to build a regional marketing business from the ground up. This initiative provided extensive hands-on training for the participants and incorporated the use of the World Wide Web.
Witnessing the potential of the internet to mobilize ideas was revolutionary. The ability to connect with each other like never before; the freedom to think more critically and creatively; the opportunity to find solutions to complex problems and to swiftly share information excited me and propelled me forward. I could see how the future of communication would evolve. It was a pivotal moment for me.
I went on to work in sales and management. Then in 2002 I became a dropship distributor of products being sold on the internet. It was 20 years ago and "ordering online" was a very new concept for most people. I feel like this job is where I really cut my teeth on digital marketing.
From then on, I started numerous business ventures, including sole proprietorships, incorporations, and even founded a nonprofit (Shoreacres Neighborhood Community Association). I have held leadership roles in corporate event management, focus group administration, technology integration/software adaptation and the delivery of organizational training programs, to name a few.
Before starting Spring Creative Inc, I worked as an independent marketing communications strategist and certified website developer with clients from a wide range of industries, businesses, corporations, cooperatives, and charities.
In this consultancy role it became apparent that the digital landscape was rapidly evolving and starting an agency was going to be the most effective way to meet the growing demands of the market. It was clear that a cohesive and customized approach was the only way forward for the modern brand to be successful.
Companies were starting to look for holistic solutions to solve their marketing challenges rather than the more common piecemeal practice they had been using in the past. There was a gap in the marketplace, and I could see that providing the end-to-end services that my clients were asking for was going to take a team of professionals working collaboratively together, on an ongoing basis.
Spring Creative was officially formed in 2018.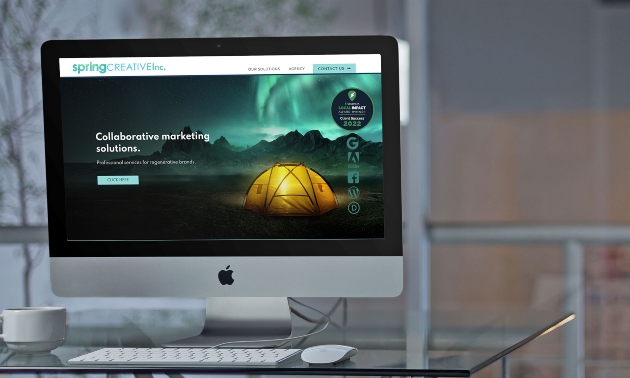 - Photo courtesy Spring Creative Inc.
Have you always lived in the Kootenays?
I was born in Portland, Oregon, and immigrated to Canada in 1981 with my mother who was a former teacher and political activist. I was raised in a small cabin in a remote Kootenay community with no electricity, telephone or running water and was homeschooled until grade 8.
I spent most of my days in nature but was also supplied with early computerized learning devices that my father would send me. These machines formed my knowledge base and developed my technical aptitude for screen communication from an early age. My father made sure that I could investigate the digital world and always said that my future lay in my ability to work with computers.
My natural aptitude for technology was complemented by my intuitive grasp of balance and design. My mother made her living as a freelance commercial artist and educator promoting her own community initiatives and design work. Paper tables and notepads were stacked up on all flat surfaces in our home. Jars of pens, coloured pencils, chalk and markers lined our window sills. Creativity was always encouraged and concepts of color, line and balance were fostered.
I have called the Nelson/Castlegar area home for nearly 30 years and live with my partner of 27 years in a 1897 house just off Baker Street. We have two grown children and two grown cats.
Regarding your mantra: "Nature is my cathedral; community is my culture and family is my foundation"—what does this mean to you?
Growing up in a small rural community established a strong foundation in me of what it really means to come together as a whole. For as long as I can remember, the purpose of working collectively, to solve common issues, has been an instrumental part of who I am. With a family philosophy of the three C's (clean air, clean water, and conscious living) as my guiding principles, and extensive experience in solution-based thinking, I was naturally drawn to helping people facilitate positive change, (specifically groups of people).
Generating positive change and developing action plans to achieve results can be challenging at times, these challenges are often exhilarating and exciting but can also be daunting and scary. I have a passion for this form of work and have found that when you bring the right people together, in the right places, amazing things start to happen. As Margret Mead said, "Never doubt that a small group of thoughtful, committed citizens can change the world; indeed, it's the only thing that ever has."
Such wisdom can be applied to groups of people striving for common objectives. I have witnessed first-hand how important synergy is amongst team members. By working together in a cohesive manner, everyone aligning with project goals, success is the natural fruition that occurs in a team. Having also seen the opposite, when disjointed teams become strained, negatively affecting projects, I strive toward growth, co-operation, and communication. With this in mind I established Spring Creative.
A natural organizer with a passion for design and technology, I embraced the place where I could make the biggest impact: Helping people facilitate positive change.
Is there anything else you would like to tell our readers?
I share my personal experience through community organizations including Futurepreneurs, Start-Up Nelson, Ladies Learning Code, GlobalCitizen.org and International Women's Day. In addition, Spring Creative Inc. helps non-tech-related community groups such as our local Kootenay Lake stewardship society (FOLKSS) through volunteerism and philanthropic design services.
Much of what I have taken on and accomplished has been influenced by the following people: Jean Houston, founder of the Human Potential Project; Claire Zammit, founder of the Feminine Power Movement; and Paul Born, founder of Tamarack Institute for Community Engagement.
I also have a deep love of and faith in Aristotle's term entelechy—a concept referring to the vital force that guides growth in all things to actualize their potential. The same sort of intrinsic knowledge held by an acorn allows it to become a mighty oak.