Hellman Canoe & Kayak—a passion project
Bob and Colleen Hellman brought their love for canoeing to the West Kootenay, and made their passion their business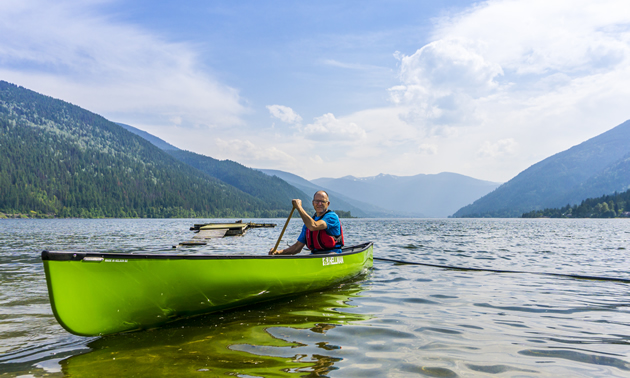 Bob Hellman's fascination with canoes and kayaks began when he was very young. For him, there's something about paddling that feeds the spirit, and he's a little poetic when he talks about it:
"The esthetics of a canoe—the way it glides through the water, the adventures you can go on, the tranquility in the morning when the water is glass-calm and totally silent—that's all part of it."
Hellman's excursions on the lakes and waterways of Manitoba, Ontario and northern Canada deepened his passion and his wish to share it. He is qualified as a master Recreation Canoeing Association of B.C. (RCABC) canoe instructor and an advanced paddleboard instructor. His wife, Colleen, is also a canoe instructor.
Hellman learned the techniques of building classic canoes from a friend in the business in Manitoba. At home in his garage, he also built a cedar-strip prospector canoe and developed his first canoe design from it.
"I think building boats is in my DNA," he said. "Looking at a smooth, shiny, perfectly built canoe when it's finished is like admiring a work of art. It's quite satisfying."
Putting down new roots
Hellman visited Nelson for the first time in 1976, and fell in love with the city and the area. He visited several more times over the years, to ski and explore the backcountry, and finally in about 1990, he and Colleen decided to move there and start a business. Hellman Canoe & Kayak came into existence as a home-based venture; it is now located in a lake-front facility that employs a dozen people.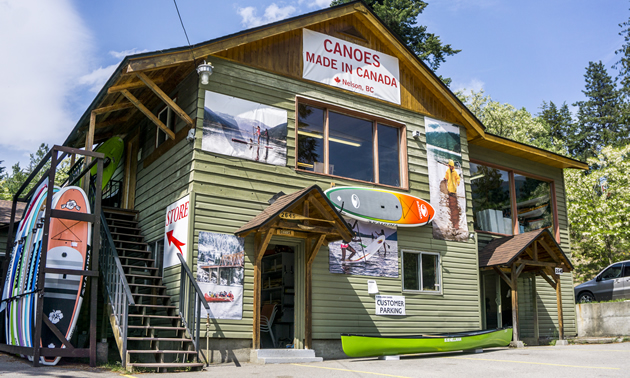 "Now I have people building boats for me that have the same passion as I do," Hellman said. "They are very skilled builders."
During the winter, Hellman's staff custom-build canoes to supply other retailers and for individuals who want a personalized craft. The technology of building canoes has evolved—Hellman himself developed an environmentally sensitive gel coat made from grain oils instead of petroleum. This coating produces a tough finish that makes Hellman canoes among the most durable in the world.
"We try to have a bunch of our canoes in our own shop, too, because people come in and want to buy a canoe on the spot," Hellman said. "Our name is associated with a good-quality, high-end boat that's still affordable."
When stand-up paddleboards showed up on the scene, they brought a new aspect to paddle sports, and their popularity continues to soar. Hellman said that for some people the appeal is that it's another way to get out on the water for fun and exercise—it's a full-body physical workout. Other people like the fact that they're not confined inside a kayak. Some people like the feeling of standing while paddling, and some people like the playful aspect of paddleboarding—you can do spins, tricks and even yoga.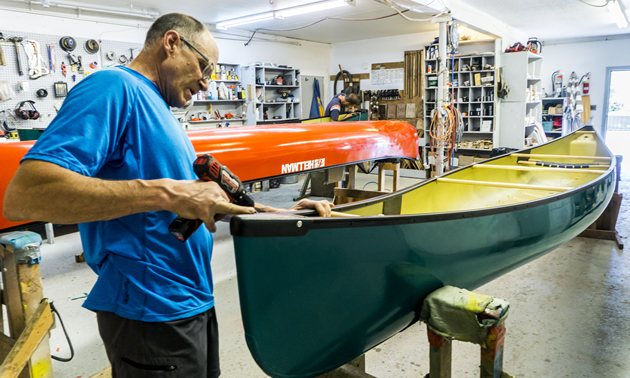 Begin with an advantage
Hellman sees paddling as therapeutic. Often his customers are looking for something to make them feel good, and he and his trained staff guide them to choose the paddleboard, canoe or kayak that's exactly right for them. Newbies can then cross the street to arrive at the lake and, with the help of Hellman's staff, learn to paddle correctly and safely right from the start.
"We try to get them started with the right techniques," said Hellman. "We've taken a lot of lessons in kayaking, canoeing and paddleboarding ourselves, taught by expert instructors, so we know the right way of paddling.
"We started this business because paddling is a passion of ours. The best times of my life were canoeing with my family when my kids were young. I love to sell a canoe to a family and know I am sharing my passion for canoeing and the outdoors with them."