Get bent into shape
Recognizing the benefits of Pilates is no stretch of the imagination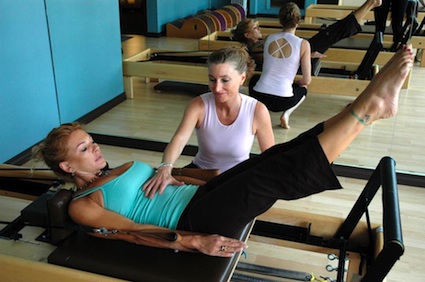 "People won't understand the brilliance of my work for 50 years." —Joseph Pilates
The exact wording of the above quote varies, depending on its source, but the message remains the same: Joseph Pilates, the founder of the Pilates fitness and conditioning method, knew he was ahead of his time. Unlike many fitness disciplines, however, Pilates is a relatively recent practice; it was developed in the first half of the 20th century. Joseph Pilates was an accomplished athlete from Germany who moved to New York in the 1920s. His exercise method—then called contrology—attracted the best and brightest from the dance world.
Joseph Pilates taught almost until his death in 1967. In the nearly 50 years since his passing, his movement has become much more wellknown and accepted by a wide variety of people. No longer just the strength training regime of elite dancers, Pilates has made its way into the mainstream fitness zeitgeist, praised for its ability to build strength, co-ordination and flexibility.
That said, those new to the practice might find themselves a bit confused when an instructor asks a class to activate their pelvic core. There are many styles of Pilates, as well as a variety of props and machines. Which ones are right for you?
"Sometimes when people come in for Pilates, it might be quite different from what they've experienced in a fitness class, where they're moving and sweating," said Kirsty Holt, the manager at Kootenai Pilates Centre in Nelson. "We feel like if you give it a chance for a six-week session, you'll really feel the benefits. Generally people start coming afterwards, after they've committed to that block of time. Once people find what works for their body, they find a passion for it—it becomes part of their daily practice."
Holt, a registered massage therapist, has worked at Kootenai Pilates Centre from its beginning seven years ago. She has integrated her massage practice into the Pilates studio; her days involve both teaching Pilates classes and seeing private clients. Holt said many of the clients at Kootenai Pilates Centre are referrals from physiotherapists, as the exercises can be used for rehabilitation purposes. Many of the clients who start out doing one-on-one work transition to group classes.
There are a variety of classes at the centre, including reformer, core challenge and fusion sessions. One of the recent offerings of the studio is Barre-Fit, a style that recalls Pilates' original popularity within the dance community. This ballet-inspired class combines exercises at a barre with matwork and weights. However, Holt said that Pilates works for people from all walks of life, from the office worker looking to get some exercise to the athlete wanting to supplement their training.
"For the instructors, a high point would be hearing the benefit that Pilates is making for people," she said. "We hear a lot of that throughout the day—how people are feeling great about it and are really enjoying (Pilates) and noticing that they're feeling better, having less back pain or skiing stronger. I think that's really rewarding."
Kootenai Pilates Centre is located at 540 Baker Street in Nelson.