From Can-Filter's ashes, Kootenay Filter breathes fresh air in Nelson
After the closure of Can-Filter in Nelson, ex-employees-turned-entrepreneurs created Kootenay Filter Inc.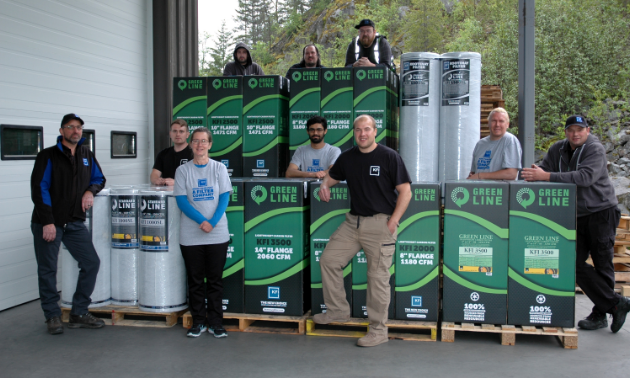 The path to Kootenay Filter Inc.'s inception is one of bumps and potholes. The Nelson, B.C., business was established by employees that lost their jobs during the Can-Filters closure in 2018.
The beginning of the end of Can-Filters began with its purchase by Hawthorne Gardening Co., a subsidiary of Scott's Miracle Grow, in the fall of 2017. By the summer of 2018, the facility in Nelson was closed down, the employees were laid off and the production was moved to the U.S.
One year later, Kootenay Filter was born, thanks in large part to Marco Gerhardt and Rick Arnett, co-owners of the company. It took months of hard work for the pair to find warehousing, build a production line and develop a distribution chain. In late summer of 2019, Kootenay Filter was producing filters for distribution, including the Green Line. Green Line Filters are an entire product line manufactured with activated carbon, which is derived from renewable resources—something that does not exist in the North American market. In November of 2019, they added a Fan Line to their products and in January of 2020, they added a Line of Flexible Ducting.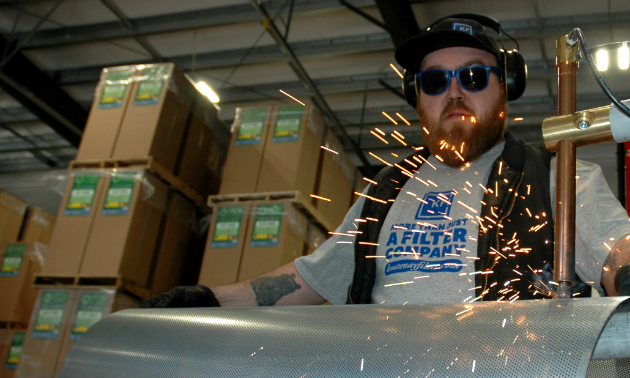 Kootenay Business caught up with Marco Gerhardt to find out how he and the team at Kootenay Filter Inc. managed to overcome the Can-Filter closure and create a thriving business in the aftermath.
What was it like to go through the process of Can-Filter's closure? How are you feeling about the situation now?
It took time to accept the new owner's decision. Losing a job is not easy for anyone. Today, I think it has opened a door for us to make a difference for some of the displaced employees and their families.
Is Kootenay Filter Inc. located in the same building as Can-Filters was previously?
No. KFI currently leases production space just outside of Nelson and is currently at maximum capacity.
How did you and everyone else at Kootenay Filter Inc. go from losing your jobs with Can-Filters to starting up your own business?
Initially, when we considered starting our own filter company, there was some apprehension since we would be competing with the big guys—with our ex-employer.
Everyone at KFI is proud of what we do on a daily basis; our motivation is to once again produce the best filters on the market in Nelson.
How is Kootenay Filter Inc. similar to Can-Filters? How is it different?
Both companies manufacture activated carbon air filters and sell ventilation products. At this level, we do the same thing.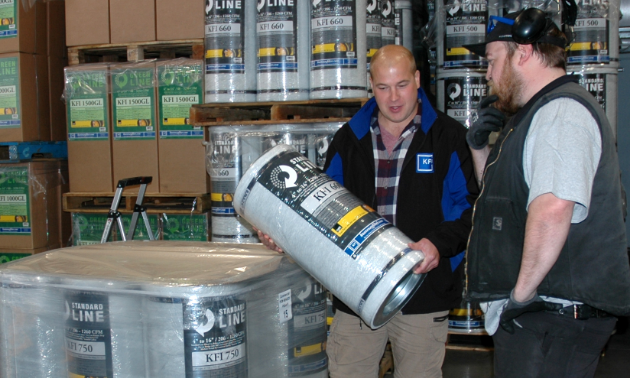 I think one difference is that we want to drive our company differently. This is why we have developed the Green Line—with renewably sourced carbon—while other carbons are made from a mined product. We are also pushing our fans in the same direction by offering a fan line with EC technology that has easy speed control via 0-10V signal. EC motors operate more efficiently than conventional motor technologies and offer cost savings through reduced energy consumption for the customer.
Have you been able to regain the customers that Can-Filters used to have?
The carbon filter market is huge and there are customers that prefer working with us more than others. The most important part is that customers like our products and our quality.
As a young company, we are still in the process of expanding to the eastern provinces of Canada. We are gaining new customers there every day.
What does Kootenay Filter Inc. do exceptionally well?
Air filtration. Kootenay Filter Inc. manufactures and supplies state of the art filters and fans that remove VOC's and eliminate odors from indoor spaces. All KFI filters are machine-packed and available in two product lines that range in size from 4" – 16". We supply fans from our partner, Ruck Air Movement. Ruck is a well-established, first choice German-engineered fan manufacturer. Their fans run quiet, are energy efficient and long lasting.
Why do your customers select you over your competitors?
At KFI, we believe in the products we make and we are proud of them. This is something customers notice.
What advice do you have for other entrepreneurs/business owners?
You need to believe in what you are doing. Your business is more than just a business. It is part of your family and life. You need to be ready for this. It will be extremely time consuming, but also very rewarding.