Entrepreneur Anders Malpas of Nelson, B.C., has been engineering success since age 12
Anders Malpass, the founding president of Drop Designs in Nelson, was an entrepreneur at 12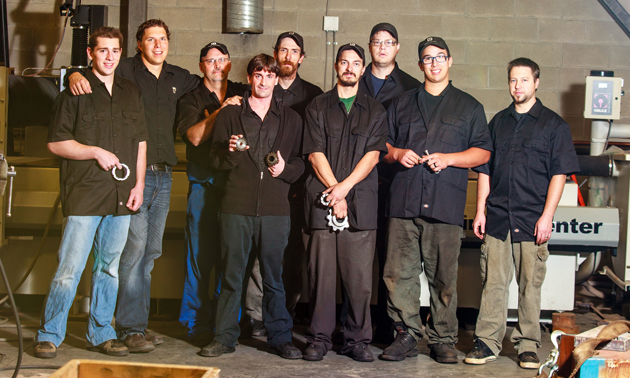 Sprockets, couplings, bushings, drums and hubs are what dreams are made of for Nelson entrepreneur Anders Malpass. He is the progressive founder and president of Drop Designs, a manufacturer of high-quality power transmission products based in Nelson, British Columbia.
An entrepreneur from an early age, Malpass started his own irrigation company at the age of 12, building up to an operation with five employees and a good revenue. Although this Nelson native's business focus shifted a little, and he went on to study mechanical manufacturing engineering, his enterprising tendencies remained strong.
Developing Drop Designs
When he found himself in Prince George after graduation, Malpass became head of operations for a manufacturing company. In 2006, he bought a division of the company and began his one-man band.
"I started in a small shop in the corner of my yard," said Malpass. "It was a two-storey man cave."
When the company outgrew its space, Malpass bought a sprocket company in Vancouver. Both his companies grew together, and from there Malpass had a vision of building a facility in the Kootenays. Construction began in 2009; today, the 20,000-square-foot, fully integrated manufacturing facility is home to Drop Designs.
"From a one-person business in 2006, we have jumped to about 20 full-time employees," said Malpass.
Solutions for the resource sector
About 75 per cent of Drop Designs' product is related to sprockets and 25 per cent has to do with advanced manufacturing and materials, Malpass said, adding that the company is typically focused on the resource sector.
"We have large corporate customers that come to us for high-end manufacturing services," he said. "Recently, we bought the first ever water jet of its kind in Canada, which allows us to cut 12-inch steel and hold an accuracy as close as a hair."
This has never-ending potential for the manufacturing market.
"Locally, we try to service industrial companies—our capacity is very large," said Malpass.
Always open to innovation
While Drop Designs' products are seen across a wide range of industries, the company is continuing to innovate to create new products as well as improve its existing product line.
"If someone has a new invention or idea, we can take that to market," said Malpass. "We have capabilities to produce in-house as well as to design out-of-house if we want to."
Drop Designs sells its products worldwide through a large distribution network. Bigger companies carry Drop Designs' products, but the company also offers direct manufacturing services locally.
Success in the Kootenays
Passion and drive have got Malpass to where he is today. He said he enjoys working with people, and he always had a vision to live, work and play in the Kootenays; he really had to create that destiny for himself, he said. When he was 12, he somehow had a little bit of this vision, and he said his parents never struck down an idea, and offered him a lot of support.
For Malpass, the excitement now is in the manufacturing, the business and the engineering.
"I have the philosophy that we only have so many hours in the day, and we are all great at some specific skill," he said. "You have to allocate your time to what suits (you) best. The product is the medium for me."
Human resources make the difference
Malpass said that the key to his organization is his staff.
"When the company first started, its growth was based on myself, but now it is the people in the organization that make it grow," said Malpass. "Every single person is key. We really try to work with people, businesses or employees who can add value to our company by adding value to them."
He said that is how the company has been able to overcome difficulties and remain successful.
Malpass is the chair of the Kootenay Association for Science and Technology (KAST), a non-profit society with a membership that strives to foster a culture of science and technology, and innovation and entrepreneurship. He feels that being involved in KAST is his way to give back to the community.