River's Crossing is a premier mountain community
A unique neighbourhood in the most beautiful corner of B.C.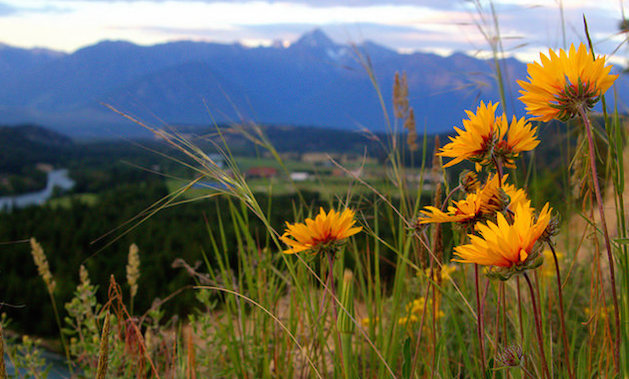 What would you look for in a new development? A beautiful location? Detail to design and architectural guidelines to keep everything esthetically pleasing? A great place to raise your children? Being able to live close to your work, schools and other amenities without actually having to live in a city? Living close to a golf course, ski hills, bike trails and other recreational gems?
River's Crossing has all of these things wrapped up in one exceptional package.
River's Crossing is a premier mountain community that is putting the finishing touches on the necessary infrastructure for the development including paving and connecting the sewer to the City of Cranbrook sewer system.
River's Crossing backs onto the Shadow Mountain Golf Course. Although many other developments have stunning views and are on golf courses, River's Crossing does have a few unique features.
Residents feel like they are living in their own private forest and enjoy a rustic, unspoiled and back-to-nature feeling, yet are only a few minutes from the East Kootenay's industrial hub, Cranbrook.
"We are a little bit out of town—people like that it is a natural setting," said Marty Gunderson, the project manager of River's Crossing. "There is a rustic feel and yet they are 10 minutes from Starbucks."
River's Crossing is aptly named as it sits on the shores of the St. Mary's River. River paths and even a beach have been built for the enjoyment of the residents.
"As humans we are meant to be by the water," said Gunderson. "St. Mary's is world class."
Resident and blogger Julie Brannigan gives some insight as to why she and her husband, Tom, chose to live in River's Crossing.
"Living in a unique neighbourhood in the most beautiful corner of B.C., our kids have experienced more of the outdoor world than most adults," said Brannigan. "They identify and snack on wild onions and berries when they're outside and hungry, and argue about the identification of downy versus hairy woodpeckers.
"This wild connection is precious in our fast-paced world," continued Brannigan "It's easy to tie into at River's Crossing."
Brannigan added that her husband has a quick five-minute commute to work. The children are also close to their school and driving them to their extracurricular activies takes much less time than it would in any city.
Oh, and the world-class Shadow Mountain Golf Course is steps from the Brannigans' backyard.
Reading Brannigan's blog you can see how the residents feel like they are part of a small community. The gallery of photos shows how the neighbours have set tealights in jars around the rink for a midnight skate and bonfire, had fireworks above a snowy night sky, and take advantage of hiking trails around the development as well as fishing in the river.
A show home built by Gramlich Construction will be finished this month and another show home will be completed within a few weeks.
For more information on River's Crossing, or to take a tour of a show home, see http://riverscrossing.ca/, facebook, or call 250-908-1606.