Four tips for successfully marketing an open house
What you need to know about planning an open house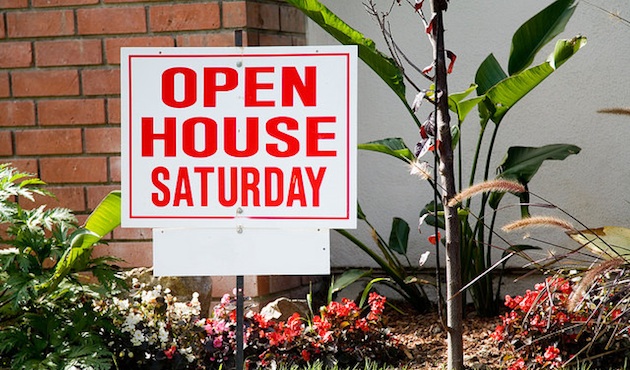 The whole idea behind an open house is to generate a large volume of potential buyers to come through a house that is on the market.
In the past, you simply put an ad in the local newspaper in the real estate section and then on Saturday morning posted an "open house" sign on the corner of the street.
That won't reach your target audience anymore.
How can you ensure that people know about the open house or that the potential buyers are ones that would view the home?
You need to use creative marketing to get people through the door.
Jennifer Snyder, a marketer who teaches real estate agents how to grow their business, has these suggestions on her blog:
Giveaway
There is no question that people love free stuff. Offer a giveaway at your open house to get more people through the door. You can offer anything from a $25 gift card to a local resturant all the way to an iPad. The ideas for giveaways are endless. You could partner with agents that have houses for sale in the neighborhood to create an "open house day." Then you could pool your resources to give away an extreme prize. Get creative with your giveaway and market it well!
Be Creative on Social Media
Yes, you should post about your open house on Facebook, Twitter, Instagram and LinkedIn. Yes, you should ask your sellers to share the post on their social media sites. Those ideas are a given so you need to take it one step further. Investigate the Facebook pages that are available for your community and post the open house there. Just make sure you aren't violating the terms of use for that page, otherwise people might get irritated by your post. Also take the time to create an ad for the open house on both Facebook and Twitter.
Kid Friendly
Create a kids' corner at your open house so moms and dads can stroll through the open house. They won't have to get in and out of there quickly before the kids start to lose it. The Internet is full of colouring book pages that you can print. (Don't forget to put your contact info on there somewhere!) You can buy inexpensive crayons at a discount store. By giving the kids something to do, it gives moms and dads more time to look at the details of the house and spend time talking to your agent. Plus moms and dads will think you are awesome for thinking of the kids in that way!
Create a Theme
Cinco de Mayo open house? Sports team open house? Think about creating a theme for your open house to create a buzz around it. Create a list of theme ideas and then items you would need to buy for the open house. If you have an ongoing list, it makes it easier to prepare for your themed open house. When you advertise your open house, make sure to add the theme to the marketing piece. Make it feel like a small party, and you will create interest that will get people coming through the door.
The goal of marketing your open house is to get as many interested eyes on the home as possible. People need to imagine themselves living there, and imagine themselves in the lifestyle. You need to think past traditional marketing methods to capture the traffic you want. This needs forethought and planning.
"Plan ahead, get creative and your open house will be a success," concluded Snyder.
See the full blog post by Jennifer Snyder.