Cranbrook real estate prices on upswing in 2015—up 5.4%
Despite economic worries, the local real estate market is seeing a modest increase in sales for 2015.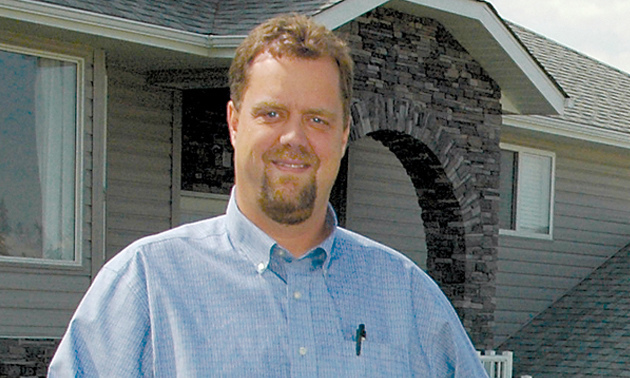 The summer market in Cranbrook has been active and 2015 continues to show an increase in demand over 2014. Average sale price year to date is $297,619 or approximately 5.4% higher than 2014. Average sale price can often be distorted by the amount of sales in a specific price category. The graph below shows 2015 sales vs 2014 by price sector.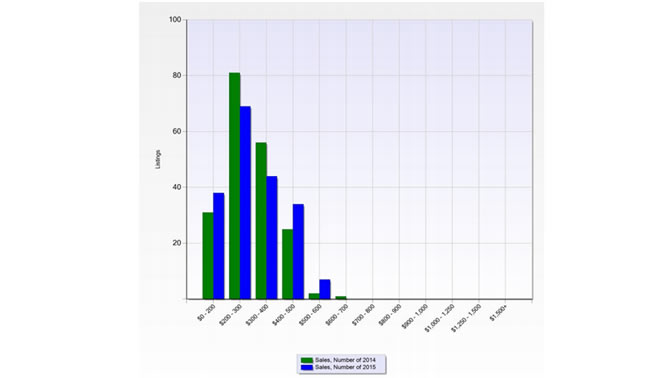 Statistics show us that we have had fewer sales in the price sector of 200-400k range than 2014 and that there has been a notable increase in the 400-600k category of sale. Regardless, the local real estate prices have been on the upswing in 2015 and demand has been strong for the first 8 months of the year. Sales of single family dwellings in August did not beat last year's record of 30 but it was still 12.5% higher demand than the three year average. The summer months slowed down compared to last years and unit sales are approximately 10% higher in 2015 than previous.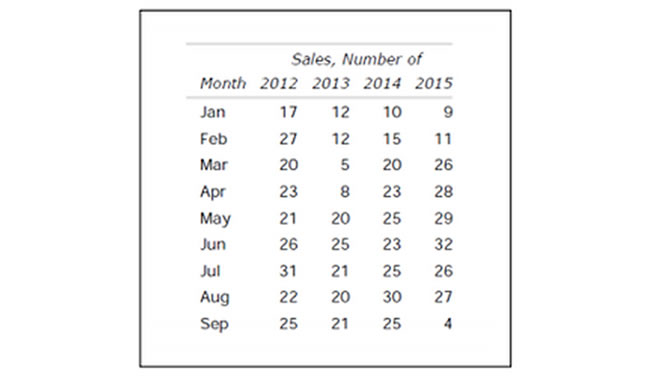 Supply of available listings in the Cranbrook market is still at the lowest it has been for 5 years and is currently 6% lower than last year. There are currently 116 single family dwellings offered for sale on MLS within the City of Cranbrook. The last 4 months of 2015 are expected to continue at similar demand levels of 2014. The last 4 months of the previous year saw 72 single family sales with 88 new homes brought into the market during the same period.
As we approach the fall market September and October traditionally have been stronger months in demand while winter months typically see a drop in demand from November to February. As Canada enters its official technical recession our local market is affected by commodity prices. We expect demand to erode slightly with a decline in consumer confidence and further layoffs in commodity based sectors including Oil and Coal.
We have tracked sales in the City dating back to 1994, the average unit sales per year is 243. Cranbrook is expected to surpass this number in 2015. We currently have 188 sales for the first 8 months of 2015 and expect approximately 70 more units to sell over the next 4 months.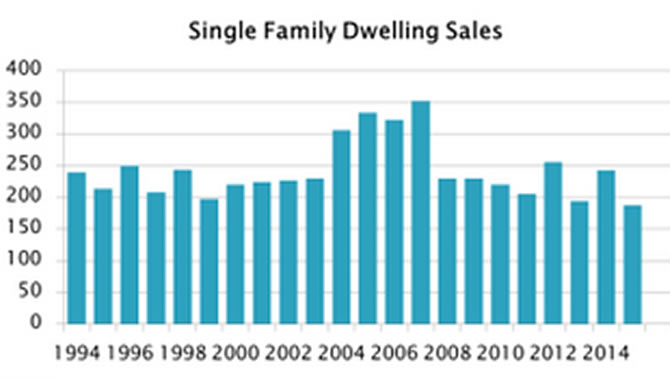 For further statistics please call or email Jason Wheeldon at [email protected] or call 250 420-2350.