Bringing the indoors outside
The design of your outdoor living space is limited only by your own creativity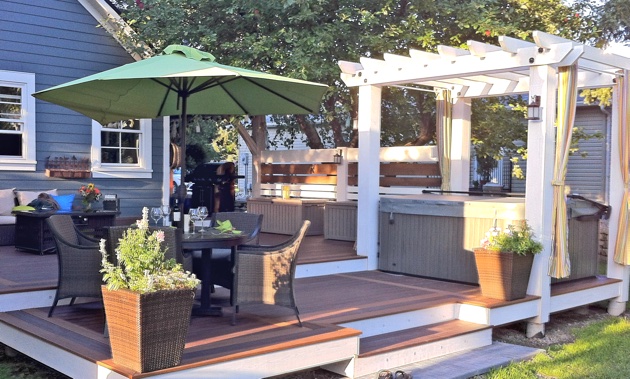 Most Kootenay residents want to take full advantage of summer weather, and that often means adding outdoor living spaces to our homes. Outdoor living can be described as "bringing the indoors out."
In past decades people had a back yard with a sprinkler for the kids to run through, a barbecue in the corner and maybe a badminton net. Now large, elaborate outdoor kitchens and other living spaces are the trend.
Toby Rigby, owner of Rigby Built Construction in Fernie, said the outdoor living concept tries to optimize space that potentially hasn't been used to its fullest.
Create your own style
Rigby recommends that you take advantage of the natural elements in your yard. For example, if you have a sloping lot you might want to create terracing.
Outdoor space usually is the prime area for summer entertaining, so adding food preparation areas as well as a place to relax can create the ultimate oasis. Along to these practical features, you can include some brightly coloured outdoor fabrics and your own special touches.
"So it is fairly broad," said Rigby, "you are only limited by your own creativity."
If you can think of it, it can probably be built, said Rigby. But you do need to keep in mind a budget. You may dream of an 1800 square foot outdoor entertainment area with a full kitchen and living area and even an outdoor shower, but when you see the price tag you may decide to cut back to a slightly revised version of your dream.
Long term maintenance
When planning your outdoor living space, think about your own personality and what you will be using this space for. If you would prefer to use your time in the yard relaxing, you you may want to think about hardscaping, planting creepers or ornamental grasses. However, if gardening is your idea of relaxing, be sure to include flower or garden boxes so you can grow herbs, blooms and vegetables.
Another thing to consider is the future maintenance of whatever structure you build. Wood structures of any kind require upkeep in the form of painting or staining every few years, which involves a time factor and cost. If you are looking for the low maintance route, Rigby suggests composite decking.
"You are essentially paying for all your maintenance up front," he said. "It is pricier in the beginning, but it saves a lot of time and money in the long run."
Beautiful and functional outdoor living spaces should be designed to suit your needs and be your perfect place to relax, entertain and dine in the fresh air.