Modular is a viable option for anyone thinking of building a home
Modular homes are built off-site and transported to their permanent location, saving money and time.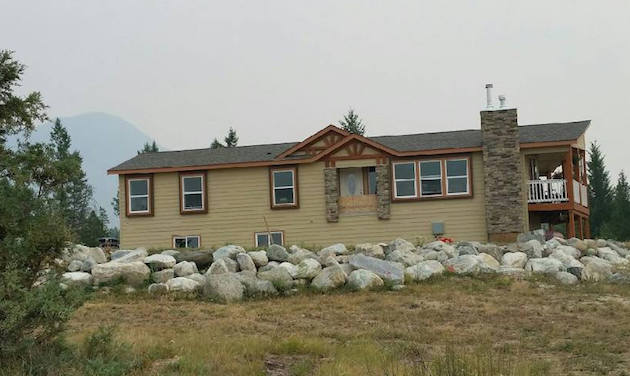 A prefabricated or modular is a home that is built in a factory in sections, or modules, and then transported to the building site, where construction is completed. Each module arrives fully outfitted with interior fittings—plumbing, electrical, doors, closets, kitchen cabinets and appliances—so you are ready to move in once the home is assembled.
Modular home construction is generally free from on-site delays caused by weather or other factors when a home is built on location. The tradesmen who work on the homes are also full-time employees of the particular modular home factory, so are not juggling numerous projects like typical contractors.
Building inspections take place at the factory. Modular homes must meet the same building codes as their stick-built cousins.
Design options
In the past modulars had the reputation of having few options and being of low quality. Now they can be customized.
"The sky is the limit," said Lianne Matkovich, administration and sales assistant at Kodiak homes in Cranbook. ""If we don't have a floor plan that works for your needs, bring in your own and we can build it. Or, you can pick an existing floor plan very close to what you want and make a few changes to it. You can do a rancher style, put on a basement, or even do a two storey home!."
Kodiak has an in-house engineering department that uses computer aided design. There is an engineering fee to make design changes, so Matkovich suggests you "come in with your own floor plan that has what you want in it, and we send it off to the factory." Or you can pick an existing floor plan that is very close to what you want and make a few small changes to it.
As with any home that is being built, there are thousands of options—some obviously more pricey than others—so they depend on your taste and budget. Standard features that come with a Kodiak home are drywall, tile flooring, Hardie Board siding and cement board. You can order the home with all the standard features, or you can choose to upgrade. Common upgrades in the kitchen include hardwood cabinets, granite or quartz countertops and a walk-in pantry. Some people choose to upgrade the bathroom with a soaker tub, shower and double sink. Many people want to put heat mats underneath tile flooring in bathroom. On the exterior, the manufacturer can add dormers, porches, pillars or recessed porches.
Why choose a modular?
These homes are framed using 2x6 construction and 16" centers. Insulation meets or beats B.C. code requirements and these homes are extremely airtight and energy efficient. Everything has to pass inspection and be up to code before it shows up on your property.
What is the biggest reason why people will choose a modular home?
"Price, quality and warranty are all important factors, said Matkovich. "We can do a modular home from a hundred square foot for the basic, standard features—as opposed to two hundred dollars a square foot, in this community, for stick built. So we are very affordable without giving up quality."
If a modular home is built on a full basement, it can be registered as a home and the property value goes up. Resale value on a modular home with a basement keeps its value as a regular, site-built house would. Depending on the zoning, modulars can be put on city lots.
Another reason why people choose modular homes is the time factor. Matckovich said the whole process takes about three months from the time you come in and start choosing your floor plans and decor until your home is set up.
Usually the decision process will take some time. You will want to select some options and then go home and think about them. Often you will think of a few changes you would like. But once you say "yes, that is exactly how I want it, let's build it," the factory will start on your home.
"The factory can build it in two or three weeks," said Matkovich. "It takes a couple of weeks for the guys to set it up, finish the outside, roof, because they have to be merged, fix the drywall, lay flooring, and you are in."