Leading the Columbia Valley chamber
Pete Bourke settles in as executive director of the Columbia Valley chamber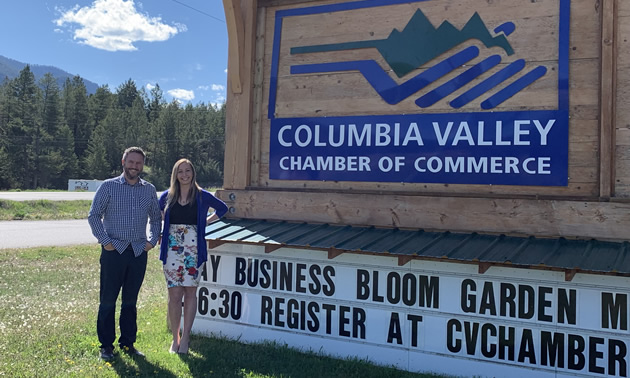 Pete Bourke made his bid for the position of executive director of the Columbia Valley Chamber of Commerce because, he said, "The opportunity to help leverage things from this position appealed to me." He started the job remotely on March 11 this year, and took up the position in the chamber office on March 25.
Bourke, a native of Australia, has lived and worked in the Columbia Valley for 15 years. He and his wife owned Circle Health Foods and Circle Café for some years, and Bourke has also worked in senior management at both Panorama and Eagle Ranch golf courses.
Susan Clovechok, the previous executive director, left the position at the end of 2018, and the active board of directors, supported by administrator and visitor services supervisor, Sarah Miller, kept the chamber functioning. Bourke said that Clovechok has been a great support in the interim and that the B.C. Chamber of Commerce and the Canadian Chamber of Commerce are excellent resources.
"I love the job," Bourke said. "It still feels like early days, and I'm excited to find out who's doing what projects and initiatives up and down the Valley."
Everyday focus
Some of the chamber's focus for the months ahead will be on membership, networking, advocacy and education.
"I'd like to grow our member numbers and communicate with our present members to confirm what the hot topics are and where they need support and advocacy," Bourke said. "We need to know what we can do to support the area and to support policy. We also want to provide information and programs to help answer what our members are looking for."
Bourke looks forward to offering member events that combine networking opportunities with educational components like keynote addresses by experts in relevant fields. He expects to offer the first of those events in the fall, when business owners are less busy than they are through the summer.
The bigger issues
A larger, more complex area of focus for the chamber is the multi-faceted issue of workforce housing, employee attraction and retention, and transit. These closely linked elements of business success are a real issue in the Columbia Valley.
The housing shortage in the Valley means it's often not possible to find a place to live in the community where your job is, and currently there's no transit system in place for those people who live in one community and work in another. Since Greyhound curtailed its service, the area is also missing a regular connection to Banff, Calgary and other centres.
"With those challenges, it's difficult to attract and retain workers to this area," said Bourke. "Having owned a business, I can appreciate the difficulties businesses are facing."
The workforce housing/employee attraction issue is a common one in British Columbia, and many community and business leaders are working to create solutions. Pete Bourke is adding his experience and energy to that effort.