Invermere's Alpenglow Superfood Bakery creates donut deliciousness
Donuts that are super tasty and healthy too? Nicole Corbo is the food entrepreneur behind her bakery business.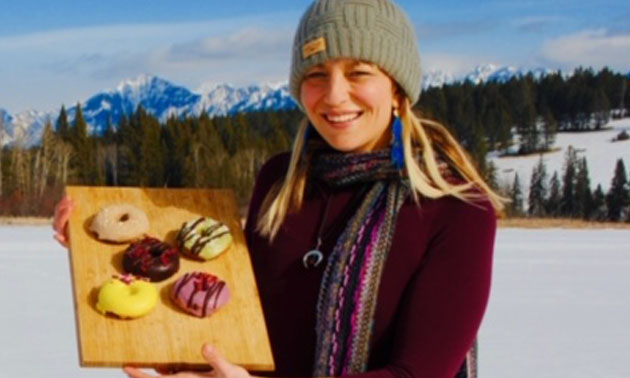 Blame the COVID-19 pandemic as the catalyst for Nicole Corbo's donut aspirations.
"It was during the initial lockdown last March that my donut prototyping began," Corbo said. "My partner and I were laid off [from] our winter jobs. Like many, we were at a loss so I started to make donuts. It seemed like a good idea."
Corbo, along with her co-baker and partner AJ, is the mastermind behind Alpenglow Superfood Bakery in Invermere. Together, they create a range of delicious donuts out of a local community kitchen. The business only started two months ago and already the treats are available in several local cafés and food trucks, along with pick-up or contactless delivery in Invermere, Golden and surrounding communities.
What exactly is a superfood donut?
As Corbo explains, "Each one of our handmade baked donuts is organic, nutrient-dense, dairy-free, gluten and grain-free and free of any processed or refined ingredients."
Using ingredients such as almond flour, tigernut flour, coconut, raw honey and locally-sourced free-range eggs, the pair of food entrepreneurs keep busy in the kitchen. Some of their creations include the top-selling donut "Bee-Knees" (a lemon, rose and wildflower honey concoction) and "Knee Deep Chocolate" which combines dark chocolate, immune-boosting reishi mushroom, orange and freeze-dried raspberry sprinkles on top.
Of course, the donut-making gene may just run in Corbo's family.
"Since the start of Alpenglow Superfood Bakery, my Italian father taught me that my great uncle owned a donut company called 'Spuds'—the original potato donut," Corbo said. "And my great-grandmother held the position of 'Il forno per il pane' (translated as 'the community oven'), baking hundreds of [loaves] of bread every day for her community."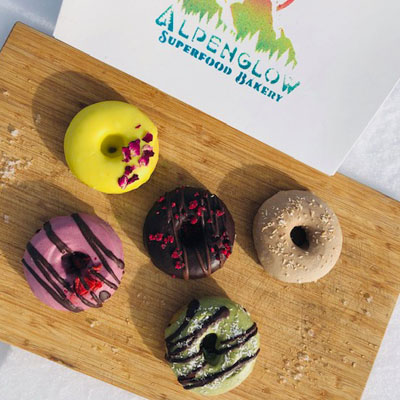 Whatever the reason—whether it's divine inspiration or just a knack for creating wholesome, delicious and healthy food, the Alpenglow Superfood Bakery is a welcome addition to the local food scene.
"I am pleased to learn I have real roots in creating wholesome food for my community," she said.
KootenayBiz chatted with Corbo about the motivation behind her new donut business.
What's the inspiration behind Alpen Glow Donuts?
Growing up with 50 per cent Italian heritage, creating in the kitchen and sharing a meal together have always been a major part of our family traditions. In my mid 20s, my years indulging in the [wrong] food choices caught up to me and I developed a series of health issues. Through diet and lifestyle changes, I was able to overcome many of my challenges. I knew I wanted to be part of the shift away from highly processed, packaged food and back to wholesome real food. I create more nutritious versions of nostalgic foods that people are familiar with and, most importantly, make people smile.
What are the core values you bring to your business?
Ingredient transparency
High-quality ingredient sourcing
Social and environmental responsibility
Fun and positive work environment
Supporting local farmers when possible
"Nutritious can be delicious"—I strongly believe that organic [foods] are important for the health of people and the planet as a whole.
Any future plans for Alpenglow Superfood Bakery that you are especially excited about?
We are excited about the possibility of having our donuts in cafés and ski resorts throughout the Kootenays. They sure pair well with a nice espresso and a day exploring the mountains! On another note, we have a 28-foot Airstream trailer which has been in storage for years . . . travelling Airstream donut café anyone? (Heck! That thought has this KootenayBiz writer excited too!)