Compassionate care for your dog
At Unleashed! Pet Care Services in Invermere, owner Amber Schick takes your canine's comfort to heart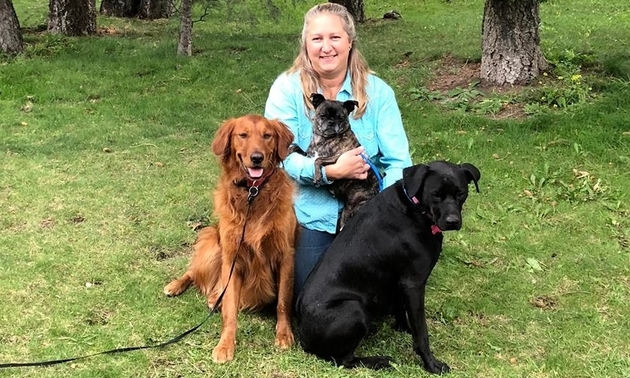 Amber Schick is the sole proprietor of Unleashed! Pet Care Services in Invermere, and she's definitely found her calling. Schick offers several pet care services, such as dog boarding, daycare and training. It is also the home of the Guardian Angel Animal Program, where as Schick put it, "dogs can be dogs in a safe and fun environment." She helps dog owners address and prevent behavioural issues, while building their pet's confidence level and instilling good manners.
We asked this enthusiastic entrepreneur a few questions about herself and her business, and she was happy to share.
What is your favourite product or service that you offer, and why?
My favorite service is our Guardian Angel Animal Program where we provide temporary emergency foster care for pets who's families are in life transition - like victims of violence, disaster relief and temporary medical respite. It feels great to be able to help others in a time of need. We believe that having pets in our lives makes us happier and healthier so we help pets stay with their people by caring for them when their owners cannot.
What is your superpower? Why?
My superpower is being able to read the minds of animals. I have connected well with animals since a very young girl. I have been able to safely care for and rehabilitate animals for so many years by being able to easily understand what the animal is feeling and needing.
What has been your most rewarding experience at work so far?
My most rewarding experience so far is being able to show my children how through consistency, exercise, kindness and patience we can teach the most shy and anxious dogs to be happy and confident pack members.