Activity for all fitness levels
These enthusiastic yoga instructors have arrived to bring their expertise to Invermere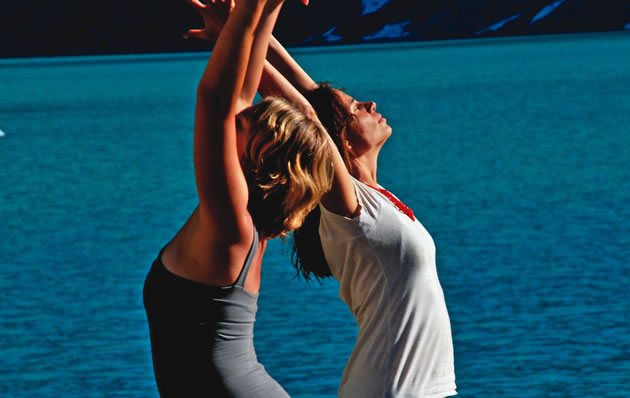 Kelly Carlson and Fe Saraiva come from very different backgrounds—Carlson was born in Edmonton and Saraiva was originally from Brazil—but the two women have a shared passion for yoga. They met while studying at a yoga training centre in India, and now they are sharing their expertise with Invermere's active population.
They teach eight yoga classes a week at the Desiderata Health & Wellness Studio at 417 - 10th Avenue, which is in the same building as Pharmasave and Chisel Peak Medical Clinic (clients are asked to enter the studio through the single red door at the back).
Saraiva has a science degree from UBC and is fascinated by the anatomy of yoga. She describes her journey as a healing experience—one that brought her a keen sense of self-awareness—and the concept of teaching yoga soon followed.
"Yoga has become an integral part of my life when I took the teachings of yoga outside my mat and into my everyday life," said Saraiva. "It is true, indeed, that 'the master comes when the student is ready.' Yoga practice and its philosophy have aided me to heal emotionally and to find inner peace and happiness. I knew that once I was healed, happy and in peace, I wanted to pass forward the yoga philosophy, the teachings from amazing yoga teachers I have been fortunate to have and the physical benefits of practising yoga."
Carlson has 10 years' worth of practice, with certification in Moksha Yoga and Yin Yoga. She has also taken teacher training in Kids Yoga and The Rocket. When she started, she had no idea she would be an instructor one day, but during her training she found out more about herself than she ever imagined.
"Before taking my first yoga teachers training, I never had an intention to teach yoga," she said. "My initial intention of taking the training was to deepen my practice and learn more . . . Through the Moksha teacher training, I unpeeled many layers to find myself. Also, the sense of fullness and happiness that I found through teaching yoga was something I had never connected with before."
The Moksha Yoga tradition is an intriguing one, with the exercises taking place in a heated room to induce detoxification and relax the body. Saraiva and Carlson emphasize that students of all fitness levels can take part in and benefit from this type of activity.
"Invermere is the second town (where) I introduced Moksha Yoga," said Saraiva. "I love how the Moksha series is beginner friendly and at the same time can be also so challenging to seasoned practitioners. There are a lot of people who think one has to be fit and flexible to practise yoga—I love when students find out through their own experiences that this is a myth."
With their wealth of experience and international training, both of these instructors have improved the Invermere health and wellness community in their own ways.
"I love knowing that as a yoga teacher, I play a part in every student's journey of improving their physical health and overall well-being," said Carlson. "I also find the more I teach, the more I learn about myself."