Grand Forks housing projects
New, affordable apartments and townhouses will be ready for occupancy in Grand Forks in the fall of 2019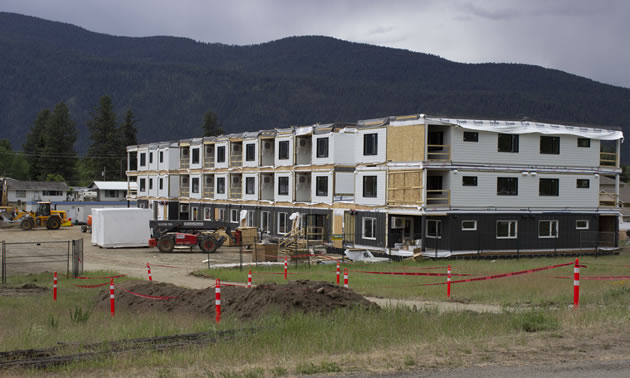 To assist some of the people in Grand Forks, B.C. who still, 400 days after the 2019 flood, are living in temporary accommodation, an affordable housing project is well underway. The province of B.C., through its Building B.C.: Community Housing Fund, is building 52 units of affordable housing on 19th Street in the western section of the city. The project will offer 42 apartment-style housing units and 10 townhouse units.
"This is the first development of that nature for Grand Forks, and we had some concerns about what it would look like," said Grand Forks Mayor Brian Taylor. "The City has exercised its Form and Character bylaw, and we're comfortable that it's going to be attractive and add to the appeal of the community in that area."
The modular units of this housing development were shipped in for assembly onto pre-built foundations at the building site, and it's been exciting to watch the swift growth of these structures. It will take at least until the end of summer to complete the interiors and make them move-in ready. At present, the target for occupancy is some time in October.
Additionally, a proposed supportive housing project, funded by Building B.C.: Supportive Housing, was originally planned for the downtown area to assist the homeless and those at risk of homelessness. However, this has proven to be a contentious issue in terms of location and community impact. As of June 21, 2019, no final decision has been made regarding location or if the project will, in fact, proceed at all.