Pure in Golden
Mountain Pure Foods is a new health food store in Golden offering groceries, natural products and organic food delivery.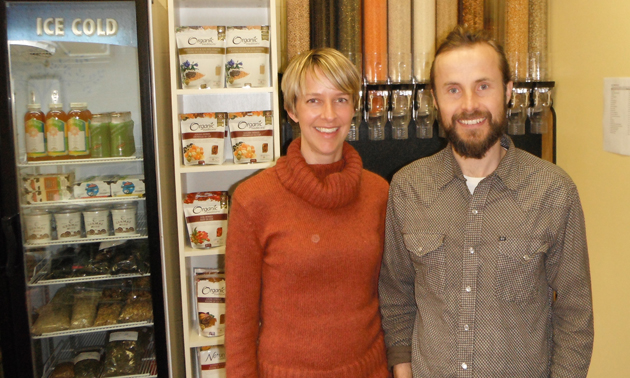 "At Mountain Pure Foods we are passionate about healthy living," said Barb Davies. "We offer fresh, organic produce sourced as close to home as possible."
Barb Davies and her husband, Rich, own Mountain Pure Foods in Golden, B.C. Although relatively new to Golden, they are no strangers to the health industry, having owned another very successful business, Vitamins First in Calgary. Barb, a nutritionist, and Rich, an elite athlete and naturopathic doctor, have a combined 25 years of health and wellness experience. After selling their Calgary business and moving full time to the home they had built in Golden in 2009, they joined the throng of people that have moved to the Kootenays for the lifestyle.
"It is definitely a change of pace," said Barb. "It is a great opportunity to share our lifestyle choices with our son."
Barb said it is really inspiring to see all the people that have made the same lifestyle choice.
When the couple took over the business in Golden, they rebranded the store and now plan to add their own touches, as well as maintain the organic food delivery service for the Golden community. Doors opened in April 2012.
Barb said their store sells organic groceries and bulk items, as well as super foods, natural meats, facial and body care products, and cleaning products that are safe for the environment.
Expert advice is available too, said Barb, as Rich will be on hand to confer with customers.
"In owning Vitamins First in the past, we know that passion, integrity and commitment are key elements to a successful business," said Barb. "We hope to share our knowledge and experience in our new community in the hope that the community will embrace our efforts in making Mountain Pure Foods a reality."
Barb said that they have had amazing feedback from the community so far, which is very encouraging.
"We are now on Facebook too," said Barb.