Prime time for tourism in Golden, B.C.
Tourism Golden promotes and supports Golden's exciting recreational options and oversees operations at the town's visitor centre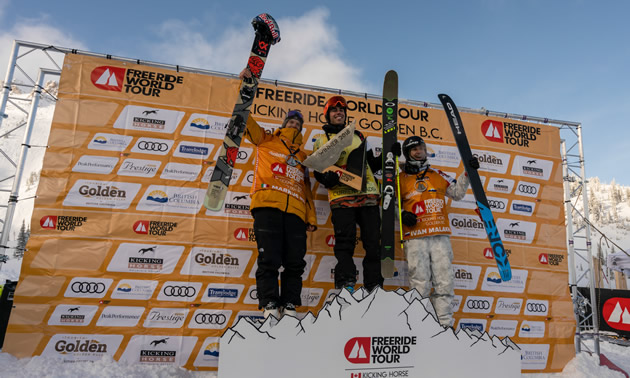 In collaboration with Kicking Horse Mountain Resort and supported by the Town of Golden, Tourism Golden arranged to host the North American segment of the Freeride World Tour—an annual touring competition for the world's best freeskiers and snowboard freeriders—in February 2018. The event generated great interest and global awareness of Golden as a winter destination.
"We really have to thank the Ministry of Finance and Destination B.C. for how they administered the applications—that's how we were actually able to get the event here," said Joanne Sweeting, executive director of Tourism Golden. "But it was the community that made it such a great experience for the athletes and crews.
"It was a fantastic event. It exceeded our expectations in terms of reaching a very well-qualified, specific audience at a time of year when we needed an increase in visitation."
Apparently Golden exceeded the expectations of the Freeride Tour organizers as well. At very short notice, because of a cancelled race in Japan, Kicking Horse Mountain Resort accommodated the tour for two races on two consecutive days, instead of the single race that they were expecting. The event organizers expressed their appreciation of how they were welcomed and how engaged the community of Golden was with the athletes, the crews and the event itself.
Golden's accommodation occupancies were up 12 per cent in January and 13 per cent in February, and Sweeting said she's sure that was a result of the tour. Tourism Golden is in discussions with the Freeride World Tour organizers to hold the event in Golden again in 2019.
Politics aside
Golden's visitor numbers, overnight stays and spending have all increased over those in 2017.
"We did have some concerns about the impact of the political tension between B.C. and Alberta earlier this year," Sweeting said, "but that seems to have gone away, and there was no noticeable impact. We're still getting at least as many visitors from Alberta as before."
Golden summer
Golden is a hot destination for summer activities and events, including river rafting, hang-gliding and paragliding, and mountaineering. The annual Golden Two-Four, a 24-hour cross-country mountain biking event, was held in June. This year, from July 28 to 30, Golden hosted the start and the first three stages of the Single Track 6 (ST6), a six-day mountain biking adventure. Sweeting applauds the Golden Cycling Club for its work in creating and maintaining a high calibre of mountain bike trails appropriate for the race routes.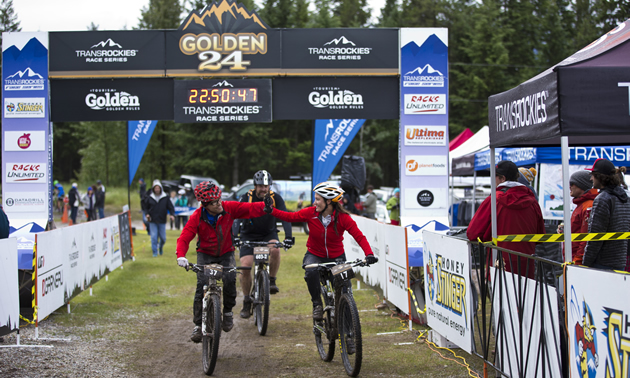 "After we held the first ST6 event here in 2014, we saw an immediate boost to mountain bike tourism," Sweeting said. "When people realize the great depth of biking trails and experiences that we have here, they make it a priority to come back."
A successful transition
Since taking over the visitor services for Golden from Destination B.C. in the summer of 2017, Tourism Golden has: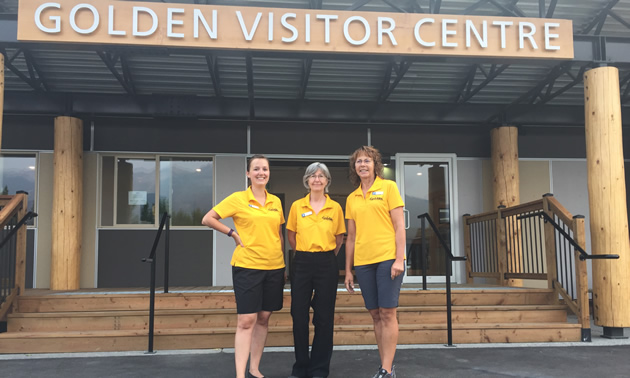 Installed more Wi-Fi hotspots in the downtown area
Added more digital kiosks
Begun selling Parks Canada passes
Established summertime education sessions on local flora and fauna.
A popular visitor centre event introduced this year by Alycia Weir, the visitor services manager, is called the Saturday Showcase. Representatives from WildSafe B.C., Bear Smart B.C., Wings Over the Rockies, the Columbia Shuswap Invasive Species Society and the Grizzly Bear Refuge at Kicking Horse Mountain Resort come to the centre for a few hours every Saturday morning to provide answers and information for drop-in visitors.
"Having Tourism Golden manage the visitor centre allows us to be very focused on what Golden has to offer," said Sweeting. "Selling the park passes has been a great success and it helps people to have a great experience."