Kicking Horse Country chamber, 2018
Shelly Wadden is providing members of the Kicking Horse Country Chamber of Commerce with advocacy and education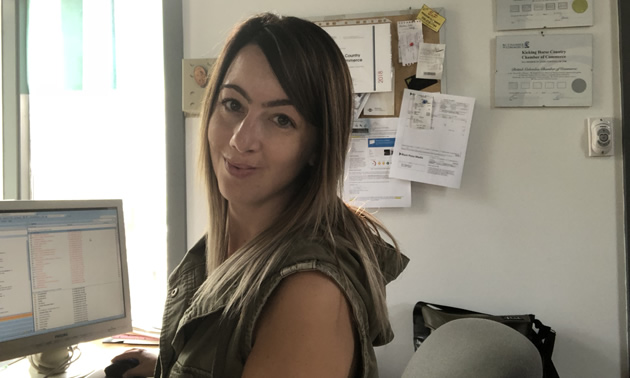 "I know that sometimes business owners can feel alone out there," said Shelly Wadden, the executive director of the Kicking Horse Country Chamber of Commerce. "I want our members to know that we're here for them as an organization."
Wadden's prior position as the Early Years Professional Development Program co-ordinator for Golden, and as a small business owner, provided her with experience in advocacy and entrepreneurship. She took on her position with the chamber in June 2017, and has been drawing on that experience to support Golden's business community.
Stepping into new boots
After organizing the chamber's Community Excellence Awards last fall, Wadden took some time to familiarize herself with the established organizational practices. She analyzed old systems, implemented new ones, and got a sense of what the members and prospective members wanted more of.
Wadden has planned several timely, relevant and informative events for the chamber's membership this autumn. She describes the events schedule as "hefty and ambitious."
September: An Excellence in Local Government networking session led by (former mayor) Christina Benty from Strategic Leadership Solutions
October: An all-candidates forum preceding the municipal election
October: The 14th annual Community Excellence Awards
November: A board governance training session for non-profit organizations
"These events address what the chamber members want," Wadden said. "Many of our members are non-profits, and certain of them have asked if any training is available with regard to governance. The Kamloops Chamber of Commerce was very helpful in providing us with some guidance."
Wadden and her board are currently working on launching a new website to improve service to the chamber's member businesses, locals and visitors. To support the community at large, the website will also carry local event information.
Tackling the big issues
As in many resort communities, Golden's tourism-dependent businesses are experiencing an increasingly severe shortage of workers, resulting in lost revenue. Lack of housing for incoming seasonal workers is partly to blame, as is the recent revamping of Canada's Temporary Foreign Worker Program.
The Kicking Horse Country chamber is seeking a review of the Temporary Foreign Worker Program, and has requested the support of the Columbia Shuswap Regional District and the Town of Golden.
"We've also asked that the Provincial Nominee Program be reviewed or re-created," Wadden said, "and I brought forth those concerns at a Small Business Task Force B.C. roundtable in Cranbrook."
Advocacy for the business community is an important element of Wadden's job, and she is enlisting help from other agencies to amplify the voice of the Kicking Horse Country chamber and ensure that its message is heard.